Dungeon crawler games are a subgenre of role-playing video games that typically focuses on labyrinthine levels, traps, and enemies that impede player progress. If you're looking for a challenging game to sink your teeth into, check out our list of the best dungeon crawler games for Android! Each one is sure to keep you entertained for hours on end.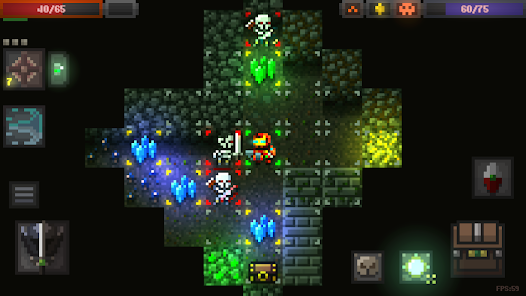 Caves are a big feature of this game, and you can dig through them using your pickaxe. You'll find all kinds of resources in the caves, which you can use to craft unique and powerful items in the Crafting Station on your base. There are also hordes of skeletons, mutants, robots, and other creatures in the caves, so be prepared for a fight!
You can create your unique character by choosing different stats and finding your own playstyle and tactic. The game also features big, randomly generated areas to explore, with many interesting items to find.
There is also a huge weapons arsenal, featuring everything from bows and daggers to plasma guns and energy swords. Each weapon has its own unique ability, so experiment until you find your perfect setup!
Looking for a loot-filled adventure? Then look no further than Dungeon Quest! This action role-playing game allows players to embark on an expedition to find the best loot and conquer all challenges.
Features include the ability to play for as long as you want without any content or pay walls, plus equip your Wizard, Warrior, or Rogue with amazing randomized loot you find on your adventure! You'll never fight in the same dungeon twice thanks to the game's randomly generated floors – meaning there's always something new to discover.
And if you're feeling extra brave, test your skill against one of the 4 Legendary bosses at the end of every Act! Plus, with the new Hireling System, you can bring your other characters into your adventures for even more fun.
Battle Chasers: Nightwar is a turn-based RPG that takes inspiration from console classics. Up to three fighters per side will duke it out in tactically demanding encounters.
The world of Battle Chasers: Nightwar is huge and full of secrets. Dark, mysterious forests abound, waiting to be explored. Icy horrors lurk in frosty regions, while wave after wave of enemies can be found in Tolka's Arena.
Each of the six heroes is equipped with armor, weapons, and magical jewelry. And everything can be crafted by the player.
Battle Chasers: Nightwar is packed with enemies of all types. Bandits, beasts, demons, elementals, machines, undead…you name it! It's crucial to react properly to the enemy's attacks. If you don't synergize the efforts of your heroes, your adventure will be short-lived.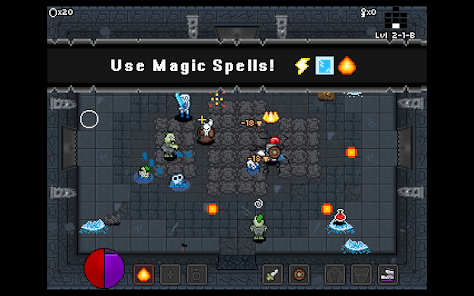 bit Dungeon is an action-adventure game with a huge world to explore. Explore randomized dungeons and slash your way through dangerous bosses. The difficulty increases as you get stronger and stronger, so be sure to build your character carefully with deadly passive abilities. You'll never get bored with the endless possibilities for customization and the ever-increasing challenge. So dive in and see if you can achieve ultimate glory!
This game is perfect for those who love spending hours upon hours in an RPG world. With bit Dungeon, there's always something new to discover. When you die, you lose all your progress and have to start from the beginning again. This encourages players to be extra careful and try different strategies each time they play.
Quest of Dungeons is a turn-based dungeon crawler game for up to four players. The game is set in procedurally generated dungeons with procedurally generated weapons and items. Boss encounters and quests are also included in the game.
In Quest of Dungeons, you take on the role of a warrior, wizard, assassin, or shaman, and explore procedurally-generated dungeons in search of loot and glory. You'll come across all sorts of enemies along the way, from lowly goblins to massive dragons, and you can use the loot you find to buy new weapons and equipment at shops
There are four difficulty levels to choose from, and the game features permadeath. Once a player dies, they are dead for good and cannot continue playing. The game also includes a shop where players can buy and sell items and weapons.
Dungeon Hunter 5 is a massive RPG adventure game that lets you customization your heroes with over 900 pieces of armor and weaponry. You'll need all the help you can get to take down the hordes of evil you'll encounter, but with hundreds of devastating spells and skills at your disposal, you're more than up for the challenge.
You can also master the elements by strategically equipping the best weapons, armor, and magic for the situation. And if you want to test your mettle, the Arena awaits. Dungeon Hunter 5 also features a Co-Op multiplayer mode, so you can rally up to 3 other player heroes to fight alongside you. You can also hire friends as allies to help you along your journey. And if guilds are more your thing, there's plenty of opportunity to clash against other players in competitive battles.
Finally, build and upgrade your own Stronghold in this MMO-style bastion-defense mode. Deploy over 230 minions to 60 trap rooms to stop anyone that dares attack.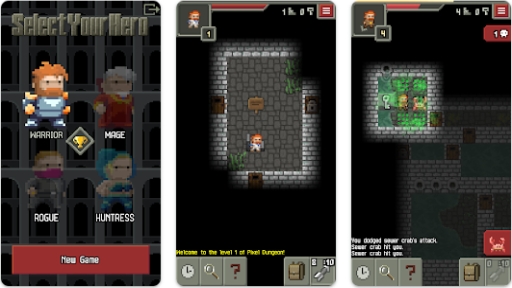 Pixel Dungeon is a customary rouge-like game with a simple interface and pixel-art graphics. It permits players to explore the depth of dungeons, gather helpful and useful items, and battle ferocious and savage monsters to search for the Amulet of Yendor, which is the most important artifact in this world.
As players often die in this game, many people consider it either too difficult or a luck-based game.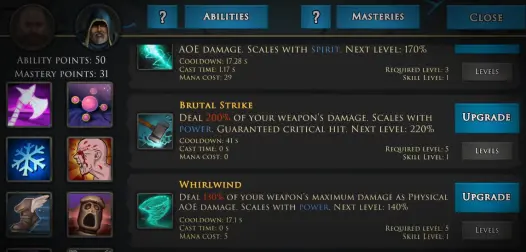 Moonshades is a dungeon crawler role-playing game that is set in a classic fantasy world of knights and wizards. The immersive atmosphere and experience of the classic RPGs have been restored in Moonshades.
You will venture beneath ruined towns, through eerie dungeons, and towards monsters lurking in the ghostly half-light. The forces of darkness have invaded the realm, but some survivors from the kingdom of Harten still resist their fate. They are preserving the secrets of their ancestors' magic in hopes of joining the mission to restore liberty and enlightenment to this fantasy land!
Moonshades is an action-RPG game that focuses on both story-telling and completing quests. Players start by choosing their favorite character, each of which is uniquely designed with its own story.
They then embark on a journey to defeat evil spirits, dragons, and other enemies. Along the way, players must collect weapons, armor, and crafting items to help them in their quest. The game also features a turn-based RPG combat system, in which players must manage the defense of a besieged dungeon.
In addition, there is also a dungeon defense mode in which players can upgrade their items. The game also features a Magic Forge in which players can experiment with potion-making and item-enchanting.