Real-time strategy games on Android are kind of different from what we've known so far about the genre on PC. The most popular one is Clash of Clan and the following RTS games are similar to it.
If you love playing real-time strategy games and are unable to pick the best one, don't worry because we have compiled the top strategy games for Android that every strategy lover should try.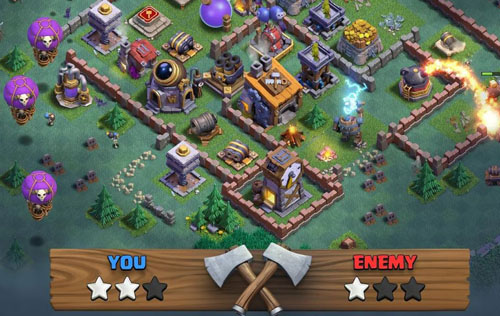 In Clash of Clans, you are the chief of your own village. You'll start by building your village, then recruiting an army of goblins, wizards, dragons, and other troops. Once you're ready, you'll be able to take on other players from all over the world in clan wars.
There are also competitive clan war leagues, where you can test your skills against the best players around. But it's not all about fighting – you can also forge alliances with other players and work together in clan games to earn valuable magic items. And if you're feeling really ambitious, you can try to rise to the top of the leaderboard in the legend league.
You can also unlock powerful heroes to lead your army into battle. The game is heavily focused on multiplayer PVP experiences, but there is also a single-player campaign mode where you can fight against the Goblin King. There are also many different events you can participate in, such as Clan Wars and Friendly Challenges. You can even spectate clanmate battles in real-time or watch replays.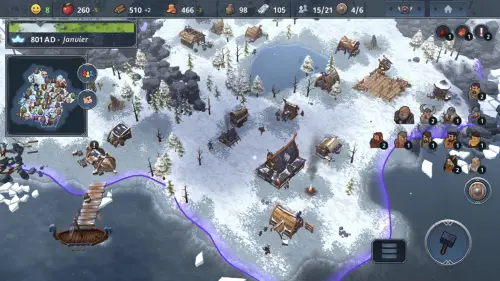 Northgard is a strategy game based on Norse mythology in which you control a Clan of Vikings fighting for the control of a mysterious newfound continent. After years of tireless explorations, brave Vikings have discovered a new land filled with mystery, danger, and riches: NORTHGARD.
The boldest Northmen have set sail to explore and conquer these new shores, bring fame to their Clan and write history through conquest, trading, or devotion to the Gods. That is if they can survive the dire Wolves and Undead Warriors roaming the land, befriend or defeat the giants, and survive the harshest winters ever witnessed in the North.
In Northgard, you must choose your strategy carefully as you build your settlement on the newly discovered continent and assign your Vikings to various jobs. With careful planning, you may be able to thrive in this hostile land… but beware, for the gods are watching.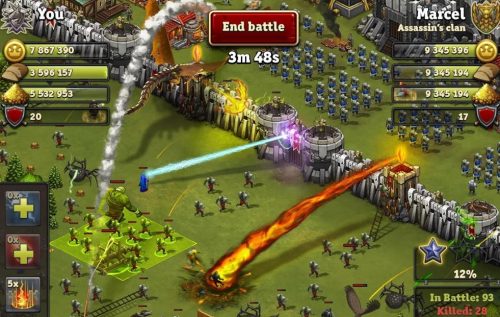 Throne Rush is an MMORPG fantasy game that includes several unique continents for players to explore and battle in. There are an impressive number of buildings and resources available for players to utilize as they build, fortify, and protect their empires.
There are 18 mighty mercenaries that you can crank up until the whole squad is invincible. The RTS component helps you develop an economy of your Empire to a level beyond attainment.
Everyday quests help you never get bored. You can join the mightiest clan, guild, or alliance. Or, you can form your own and lead it to the top. You can declare war on those who are not with you. PvP fights are with no mercy.
You can crash your enemies, or somebody else will. The epic campaigns against Bosses are exciting. The regular thematic events are absolutely unique.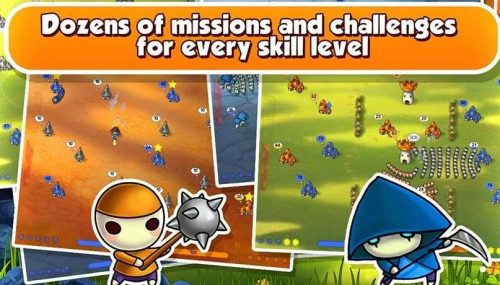 Mushroom Wars 2 is a real-time war strategy game with multiplayer and PVP modes. Come up with the best war strategy in this epic tower defense to defeat your enemies! In this RTS game, you'll need to command your mushroom armies and upgrade your fungi base.
You'll also need to capture objectives on the battle map and lead your tribe to victory one tower at a time. Plus, there are over 200 challenging missions to complete. And if that's not enough, you can also summon legendary heroes with mighty skills to act as generals while you command the mushroom tribe minions.
Just power up your team with buffs and sneaky abilities to gain the upper hand in breaking the enemy defenses.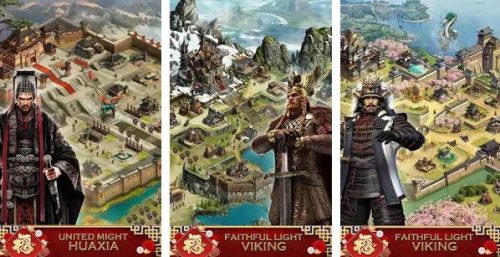 If you're into games that are filled with action, Clash of Kings is what you should play. It includes monumental battles, epic clashes, awesome dragon fights, and other similar things that everyone needs in action-packed games.
In celebration of its seven-year anniversary, Clash of Kings is introducing a whole host of new content for players to enjoy. First and foremost, they're giving the game a facelift with a new castle skin that players can receive just for logging in.
The new look for the city is just the start of what's to come in this anniversary update. In addition, players will be able to summon powerful new heroes and soldiers to lead into battle. There are also brand new tactical combinations to take advantage of. And if that wasn't enough, there are also new welfare events with double gift packs, gold fountains, and more.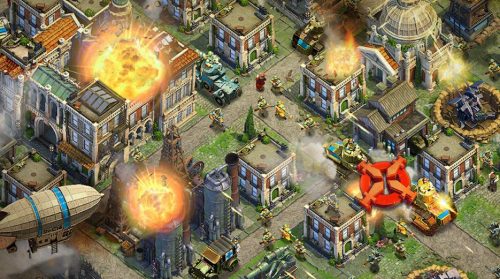 DomiNations is a game all about growing your civilization and leading it through human history, from the ancient past up to the modern era. You get to construct and design your own town, choose how you want to rule your citizens, and battle players from all across the world.
There are also limited-time goals based on real historical events that you can complete for unique rewards. In DomiNations, you can really put your powerful Nation to the test in PvP combat. Raid other players' cities for huge amounts of loot, or team up with skilled rulers in an Alliance and go for world domination.
Through careful planning and strategic thinking, players must manage their resources, construct buildings, and train an army. Victory can only be achieved by defeating rival civilizations through combat. However, building a strong military is only part of the challenge; players must also research new technologies, discover new materials, and establish trade routes to grow their civilization.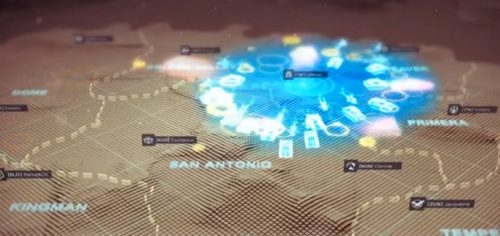 War Zone: World of Rivals permits you to experience real-time thrilling battles by making alliances with your friends and fighting for your territory. You have to brawl for every inch of your land by plundering the enemy and stealing their resources. To dominate your opponents, you need to collect intelligence. It also has a real-time panoramic map, which helps you keep an eye on whatever your enemies are up to.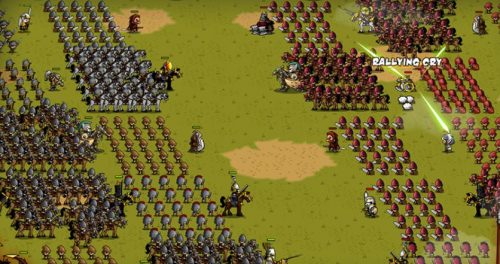 In the new game, Mini Warriors 2, there is a completely new 3D battlefield waiting for you to explore. With 360 degrees panoramic view, you will not want to put your device down. The game contains over 60 new heroes with fantastic skills for you to try out and use in battle. In addition, the newly built continent is 10 times larger than the last one so there is much more ground to conquer.
You can rule your floating island and build the castle of your own that you have always dreamed of. Also, new in this game are the vertical and horizontal views which can be switched at any time depending on your preference.
Plus, single-hand operation in vertical mode is available so you can play the game even while you are on the go. And if that is not enough, there are also huge amounts of AFK bonuses granted throughout the game. Just keep it easy and enjoyable.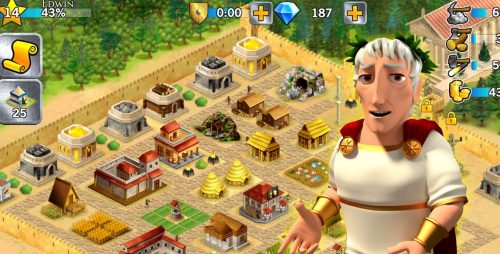 Battle Empire: Roman Wars is a game that allows players to build their own Roman City and battle with other players in order to expand their empire. The game features a variety of different buildings and defenses that players can use to protect their city and also provides an opportunity for players to destroy other players' cities.
If you are interested in the Roman, Spartan, or Greek periods of war, this game is surely worth your time. Battle Empire: Roman Wars provides an immersive and exciting experience that will keep you coming back for more.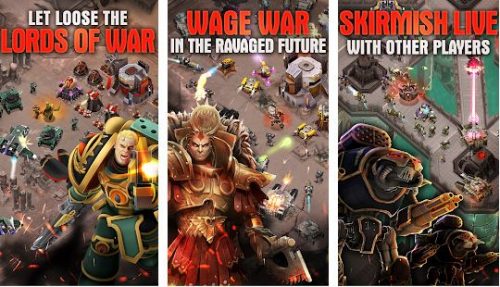 It is a game based on an intense civil war that broke out among the Space Marines' Emperor's Legions in the 31st Millennium. Since you're the captain of the troops, you have to customize and train your army and take part in fierce tactical battles. You can challenge rivals that can be different players around the world and create allies with your friends in exciting Live Skirmish combat.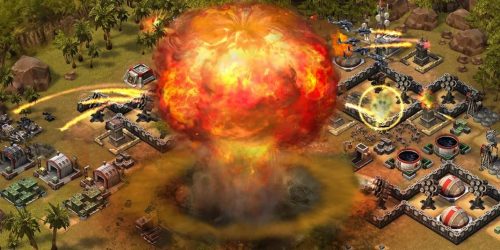 Empires and Allies is a game that allows you to join your friends and form alliances. You can also train your soldiers to prepare for battle. The game provides a variety of different military units that you can deploy in battle, including tanks, drones, helicopters, and robots.
You can also use a variety of different weapons, ranging from tactical nukes to orbital strikes. In addition, the game features massive heroes known as Omega Units, which are unique mechs with their own strengths and attributes. These units can dominate the battlefield and help your alliance clan fight for control of the globe.
The game's dynamic battlefields provide increasingly difficult scenarios that simulate real-world modern war. As you progress through the game, you'll need to use all of your military skills and strategies to survive and emerge victorious.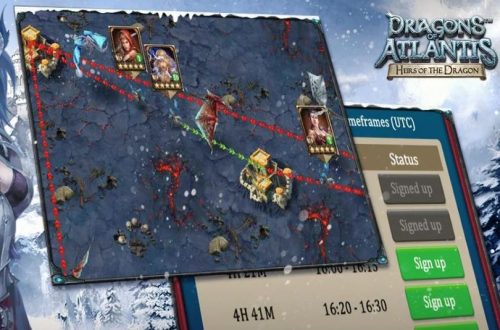 Dragons of Atlantis is a real-time strategy game that allows players to raise and train powerful Dragons in fully interactive environments. Through the process of evolution, players can customize their dragon's appearance and abilities, and then take them into battle against other players in brand new arenas.
In order to succeed, players will need to forge alliances with other players and make use of strategic planning to defeat opposing forces. The campaign map is set in the mystical realm of Atlantis, where players must reclaim the land from the savage Anthropus. With its stunning 3D graphics and intriguing gameplay, Dragons of Atlantis is sure to capture the imaginations of gamers everywhere.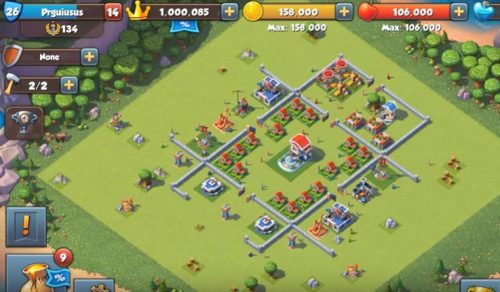 Sound the call to battle and join legions of players online in a battle to control the Roman Empire! Total Conquest is an exciting and strategic social game where you are a Roman governor developing your own city-state and army. But with Caesar dead, there's no more playing games: You'll need to join a powerful Legion — or forge your own — to defeat your enemies, protect your lands, and reign supreme.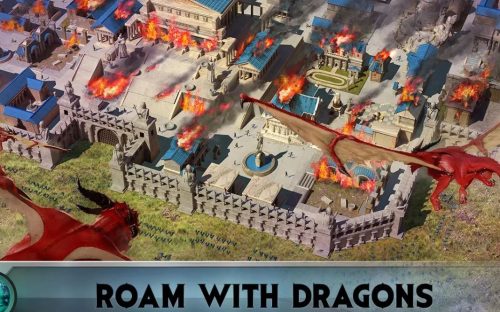 Game of War – Fire Age is an online strategy game that lets you build and customize your own empire. You can choose your role – builder, soldier, or leader – and train, level-up, and deck out your heroes.
You can also craft legendary weapons to rise above the competition. The game has a huge world map and you can train vast armies to lead into battles. You can play with millions of online players worldwide in 32 different languages. You can forge alliances with other players to conquer enemies and become the most powerful alliance in the kingdom.
You can also conquer the Wonder to become the almighty Emperor. And you can use your power to give special titles to your friends and enemies in the kingdom. Game of War – Fire Age is a fun and addicting game that will keep you coming back for more.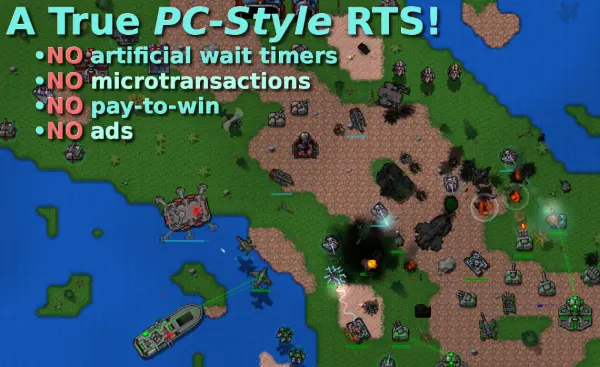 Rusted Warfare is an RTS inspired by classic real-time strategy games. It has many features, including online and offline multiplayer, campaign missions, skirmishes, survival mode, and challenge missions.
There are also over 40+ land, air, and sea units available. Additionally, there are experimental units and nuclear missiles. The tactical possibilities are endless with unique units, such as flying fortresses, combat engineers, amphibious jets, shielded hover tanks, and laser defenses.
Another great feature is the fast interface which makes issuing commands easy through the minimap or multi-touch support. And finally, the strategic zoom allows you to see and issue commands across the entire map!