Are you tired of scrolling through the App Store in search of the perfect match-3 game for your iPhone or iPad? Look no further. As an avid gamer, I have compiled a list of the 7 best match-3 games available for iOS devices.
These games offer a variety of themes, challenges, and power-ups to keep you entertained for hours on end. Whether you prefer classic puzzle gameplay or new twists on the genre, there is something for everyone on this list. So sit back, relax, and get ready to swipe, swap, and match your way to victory with these top-rated match-3 games for iPhone and iPad.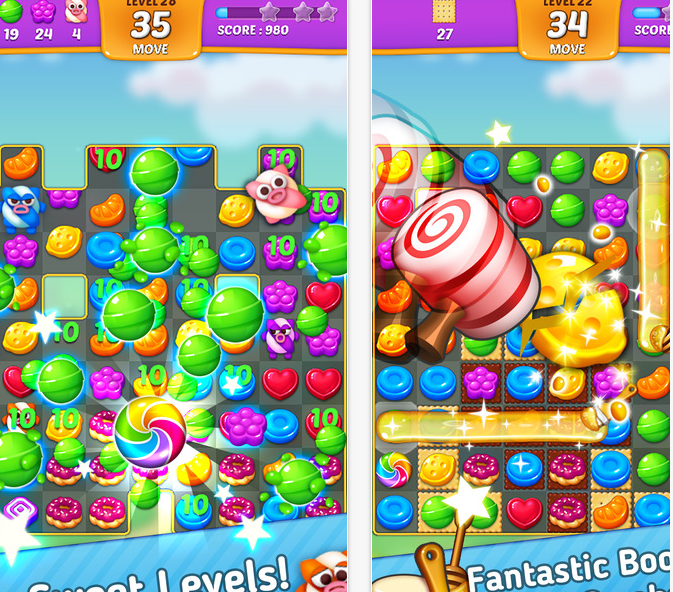 Lollipop: Sweet Taste Match 3 is a delightful and addictive match-3 puzzle game that will satisfy your craving for sweet and delicious candies. With its colorful and visually appealing candy graphics, this game is a treat for both the eyes and the taste buds. Best of all, it's completely free to play, ensuring endless hours of entertainment.
Prepare yourself for a brain-teasing challenge as you dive into the world of Lollipop. Swap and match at least three candies to remove them from the board and earn points. The more candies you remove, the better! Unlock special candies and powerful boosts to help you overcome obstacles and achieve the coveted 3-star rating on each level. The game offers over 2700 unique levels, with regular updates ensuring a continuous supply of new and interesting challenges.
Lollipop: Sweet Taste Match 3 is designed to provide easy and fun gameplay. Its intuitive interface allows you to effortlessly swap and match candies, making it suitable for players of all ages. Whether you're connected to Wi-Fi or not, you can enjoy the game anytime and anywhere.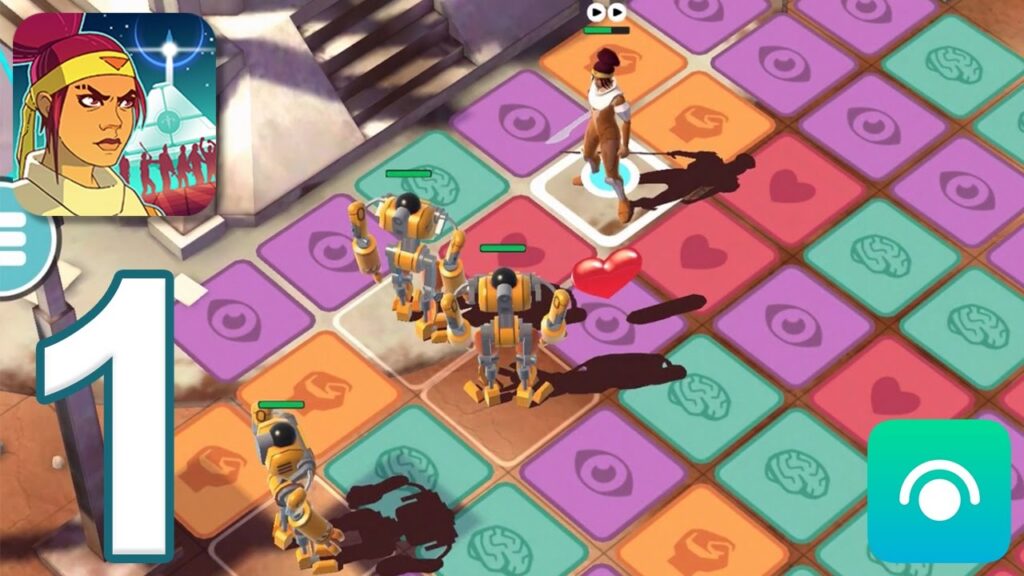 Ticket to Earth is a groundbreaking iOS game that combines tactical puzzle gameplay, RPG elements, and an immersive sci-fi narrative. Set on a distant planet with a dying colony, you find yourself entangled in a dangerous conspiracy against a corrupt system. Prepare for a unique gaming experience like no other.
In Ticket to Earth, the puzzle grid serves as your battlefield, where strategic positioning, collecting matching tiles, and utilizing special abilities are crucial to success. The fast-paced combat unfolds in a classic grid-based tactical style, offering a wide range of mission objectives to accomplish.
The game introduces an innovative tile-matching puzzle mechanic that brings new possibilities with every playthrough. Adapt your strategies as you navigate the puzzle grid, matching tiles to build attack energy and unleash explosive combat powers. This dynamic puzzle element adds depth and excitement to the gameplay, keeping you engaged and challenged.
Ticket to Earth doesn't stop at gameplay mechanics; it delivers a compelling RPG experience with a richly crafted sci-fi world and intriguing characters. Manage and customize your team's abilities and gear as you explore this vivid universe, immersing yourself in a story-driven adventure that unfolds across more than 120 unique missions.
What sets Ticket to Earth apart is its premium experience, devoid of in-app purchases. This means you can enjoy the game to its fullest without any interruptions or paywalls. With many hours of deep RPG gameplay, Ticket to Earth offers a complete and satisfying journey for mobile gamers seeking a captivating blend of tactical puzzles and immersive storytelling.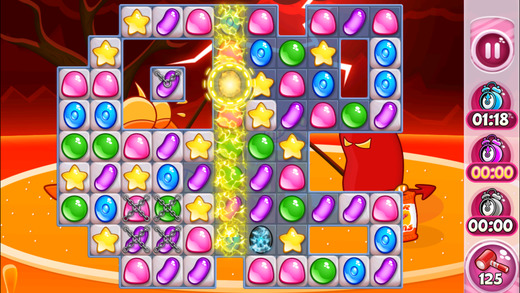 Candy Jewel World Match3 Mania is a delightful and addictive Android game that offers a magical and relaxing experience in a world filled with sweet treats. With hundreds of extraordinary puzzles, this Match 3 game will keep you entertained for hours. Whether you enjoy a challenging competition or prefer to play at your own pace, this game caters to your preferences with no limit on time or lives.
The gameplay is easy to grasp, but as you progress through the fabulous world of candies, you'll encounter great challenges. Align three candies of the same color or form combos to crush them and win fabulous boosters that will grant you precious seconds. Strive for the gold chronometers and aim to beat the best time among millions of players worldwide.
In addition to the captivating gameplay, Candy Jewel World Match3 Mania offers a range of features to enhance your experience. You can play alone or compete with friends and family online, comparing scores and trying to outdo each other. The game rewards your achievements with special tools and combos, and you can even spin the wheel of fortune for a chance to win additional bonuses. With various themes to choose from, such as jewels or tasty fruits, you can personalize your gameplay and indulge in the peaceful world of sweets.
While the game is free to play, there are optional in-app purchases available for certain objects within the game. You also have the option to connect to social networks like Facebook to measure your skills against other Candy Jewel World Match3 Mania players.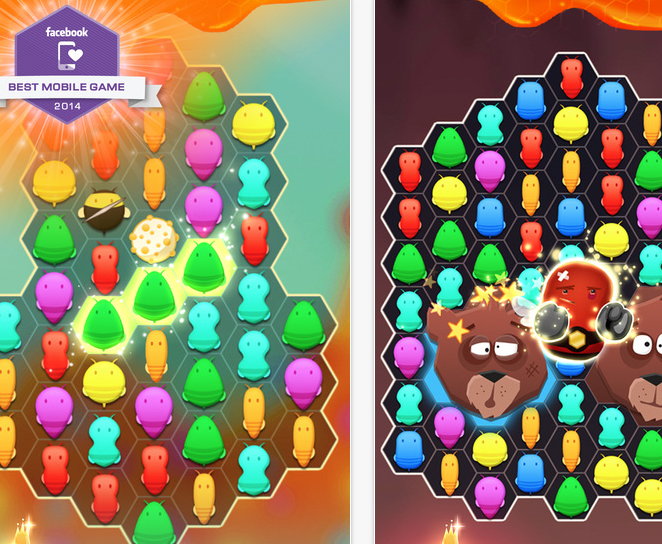 Disco Bees is a unique and entertaining match-3 puzzle game that combines colorful gameplay with a touch of humor. Set in "the hive," a honeycomb-shaped board, players must switch and match colorful bees to solve innovative puzzles. With its never-ending fun, Disco Bees offers dozens of levels that continually challenge and entertain players.
In Disco Bees, players can recruit special "superbees," such as the Ninja Bee, who assist players in achieving high scores and outperforming their friends. The game takes players on a journey through vibrant and unconventional locations, including space, where bees apparently reside. The simple and intuitive gameplay mechanics make it easy to learn, yet the game remains an enjoyable challenge to master.
Disco Bees also encourages social interaction, as players can connect with Facebook to compete with friends on leaderboards. Its broad appeal extends to players of all ages, from parents to grandparents and everyone in between. Moreover, the game consistently adds new levels and exciting content, ensuring that players never get bored. Accompanied by original disco music from Andy Ross of the band OK Go, Disco Bees offers a groovy and engaging experience for puzzle game enthusiasts.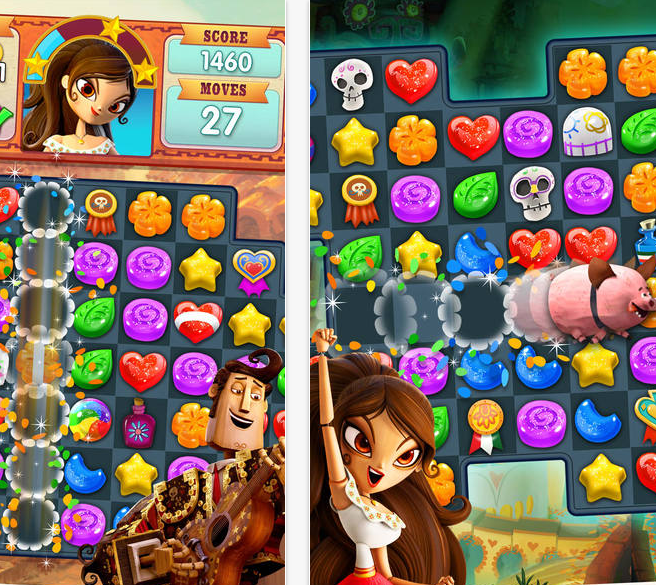 Sugar Smash: Book of Life is a delightful and captivating match-3 puzzle adventure game inspired by the animated movie. Prepare for an epic fiesta as you join Manolo, Maria, and Joaquin on a journey filled with sugary candies, beautiful charms, and exciting challenges. Immerse yourself in enchanting worlds like the colorful Land of the Remembered and the captivating Land of the Living.
With hundreds of thrilling levels, Sugar Smash offers a richly themed experience that aligns with the movie's vibrant aesthetic. The game even features the voices of renowned actors like Channing Tatum, Zoe Saldana, and Ice Cube, bringing the beloved characters to life in your gameplay.
Indulge in sugary sweet churro challenges and discover fun power-ups like 'Chuy Charge' and Piñata Bombs that add an extra layer of excitement to the game. By connecting to Facebook, you can share lives and gifts with your friends, enhancing the social aspect of the game.
Sugar Smash is free to play, with regular updates introducing new levels, challenges, and obstacles to keep the adventure fresh and engaging. The game's intuitive mechanics allow for easy learning, ensuring that players of all ages can quickly grasp the gameplay and enjoy the experience for a lifetime. Additionally, the game offers fun iMessage stickers that let you sweeten up your conversations with friends.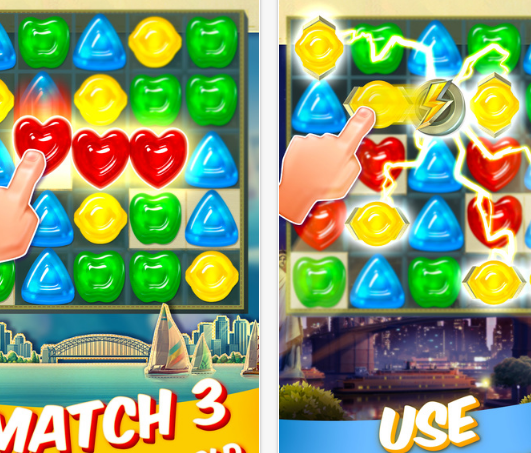 Gummy Drop! Match 3 Puzzles is an exhilarating mobile game that combines the addictive fun of match 3 puzzles with the excitement of restoring monuments and rebuilding cities worldwide. With each gummy you match, you contribute to the restoration of thousands of landmarks from over 100 real cities across the globe. From New York to Tokyo, Paris to Barcelona, you'll embark on a global adventure as both a traveler and a tour guide.
What sets Gummy Drop! apart is the freedom to choose where and when you want to travel. Whether you're in the mood for a weekend in Rome, sushi in Tokyo, or a coffee in Paris, you can swap and match your way through different cities from the comfort of your couch. The gameplay revolves around swapping and matching colorful gummy puzzle pieces, creating a satisfying and visually appealing experience.
With over 10,000 exciting levels spread across 100+ real-world cities, there's always a new challenge to tackle. As you complete levels and rebuild landmarks, you collect stamps and fill your passport with colorful photos, adding a sense of achievement and progression to the game. Engage in Tournaments to showcase your skills, climb the ranks, and earn fantastic rewards. Additionally, solving side levels and special quests allows you to help the locals in each city you visit, immersing yourself further in the cultural experience.
Gummy Drop! provides a scenic, vibrant, and colorful puzzle game experience that will keep you entertained for hours on end. The combination of Match 3 gameplay, city restoration, and global exploration creates a unique and addictive game that appeals to puzzle enthusiasts and travel lovers alike. Get ready to spin the globe, choose your destination, and embark on a sweet and satisfying puzzle adventure!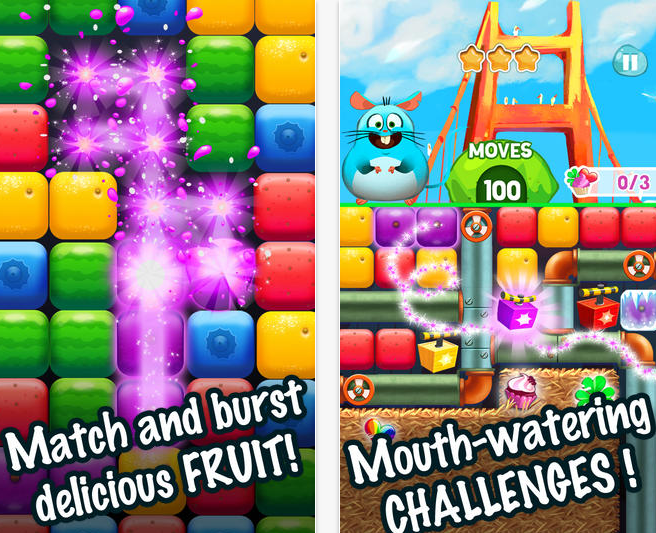 Fruit Mania™ is a captivating mobile game that will leave you craving for more. With a simple tap, you can find and blast delicious fruit bunches, creating a juicy explosion of excitement. From the very first bite, you'll be hooked on the addictive gameplay of Fruit Mania.
The game offers over 100 free levels, each presenting unique challenges and fun puzzles to solve. It's easy to learn, but hard to master, making it a thrilling experience for players of all skill levels. Can you achieve the coveted 3-star rating on every level?
In Fruit Mania, bursting large bunches of fruit not only brings satisfaction but also saves adorable baby fruits and earns you sweet bonuses. Challenge your friends to beat your high score on the leaderboards for each level, adding a competitive edge to the game. Unlock powerful boosts like Power Fruit and Color Splash to tackle the more challenging levels with an extra advantage.
The game's visuals are stunning, with beautiful backgrounds that immerse you in fantastic locations as you solve puzzles. The top-notch performance is accompanied by dazzling animations for characters, boosts, and bursting fruits, making your mouth water with anticipation.
Fruit Mania also keeps the fun going with regular updates that bring new puzzles, boosts, and other exciting content, ensuring that you always have fresh challenges to conquer. Get ready for a fruity adventure that will leave you entertained and craving for more juicy explosions!