The world is continuously changing, like how a caterpillar morphs into a butterfly. And together with this development are the innovations in the realm of technology where everything seems to be easier and faster. A world where new equipment is born with the purpose of serving men to make life a better one. As we crusade in this path to flourishment, human brains are getting bigger and bigger that every year, we make things that are far more complex yet helpful in our daily lives. An example are the tech gadgets that already had a place in humankind.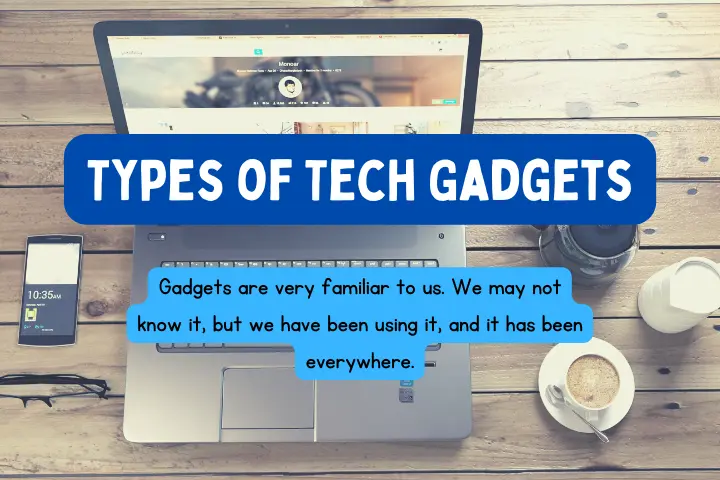 What is a Gadget?
Gadgets are very familiar to us. We may not know it, but we have been using it, and it has been everywhere. From the moment you hear the stentorian tone of the alarm, the refrigerator where you store most of your foods, the television where we watch our favorite shows, and many more. These are gadgets that had invaded our home. Tech gadgets are the inventions that simply make our lives easier. Though it is sometimes referred to as the more advanced technology. Our cellphones, laptops, computers, and headphones considered to be one of the most sought tech gadgets for the plethora of uses that it can give to us especially in communication.
A tech gadget is something that's electronic and can be used for entertainment, work, or education. Some examples of common technology gadgets are laptops, smartphones, tablets, televisions, game consoles.
These tech gadgets are not just invented to impose change. Men created this kind of stuff for our benefits. Aside from the primary goal of easy access to everything, tech gadgets are essential in communication, entertainment, and industrial fields. These innovations save us from arduous tasks that are far beyond our capabilities as humans. For instance, we cannot make the modern buildings we have right now without the aid of these advance tools.
We cannot deny the fact that tech gadgets have been so essential in the development of the world. But as humans, we should also know the limits that we must understand with regards to these gadgets. It is our responsibility to use these tools in a good manner or else it would gobble up the humanity.
Different Types of Tech Gadgets and Their Uses
Tech gadgets are used everywhere in modern day. Following are the most popular types of gadgets you can see them in daily life:
Communication & Media Gadgets
Smartphone
Tablet
Headphone and earbud
Wireless Chargers
Portable speaker
Smart speaker
Smartwatch
TV
Digital Camera
Long ago people used to consider Polaroid cameras as the most excellent technology ever made. Well, that still holds its position in many of the best gadgets of all time. Maybe it's a little bit too big for your time. You can't afford to miss any single unforgettable shot just because your pockets are too small. The contemporary digital cameras can fit even in the most skin fitted jeans you can find. This cool tech gadget certainly keeps you smiling.
Portable Photo Printer
Action Camera
Computer Gadgets
Laptop
Gaming Mouse
Monitor for Gaming
Game Controller
Windows Mini PC
Android Mini PC / Media Player
VR Headset
VR stands for virtual reality, and a VR headset is a tech gadget that allows you to perform some functions in various fields. The device is mainly used in military training to undertake a range of simulations. Its use is also seen in sports for training purposes, as well as in medical training.
Chromebook
Chromebook is a laptop or tablet that uses Chrome OS as its operating system. The Linux-based software is used to perform tasks using the Chrome browser. With Chromebooks, most applications and data reside in the cloud rather than in your laptop or tablet.
Apple Gadgets
iPhone
Macbook M1
Macbook M1 is an ARM-based system that Apple has designed. It is a general name for all Macbooks that are powered by M1 chip. The device is among the very first products of that nature intended by the tech giant. Macbook M1 is the first computer that has been built using the 5nm process, a procedure that is synonymous with Apple's macintosh brand of computers.
Appliances & Smart Home Gadgets
Robot vacuum
Smart Tracker
Security Camera
Smart Video Doorbell
Doorbells may be small types of devices to be placed at the doors and gates, but these provide great importance to the users. They feature technology for night vision, can capture the visitor's image and speak to them.
Smart Light Switch
Digital Alarm Clock
UV Light Sanitizer Wand
A UV Light Sanitizer Wand is a device that is used to clean surfaces more effectively and fast. Additionally, these gadgets kill a wide range of bacteria and simple viruses such as flu. It is important to note that a UV Light Sanitizer Wand can only be used on specific surfaces.
Toys
Drone
Game Console
Transportation Gadgets
Automotive Navigation System
Electric Scooter
Electric Bicycle
Jetpack
What do you think of when you hear the word "jetpack"? Do you imagine a device that will allow people to fly through the air? Or maybe a pack with rocket boosters attached, just like in The Jetsons. Well, if your idea of jetpacks is more on the realistic side then it is one of those gadget types that feel futuristic. A jetpack is a new-generation gadget that consists of a backpack powered by jets.
Dash Cam
Health & Personal Care Gadgets
Electric Shaver
Massage Gun
Fitness Tracker
Massage Chair
A massage chair is a unique chair that has been designed to be used for massage. However, a massage chair usually refers to two products; a traditional massage chair and a robotic massage chair. It is important to note that the two serve the same purpose even though the designs are different.
Beard Trimmer
As the name suggests, a beard trimmer is an electronic device used by men to trim their facial hair. Some of the well-known beard styles that require a beard trimmer include stubble, Viking, and thick beards. While most beard trimmers need to be powered, some can use batteries to function.
Water Flosser
A water flosser, a hand-operated gadget that is used to spray steady streams of water in pulses. Its primary function is to remove food that is stuck in between the teeth. However, the device can also be used to remove dirt and dust in other items. It is suitable for people who have undergone dental procedures and find it hard to floss their teeth normally.
Foot Massager
This is a little-known device to perform a rubdown on the feet, like with every other part of the body. Foot massagers are known to improve circulation around the feet and relieve pain. Modern foot massagers are powered and are of various types. Some massagers massage the entire foot while others only massage the sole.
Sonic Facial Cleansing Brush
It is a device that helps you clean off various kinds of dirt on your face. It is used to get rid of acne and breakouts in the facial area. The gadget is effective in removing stubborn dirt because it penetrates deep into someone's pores.
Pet Gadgets
Smart Pet Collar
Astronomy Gadgets
Telescopes
Mars Rovers: Curiosity
Must-Have Tech Gadgets
6 Commandments Of Buying Tech Gadgets
We all need gadgets in our daily lives, so having the knowledge of which features are worth investing in and which aren't is important to make the most out of your purchase and protect your budget at the same time.
1. Invest more in the most useful gadgets
Whether upgrading an old computer or purchasing the latest smartphone, it makes sense to spend more on those items that you will use the most – perhaps even for years to come. Also, don't feel guilty for overspending if the gadget is one that you need for your job.
2. Don't settle for add-ons
Often, a tech gadget comes with all those optional extras that seem like a good idea, but in fact they either are useless or can be bought elsewhere for a much cheaper price. Some examples of add-ons to think twice about before agreeing to purchase: optional insurances, warranties, headphones (when not included in the price), and HDMI cables (brand-names, not the more affordable generic cords). These add-ons not only raise the final price of your gadget considerably, but can also cost you a lot of time if you try to figure out which deal might suit you best. So make sure to do your research and get only those add-ons that are actually useful (such as optional insurance for a very expensive smartphone).
3. Assess the gadget's overall experience, not the specs
A gadget's specifications don't really matter as much as you may think. What is truly important is the overall experience that you can get by using that particular gadget. So before taking out your wallet, ask yourself how useful the device is to you and how it would fit into your lifestyle.
4. Experience gadgets hands-on before buying them
"Ergonomic" might mean two different things to two different people. Therefore, try and see the devices in person rather than ordering them online. If you do choose the latter option, make sure to read real reviews first, especially if you have particular requirements; for example, if you are a petit person looking for a new camera that is lightweight enough to wear comfortably around your neck, search for reviews written by people with similar needs.
5. Wait for new release dates to purchase your gadget
This is a great strategy if you are looking to save money when buying a cool new tech gadget. Usually, whenever a new smartphone comes out, the company will sell the older versions with massive discounts. So, if you would like to get a quality cell phone, not necessarily the latest version, it's worth waiting for the new gadget release date.
6. Get your coupon codes
An easy way to save money is to search Google for the name of your desired gadget followed by "coupon code". Some coupons can be used in store, while most are to be redeemed online.