Laptop aka notebook is the most popular device when it comes to working on the go. With the advance of technology, laptops are available with different shapes, sizes, and form factors. There are 7 different types of laptops which are currently available in the market.
7 Different Types of Laptops
Ultraportable
Ultraportable are thin and light laptops designed for mobility. This type of laptops cuts out some features for mobility such as CD/DVD drive and connection ports.
Ultrabook
Ultrabook is a term made by Intel for a special type of ultraportable notebook. A laptop is called an ultrabook when it meets certain criteria such as size/weight, battery life, type of chipset.
MacBook
MacBooks are Apple's laptop computers. We often see 2 models, ultra-thin MacBook Air, and the high-performance MacBook Pro.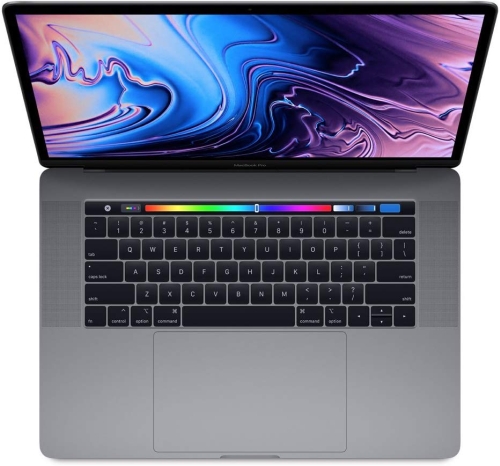 The MacBook Pro 2020 is powered by the 9th-generation 6-Core Intel Core i7 Processor, stunning 16-inch Retina Display with True Tone technology, Touch Bar and Touch ID, AMD Radeon Pro 5300M Graphics with GDDR6 memory, and Ultrafast SSD.
Chromebook
Chromebooks runs Google's ChromeOS. They have small storage as they are designed to work with web app and their data is stored on cloud. Chromebooks are popular in education field. They are good as an option as they are cheap and can run Android apps.
Convertible (2-in-1)
This type combine the features of a laptop and a tablet. They are often called hybrid laptops. They can quickly switch between touchscreen tablet mode and traditional keyboard mode with different mechanics such as detaching, sliding, etc..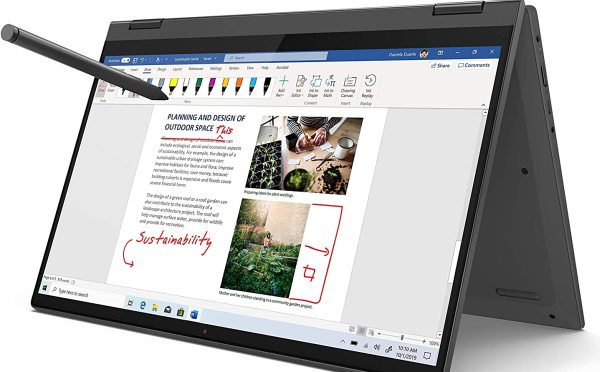 This 2-in-1 laptop weighs just 3.64 pounds and is only 0.82″ thick. It's soft and comfortable to the touch, with a durable paint that creates a better user experience. It comes with a digital pen. Specs: 14.0″ FHD (1920 x 1080) Touch Display, AMD Ryzen 5 4500U Processor, 16GB DDR4, 256GB SSD, AMD Radeon Graphics, Digital Pen Included,
Tablet
They are tablets but can work like a laptop with an attached keyboard. Among different types of laptops, tablet is deemed to be the next generation's form factor. It is easy to carry a tablet around put in a pack.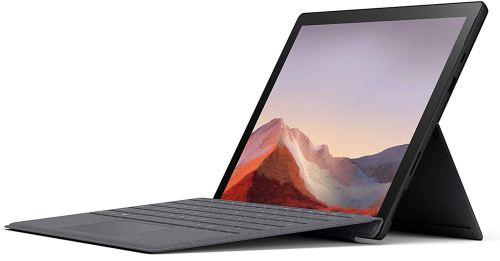 Microsoft Surface – At the office, at home or en route, new Surface Pro 7 adapts to the way you work — and delivers more power than ever, with a laptop-class Intel Core processor, all-day battery,[1] Instant On, graphics, and more multitasking connections.
Netbook
Netbook are cheap laptop which is powered by low-powered Intel Atom processor. This type of laptop hasn't been produced anymore as they were replaced by others such as chromebook, ultrabook.
How to Choose a Laptop
Laptops are quite compact to bring with but adequately versatile to run challenging applications. Notebooks are the most excellent devices for carrying out critical play or work whether a person is doing a tour, at home, or at school. For such reasons, there is a compiled listing of the top business laptops and finest college laptops, in addition to the most excellent rankings of laptops for all.
While smartphones and tablets are popular as always, a number of people recognize that all the things from encoding a report to watching several videos to playing games work better when a laptop is used. Hence, people are asking what kind of laptop they should purchase. This article is a helping guide for people to help them on deciding what laptop to buy. There are many prices, features, and sizes of laptops, which make deciding on what laptop to purchase is a tough task. And don't forget about the different types of laptops we mentioned at the beginning of this post.
Quick Tips to Consider When Purchasing a Laptop
12 to 14-inch laptop screens provide the finest balance between portability and usability. Bigger screens are reasonable for people who are not traveling much, and smaller models of laptops are excellent for children's use.
For those who are willing to spend much money, it is best to choose specs with Ryzen 5 or Core i5 CPU with 8GB of SSD and RAM Storage rather than buying a hard drive.
A laptop with a battery life of more than 9 hours is perfect for those who are bringing their laptops with them at school or at work.
Take into consideration a 2-in-1 laptop model (either a detachable or bendback) for those who will use their laptops as tablets. If not, just purchase an ordinary clamshell notebook.
Chromebooks are ideal for students and children since their functionality is quickly expanding. MacBooks and Windows 10 laptop models both provide a lot of functionality: which model a person chooses to depend on personal preference.
Chrome OS or Apple Mac or Windows 10?
This is a difficult problem to answer, particularly for people who are new to PCs and Macs. However, this summary of the weaknesses and strengths of these three platforms is beneficial in deciding what to buy. The majority of laptops have one of these three operating systems. Selecting the ideal one is a matter of personal choice.
Windows 10 – This is the most flexible of the three, which functions on more models of the laptop compared to the other two. The price range of Windows notebook fall between 150 dollars to thousands of dollars and provide different features from fingerprint readers to touchscreens to dual graphic bits. As the most recent version of the leading operating system of Microsoft, Windows 10 offers several developments over Windows 8 and 7, including the feature to switch between desktop and tablet modes, a restored Start menu that has Live Tiles, and Cortana digital subordinate.
Since the launch of Windows 10 last July 2015, it has added many developments, such as the ability to search the email of the users through natural language and utilize the stylus to scribble almost everywhere. Overall, this operating system is best for researchers, students, and businessmen, and Windows 10 is the only operating system that gamers need to take into consideration.
Apple Mac – every MacBook is accompanied by the most recent desktop operating system of Apple. In general, it provides the same functionality as Windows 10, but comes with a distinct display on its interface that replaces an application dock at the screen's bottom for the taskbar and starts menu of Microsoft. Rather than the Cortana digital subordinate, users of Mac get Siri, which can carry out operations with Apple Pay, take texts or calls from their cell phones, and unlocks laptops using the Apple Watch. On the other hand, Mac OS is not made for touch since it has no touchscreen feature. The most recent Mac OS Big Sur brings applications of iPad over to the MacBook and a variety of developments to both Siri and Safari browsers.
Chrome OS – this is found on cheap Chromebooks, including the Samsung Chromebook 3. The operating system of Google is secure and simple but further limited compared to Mac OS or Windows. The user interface of Chrome OS looks like Windows that has a desktop, an application menu, and the capability to drag windows all over, but the primary app the user users is a Chrome browser. The problem is that a variety of web apps the user makes use of do not function specifically if offline.
On the other hand, that is changing as the latest Chromebooks, such as the finest Google PixelBook, can now feature Android apps. For people who are in need of an operating system to surf the internet and check emails, chat online and navigate social networks, this is very portable and tends to provide good battery life at inexpensive prices. The Chrome OS is very popular with parents and schools since they are difficult for children to infect with virus and is better compared to most tablets.
Choose if a 2-in-1 is Needed
A lot of PC laptops are categorized as 2-in-1, which are hybrid equipment that can adjust between clamshell and traditional mode, tablet feature, and other positions amidst stand or tent modes. These kinds of laptops usually feature two distinct styles: flexible with hinges that bend a full circle to change modes and detachable that have screens that entirely come off the keyboard.
The majority of these operating systems are ideal at serving a purpose than others, with being bent back as laptops initially and detachable providing a more tablet experience. On the other hand, for people who do not find the need to make use of the notebook as a tab, they will be able to realize that their money is worth purchasing an ordinary clamshell laptop.
Inspect the Touchpad and Keyboard
The most extraordinary specs do not indicate tiddly once the laptop being considered for does not have better ergonomics. For people who are planning to perform more work using the computer, it is best to ensure that the keyboard provides good tactile feedback, enough key travel, and adequate space connecting the keys. For those who are considering purchasing a Windows laptop, make sure that it has Precision touchpad features. It is highly recommended to search for a precise touchpad that does not provide a jumpy cursor and consistently responds to multi-touch gestures, including pinch-to-zoom. For people who are considering purchasing a laptop for their business, think about buying one that has a nub (or pointing stick) between H and G keys so that it can be navigated all over the desktop without being able to lift the fingers off the home row of the keyboard.
Choosing the Specs
Components of Notebook, including hard drive, processor, graphics chip, and RAM, can complicate even aficionados, so users must not feel bad once the spec sheets are similar to the alphabet.
The CPU (Central Processing Unit) is the computer's brain. The processor has a major effect on the performance, but depending upon what the user wants to perform, even the most inexpensive laptop is fine.
Various reasonable laptops only feature a RAM of 4GB, but most people ideally search for at least 8GM Ram on an even budget system and 16M for those who can afford to spend more.
Similarly, as more important as the CPU's speed is the storage drive's performance. For people who can spend it and do not need a lot of internal storage, it is ideal to purchase a laptop with a SSD (Solid State Drive) compared to a hard drive.
The more pixels the laptop has, the better content a user can fit on-screen. Unfortunately, several cheap laptops have 1366 x 768 displays and a number of business laptops as well. The display quality of a laptop should be more than its resolution. IPS panels vary in brightness and color. Many people usually search for a sRGB color mark of more than 100% and brightness greater than 300 nits. For those looking for the leading picture quality laptop and do not consider battery life, it is best to have an OLED display.
The laptop is just as good as the company that manufactures it. Appropriate and accurate technical support is critical, which is the reason why Laptop Mag assesses the major brands. In the past year, Apple is the leading company, while Razer comes in second, and Dell comes in third. Support is the solitary part of what makes a brand worth the money.
In addition, people need to remember how the company lines up with the competitors when it comes to selection and value, design, review performance, and others. In the recent report, done by 2020 Best and Worst Laptop Brands, HP tops the group. Next are Dell and Asus. Overall, when it comes to choosing the best laptop to buy, it is ideal to first consider the brand and specs before selecting the personal choice of the user.