We fully understand that our friend the programmers loves gadgets and other things that concern technology, but not all programmers are geeks. It isn't easy to pick out gifts for programmers, especially if you're not familiar with the industry. Here are some of the best gifts you can give to your programmer friend that they would actually love. Some of them are cheap, and some are not.
Adjustable Desk
Sitting all day can develop physical strain and back problems. An adjustable desk is one of the best gifts for your techie friend who spend hours on their desk working.
Vivo Height Adjustable Standing Desk 36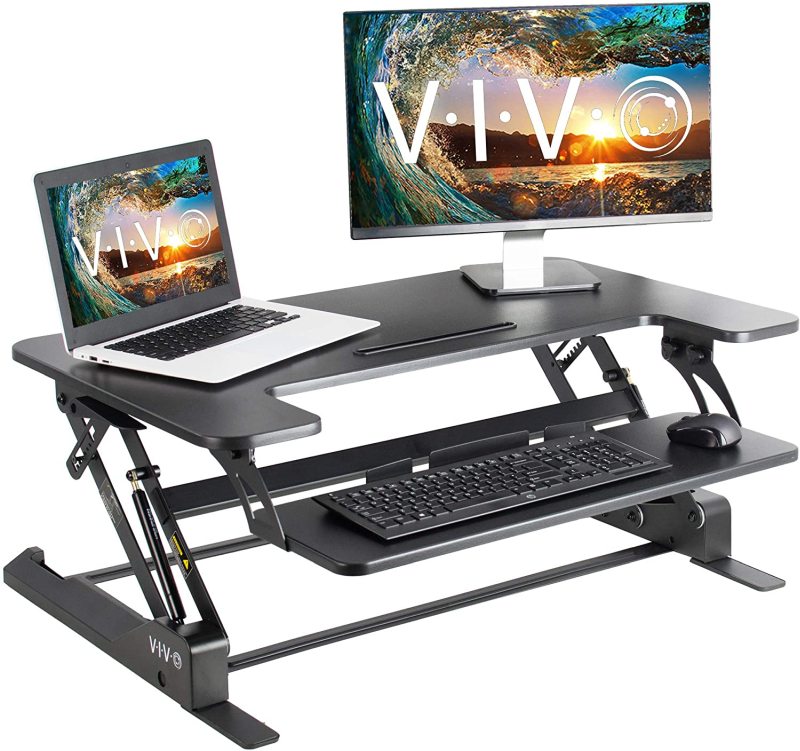 The Vivo Height Adjustable Standing Desk 36 is a great adjustable desk and very comfortable. Vivo Height Adjustable is a dual platform riser that offers enough space for two monitors, a keyboard, and a mouse. This desk is stable and affordable, easy to assemble, and it has a spacious upper flatform. This desk is incredibly stable and does not wobble at all.
Chair
To complement the adjustable desk, you might want to buy this amazing office/gaming chair. A comfortable chair is not always easy to come by as an office worker, but programmers spend hours at the desk. This makes it even more important for them to have a good seat!
DXDRacer Tank Series Office Gaming Chair
The DXDracer Tank Series is designed for serious use and gamers programmers alike. This chair can handle over 450lbs. It has two gas cylinders, which are replaceable, in powering the suspension. This chair is one of the biggest and badass chairs every gamer or programmer could ever want.
Footrest
Most footrests out there are height adjustable but only to a certain small degree. A footrest will help relieve pressure on the legs and back after hours of sitting.
Mind Reader Adjustable Footrest
Mind Readers footrest allows you to switch in different positions to your preferred height and feel. This footrest can tilt in multiple angles and height settings to make you more comfortable and relaxed.
Anti Radiation Glass
Facing your computer all day can give you eye strain; anti-radiation glass is a good gift for programmers.
Nike Flip has a beautiful and comfortable frame; it's lightweight and durable. What more could you ask for.
Coffee Maker
The coffee maker is one of the best gifts to our hardworking friend.
OXO Brew 9 Cup Coffee Maker is perfect for making coffee. This coffee maker was designed in regulating coffee brew time, temperature of the water, and 3-variable volume for that perfect coffee pot.
Mug
You cant Drink coffee without a mug. You're a great programmer is a great gift.
The design, as well as the theme of the mug, is about the programmer. Durable and simple style, just like a normal mug.
Keyboard
A colorful and responsive keyboard competes the PC setup.
Obinslab Anne Pro 2 is a compact keyboard, and it's well built and looks sleek in any computer setup. It has a fully customizable RGB light. This keyboard will give you an excellent typing experience.
Smart Speaker
Sonos one is a well designed smart speaker. It has a feature of rich sound and great sounding. It's like Alexa and googles assistant combined.
Chair Pillow:
Yes, a chair is enough, but adding this to your chair will make you more comfortable.
Everlasting Comfort Seat Cushion
Everlasting Comfort seat cushion has a premium memory foam and heat-responsive technology to improve your posture and keeps you comfortable at all times. A chair pillow will help your techie friend more comfortable in his chair.
Bluetooth Headphones
The Sony WH-100XM4 is the best wireless noise-canceling headphones today. Its design, sound quality, and lightweight frame make it worth buying the perfect gift to your programmer buddy.
Wrist Watch
The design of this watch is pure geeky. It is one of those futuristic-looking watches wherein time is shown in binary. It also features colored LEDs implanted in fine carbon. It's definitely a geeky item that your geeky friend would love.
Laptop
Programmers love gadgets more than anything else, MacBook pro is not cheap, but it's a wonderful gift for programmers.
Game Console
Programmers aren't just programmers. They are gamers too. Anyone loves to play games. It's part of our hobbies, and it's a way to relieve stress. Play Station 5 is not cheap, but it's a great gift for anyone.
Books
The Art of Computer Programming Volume 1-4A
Programmers love to read the book the art of computer programming is a great book. It will help them kill time and pass their boredom.
Stress Reliever
Squishy Stress Ball Beadezz stress release squishing the ball
Programming is stressful work. With this ball, you can relieve your stress. It's cheap, durable, and non-toxic. After using this ball, you'll feel better and relaxed.
Raspberry Pi Mini-Computer
A Raspberry Pi is a handy mini-computer that you can use to control your 3D printer and make a wide range of other gadgets. The Raspberry Pi 4 can do a surprising amount and perfect for all programmers.
Music Subscription
Amazon Prime Music or Spotify
Who doesn't love music? Music helps us to release negative emotions and helps us to feel relaxed. Music Subripstions is a great gift idea.
Mouse
Razer DeathAdder Essential Gaming Mouse
Most programmers are also gamers when it comes to computer peripherals. Razer makes it great.
Good design, quality, and functions are good. Your programmer buddy would love this gift.
Rubik Cube
Programmers need to be sharp at all times. This puzzle will help them to stay in shape. Rubik's Cubes are used as brain teasers during development breaks, making this a practical and fun present!
T-shirts
This T-Shirt uses a retro design with the text "Trust Me, I'm a Developer." It is an idle gift for anyone on any occasion. It's cheap and comfortable to wear.
These are some of the best gifts that a programmer would love. Some of these are can easily be found and are cheap. It's up to you to choose, depending on your budget, value is not important in gifting someone, so it's really your call.