Electric cars are quickly becoming the preferred choice for drivers all over the world. Thanks to their many advantages over traditional vehicles, electric cars are quickly gaining market share and becoming the standard for the automotive industry.
Electric cars are gaining massive popularity in the market. This can be seen in the number of start-ups that are cropping up and attempting to enter this space. Companies like Tesla have really shown the potential for electric cars and how they can take over the market. With lower emissions and a more sustainable option, it is no wonder that these start-ups are gaining a lot of traction.
As electric cars become more and more popular, a growing number of startups are entering the market with their own models. Here are six of the most promising ones.
Lucid Motors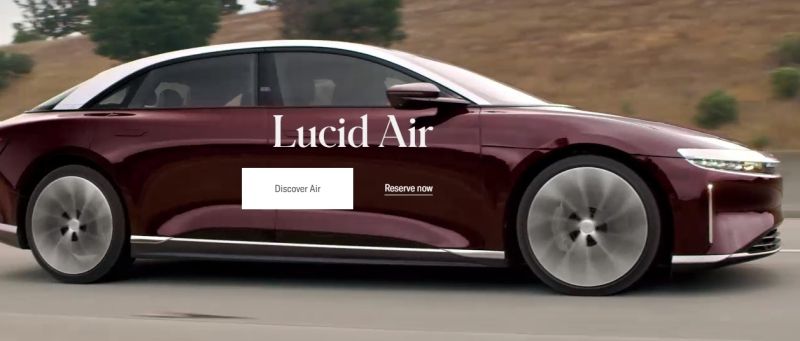 Lucid Motors is a California-based startup that was founded in 2007. Lucid Motors is a pioneering American automotive company that has emerged as a leader in the luxury electric car market. With roots dating back to 2007, Lucid Motors has quickly gained attention and praise for its innovative designs and cutting-edge technology.
In 2016, the company unveiled its very first model, the Lucid Air, an award-winning sedan that was praised by automotive experts and consumers alike. The Lucid Air is set to compete with Tesla's Model S.
Since then, Lucid Motors has continued to expand and improve upon its line of vehicles, working tirelessly to deliver the ultimate driving experience to discerning customers everywhere. Whether you are looking for speed and power or safety and efficiency, there is no doubt that Lucid Motors is your go-to choice for high-quality electric cars.
Faraday Future
Faraday Future is another California-based startup that was founded in 2014. Faraday Future is working on an electric car called the FF 91, which is set to compete with Tesla's Model X.
Not only is this car unique in its visual appearance, but it also boasts an elite interior with some of the best performance and technology around. Truly a cutting-edge vehicle, the F91 truly represents everything that makes today's start-up scene so vibrant and exciting.
Rivian
Founded in 2009, the company is driven by a passion for adventure and deep respect for the planet. Rivian's goal is to deliver products that inspire people to get outside and explore the world. The company's first two vehicles, the R1T pickup truck, and R1S SUV are designed for electric adventure and were available in 2020.
Rivian has also hired a number of Tesla staff to use their skills in building a charging network. The company's goal is to provide customers with a seamless experience that allows them to charge their vehicles anywhere, anytime. Rivian is committed to innovation and customer satisfaction, and they are sure to be a leading force in the electric vehicle industry for years to come.
Proterra
Proterra is a groundbreaking electric car startup that has completely revolutionized the transportation industry. With its zero-emission, battery-powered buses, Proterra has successfully eliminated dependence on fossil fuels and paved the way for a more sustainable future.
By providing cost-effective, eco-friendly vehicles that are capable of transporting large numbers of people quickly and efficiently, Proterra has changed public transportation forever. Thanks to its innovative designs and cutting-edge technology, Proterra has become the trusted choice for cities around the globe looking to reduce their carbon footprint and improve the quality of life for their residents.
Nio
Nio is a Chinese startup that was founded in 2014. Nio is a company that specializes in designing and developing smart electric vehicles. They offer high-performance cars that are all-electric and take part in the FIA Formula E Championship. The company has a team of engineers, designers, and racing drivers that work together to create the best possible experience for their customers.
Nio's mission is to provide sustainable transportation solutions for the future. Their products are designed to be safe, efficient, and environmentally friendly. The company is constantly innovating and expanding its product line to meet the needs of the ever-changing automotive market. Nio is a leader in the electric vehicle industry and is paving the way for a sustainable future.
AEV Robotics
AEV Robotics is a promising Australian startup that has developed an innovative new way to transport people. Known as a pod-based system, the unique design of this innovative technology features a flat construction called a skateboard construction. Within this platform lies the battery, electric motors, and other key components of the vehicle. The battery lasts for the duration of an entire day, and Australians are given the choice between two different battery capacities: 15 or 30 kWh.
With its lower maintenance requirements and ease of use, this truly cutting-edge transportation solution offers many advantages over traditional vehicles. Its compact size makes it easy to park in urban areas, while the flat deck design makes it ideal for heavy loads and loading cargo up top. Whether you're traveling across town or across the globe, AEV Robotics has the solution you need to get where you're going with style and greater efficiency than ever before.
After Thoughts
There are a number of great electric car startups that are worth keeping an eye on. These companies have the potential to change the automotive industry as we know it and make a huge impact on the environment.
With the advancement of technology, it is only a matter of time before electric cars become the new norm. So far, these startups have made great progress and it will be interesting to see how they fare in the coming years.