Buying a monitor is not as difficult as choosing between other fancy electronic gadgets. Generally, the size of the display screen is the first thing that we put into consideration for a lot of people. But there are several other aspects like the refresh rate, visual representation, color reproduction, panel technology, etc. There are plenty of monitors available in the market today but here is a comparison between In-Panel Switching (IPS) Panel Technology monitors and Light Emitting Diode LED monitors.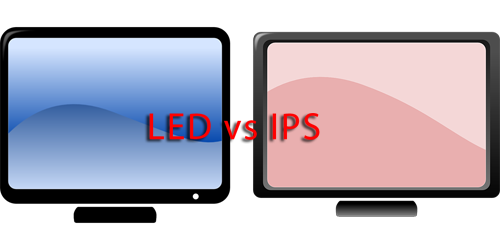 In-Panel Switching (IPS) Panel Technology
In-Panel Switching gaming monitors give you the best viewing option. It has color reproduction and the broad angle view. IPS is a kind of LCD panel that comes with a thin-film transistor, and because of that, they are no different than LCD technology. Both IPS and LCD  technologies share the basic principles.
Advantages of IPS monitors
IPS has an excellent reproduction of color.
They assist in advancing the visual encounter for gamers.
They are not only efficient for gamers but also for photo and video editing.
IPS produces high gray-scale display.
Disadvantages of IPS monitors
IPS monitors are on the higher range in the market.
Their response time is slower as compared to other monitors.
At times it appears to be hard to distinguish black color resulting in difficulty with
LED Technology
LED is known as Light Emitting Diode.  LED lightings are everywhere, and they are present in almost all the electronic gadgets in one way or another. And with the advancement in technology, LEDs are no longer limited to Christmas decorations or remote controls. Although LED and LCD are two different technologies, a lot of buyers think that they are the same. LED is useful,  consumes lesser energy, and has long durability.
Advantages of LED 
LED technology consumes lesser energy as compared to IPS.
LED produces excellent contrast.
LED provides the brightest lights.
LED's have with long lasting durability.
LED lightings are eco-friendly because almost all are recyclable.
Disadvantages of LED
LED lights are slightly expensive. Although there is a drop in the price in the recent past, they are still on the higher side.
LED's have color limitations.
LED lightings are unstable concerning temperature.
IPS vs. LED
IPS
In-Panel Switching (IPS) Monitors are 'Panel Technology.'
IPS monitors can use the LED backlight technology.
IPS monitors are known for their excellent color reproduction.
IPS monitors provide better angels for more magnificent outlook.
LED
Light Emitting Diodes (LED) Monitors are 'Backlight Technology.'
LED monitors can also use the panel technology.
LED provides excellent contrast.
LED monitors consume lesser energy as compared to IPS monitors.
LED produces the brightest lights.
LED technology is accessible in the field of smartphones. Whereas, IPS technology is famous among gamers. These technologies are an outstanding selection between professional gamers and computer geeks. LED and IPS cannot be compared concerning equal representation because they are both different from each other. However, this general comparison is to generate an understandable objective between the two technologies.