People never thought that wireless charging would exist, but it is a thing these days. Since wireless chargers are the latest innovation, a lot of people will become accustomed to this kind of technology. Nowadays, a lot of mobile phones and companies are getting used to this feature, so in a couple of years, this will fully supplant the standard chargers.
Benefits of Wireless Chargers
There are a lot of benefits of wireless chargers, including: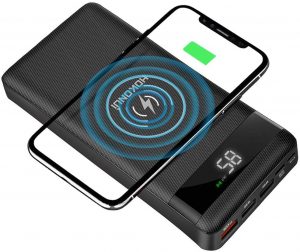 HOKONUI Wireless Portable Chargers
This battery charger is a combination of 7.5W/10W Max fast charging Qi power bank and 5V/3a Max quick charging PD power bank. Wireless charging speed increased by over 50% than other brands wireless power banks.
Wireless chargers enable people to charge their mobile phones anywhere at any time without having to worry about cable tangles. This is portable and user-friendly. In addition, using wireless chargers allow people to no longer make use of USB-C cable.
With the help of wireless chargers, people will not anymore have to carry another charger for their Android or iPhone devices. Once the device supports wireless charging, then people can be able to charge the device despite the model and brand.
Cables are not used, as well as unplugging and plugging will no longer be a worry. Therefore, people will not have to worry about the wear and tear of the socket of their smartphones. Using wireless chargers allows the charging port on mobile devices to remain intact. Moreover, the discomfort of deterioration of mobile devices because of aggressive use and erosion is no longer a concern.
These kinds of chargers are intelligent as they automatically shut off as soon as the mobile phone is fully charged. So, leading to less utilization of energy, a secure charging experience, and eliminate the possibility of a device overheating.
It is common knowledge how significant it is to make sure that the environment is clean and neat, and different cables and chargers for every device result in a huge mess. However, with the help of wireless chargers, people can now be able to charge their devices through only one charger without the hassle of finding or purchasing cables. Doing this will make the environment neat and clean and therefore make cozy and soothing surroundings.
People having difficulty in using their wrists, arms, hands, or fingers to unplug and plug cable cords continuously would benefit from wireless chargers. The pads of wireless chargers remove the need to plug the cords into the USB port of the mobile device and provide the user a home station for the mobile phone. Moreover, wireless chargers are safer and easy to use for families with small children.