The world of modern computing has absolutely reinvented itself in just the last four or five years, to the point where most of us are using tools and technologies that we never before thought possible – and are almost taking them for granted today.
The age old "desktop" PC is becoming more and more extinct across the board, with people focusing instead on netbooks, ultra-books, tablets, and smart phones to do the bulk of their computing on. This has completely and totally change the landscape of computers forever, and while it is still absolutely impossible to fully understand aware computing is headed in the future we do know what things are trending towards.

The PC of the future is going to be ridiculously small but ridiculously powerful, and may not run a "traditional" operating system like Windows or the Mac OS. It may or may not have dedicated keyboards or mice and instead might opt for a touchscreen – or use some other remote control capabilities – and it will likely interface with the overwhelming majority of tools and technologies that we use each and every single day.
If you really want to see what the future of the PC really is, though, you'll need to look no further than the Android Mini PC solutions that are being produced right now.
What is an Android Mini PC?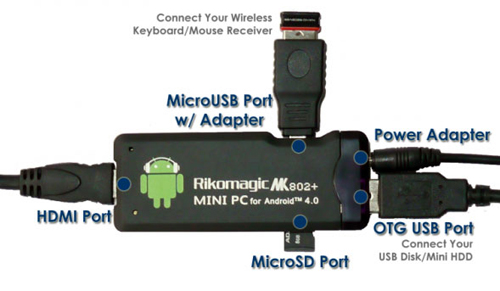 The Android operating system has absolutely turn the world on its head after first being released into the wild by Google.
Initially created to be a rival mobile operating system that would go toe to toe with the iOS platform created by Apple for their iPhone, iPad, and iPod products, Android has turned into something else entirely.
Today, Android powers literally hundreds of millions of tablets and smartphones across the globe – but it also powers a number of new and excitingly innovative Android Mini PC solutions.
These Mini PC Android products are nothing at all like the traditional PC, and are in fact surprisingly similar to your pretty typical and "vanilla" thumb drive – aside for the sheer volume of brains and capabilities that they have inside.
Top-of-the-line Android Mini PC solutions have high-speed processors, at least 1 GB of RAM and 8 GB or more of flash storage, as well as wireless and Bluetooth connectivity – not to mention the ability to be jacked directly into a HDMI or USB 3.0 port.
Useful as media centers or media players – but capable of so much more – this is just one avenue that the traditional PC world is going to wander down in the years to come.
Choose the Best Android Mini PC
When it comes to finding the very best Android Mini PC for your specific solution, there are any different number of things that you need to focus on moving forward.
First and foremost, you really need to understand what you want to use this mini PC for in the first place. Some of these solutions have been created exclusively to act as a "smart TV replacement", whereas others are capable of more heavy lifting when it comes to the computing side of things. Until you know exactly what you want to use your Android Mini PC for, you run the risk of buying the wrong one.
All the information above considered, here are some of the very best Android Mini PC solutions available on the market right now!
Best Android Mini PCs in 2021
Many Android mini pcs come and go. Amazon's Fire Stick still leads the market as the most popular product.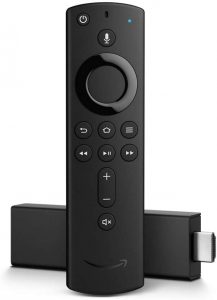 Watch favorites from Netflix, YouTube, Prime Video, Disney+, Apple TV+, HBO Max, and more. Stream for free with Pluto TV, IMDb TV, and more.
Launch and control content with the Alexa Voice Remote.
Enjoy brilliant picture with access to 4K Ultra HD, Dolby Vision, HDR, and HDR10+.
Choose from 500,000 movies and TV episodes.
Experience tens of thousands of channels, apps, and Alexa skills.
Alexa on Fire TV provides a comprehensive voice experience—check weather, view live camera feeds, and more.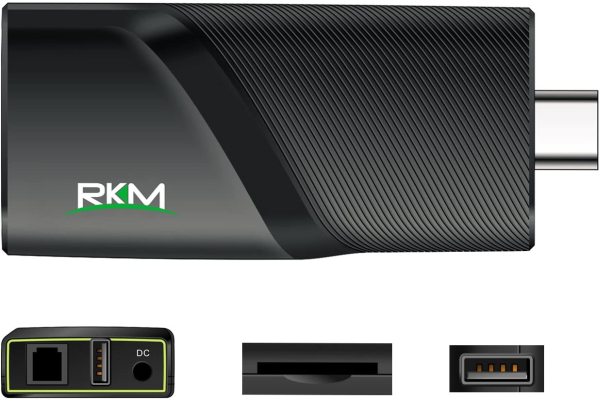 Have you always dreamed of a small, sleek streaming device that fits in your pocket or backpack? With over one million apps and games to choose from, the RKM quad core 4k android mini pc is the perfect choice for anyone who loves gaming at home or on the go. The RK3288 quad core provides a power-efficient way to handle any app you desire. Access all of your favorite websites with support for HTML5, as well as dual band 802.11 b/g/n wireless connectivity and support for LAN 10/100/1000M network connections. Featuring  4K H.265 decoder, choosing the RKM it will be like having HD tv on hand whenever and wherever!
FAQ
Q: My Mini PC Android runs hot after awhile.
Any mini pc runs hot after executing intense tasks such as playing 3D game or streaming HD movies. There is no set amount of how long a device run until it is shutdown automatically. Sometimes it is 3 or 4 hours, sometimes the device can run fine for a day.
The solution many find it useful is to mod your dongle with heat sinks to cool it down. My suggestion is Cosmos Cooling Heatsinks cooler. You can find it on Amazon.
Q: My TV doesn't have a built-in speaker. How do I connect the mini pc to external speaker?
Some Android PCs can only output audio via HDMI port so there will be no sound from your TV without built-in speaker. The solution is to choose a mini pc which supports 3.5mm audio jack.
Q: How to disable onscreen keyboard while using Bluetooth keyboard?
There is an app called Null Keyboard on Google Play Store. Install the app then switch default keyboard to the Null Keyboard. It can be downloaded at https://play.google.com/store/apps/details?id=com.wparam.nullkeyboard&hl=en.
Q: What USB or Bluetooth keyboard do you suggest to use with an Android PC?
All mini pc android support every USB and Bluetooth 2.4 GHz RF keyboards out there. Most common keys are supported by Android.
Q: I want to dual boot Linux and Android. How to do it?
It is possible to install dual boot. What you need to do is to install an Linux image on the external SD card. Linux will be booted from this external SD card. To switch back to Android, remove the SD card.
Supported Linux OSes: Ubuntu, Xubuntu, Kubuntu, Lubuntu , Fedora and Puppy Linux.
Q: Can I force an app to be displayed in landscape mode and vice versa?
Try Ultimate Rotation Control. This app can force landscape or portrait mode on any apps and games.
Q: Can I use a gamepad with Android pc for games?
It is suggested to use a game controller for gaming. There are many games which support gamepad. Read this post for a list of good Android controller.