The normal way is to tap on the Maximize icon in the top right corner of your browser. If we keep repeating this step, it becomes annoying. In this article, we will show you how to start-up Google Chrome with a maximized browser window.
The command-line option –start-maximized forces Chrome to start in a maximized state.
Here are steps to add this option to a Chrome process:
Right-click on the Chrome icon on your desktop or its installation folder then choose Properties.
After the Properties window appears, switch to Shortcut tab (this should be opened by default).
Under "Run:" field, choose "Maximized" then apply changes with the OK button.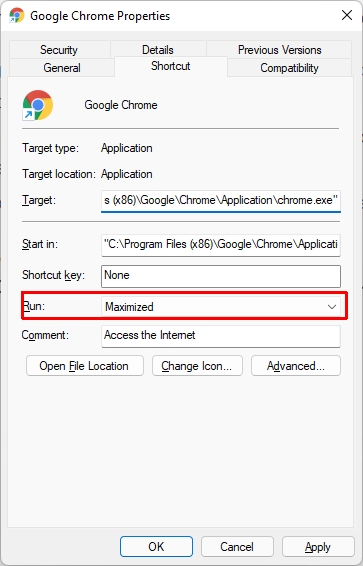 Or you can add –start-maximized to the end of chrome.exe under "Target" field.
In this case, it becomes "C:\Program Files (x86)\Google\Chrome\Application\chrome.exe" --start-maximized.