We all know that computers are essential to our everyday lives. They store our memories, connect us with friends and family on social media, and help us find the latest news. But what about when we want to take a break from work? Or maybe you need some tunes for your commute? Sometimes it's nice to have something more than just music coming out of your computer speakers – but how do you get that sound without investing in expensive audio equipment or lugging around large speaker systems? That's where computer accessories come in!
This article will cover all the must-have items for making your home office or personal space even better. You'll be able to pick up everything from wireless speakers so you can share your favorite songs with friends, cute computer organizers to make your deck look better, and on-the-go speakers you can rely on for some tunes when you're on the move – and that's just to scratch the surface!
20 Computer Accessories and Gadgets You Didn't Know You Needed
Speakers
Do you get sick of your headphone's audio cord wrapped around everything, or having to sit right next to your computer to hear the good sound? If so, you need a speaker!
Computer speakers can be useful whether you want to blast some of your favorite tunes or play the latest game on your PC. There are several types available, such as 2.1 speakers, 5.1 surround sounds systems, and Bluetooth-enabled wireless speakers that work with any device – all of which will give you great sound and style for an affordable price.
E.g.: PreSonus Eris E3.5-3.5″ Near Field Studio Monitor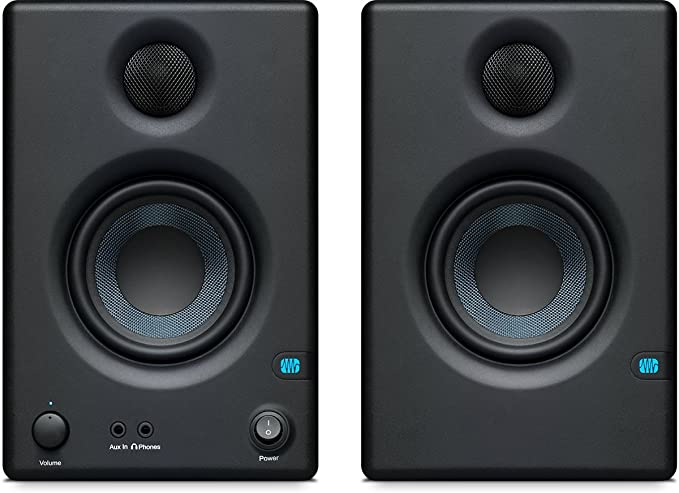 The PreSonus Eris E3.5-3.5″ Near Field Studio Monitor is a near-field studio monitor and an outstanding choice for mixing and mastering. With its small size, thin profile, and light weight, it's perfect to work on tight spaces of your desk or mobile recording setups.
What's more? It sounds like no other! The Eris has a kevlar low-frequency transducer that reproduces the full range with tremendous accuracy; you'll never hear harshness in your mix again because highs are warm and smooth while lows sound tight with no added boominess.
The one-inch silk dome tweeter gives detailed high frequencies which make this speaker sound expensive
Zippered Sleeve
Keeping everything organized and out of the way has never been easier. A zippered cover helps to keep all of those pesky cables and connections in order. They are also great for keeping your mouse cord away from any wayward feet that may be running through the room.
If you won't have quick access to a USB port for a while, you can use the sleeve to secure your computer's cord underneath your desk or by tying it around a table leg.
Gaming Mouse
For gamers, having the right equipment is essential. For some people, this means splurging on all of the top-of-the-line programs and peripherals – but not everyone has that kind of cash! Luckily, there are ways to customize even if you're low on funds.
An ergonomically designed gaming mouse with adjustable weights is an affordable alternative compared to some higher-end models or try finding one that comes in a color or style that fits your identity.
Cleaner Cloth
Keeping your gear clean is not only about being tidy – it's also about making sure you have the best possible picture quality and responsiveness from all of your equipment.
A dust cloth, compressed air, or even canned air are excellent ways to keep everything free of any dirt or grime that may accumulate over time. This helps extend the life of your devices while keeping them looking new!
Adjustable Monitor Stand
If you're working with multiple people at once, this handy little gadget will make things go much smoother. It allows you to raise and lower monitors according to whoever has the keyboard in front of them so they don't need to lean over awkwardly when checking their work.
If you have one monitor that needs to be raised or lowered for different tasks, an adjustable holder can come in very handy.
Gaming Chair
There are several options available when it comes to buying a gaming chair, but the main things you want to look at are how much padding is used and whether there's enough cushioning for your back (but not too much so that you sink in).
You should also check to make sure it swivels easily because if you spend long days hunched over your computer, this will help with any potential neck strain. Look for armrests as well; they provide great support during long hours of gameplay.
Large Gaming Mouse Pad
Adding some extra style into your space never hurts! Gaming mousepads come in a wide variety of colors and designs, so you can pick one that matches your personality or workspace.
Even if you don't play computer games, these pads are excellent for office chairs as well since they're made with rubber materials to keep them from sliding around under your weight.
Game Controller
Computer games aren't the only way to have fun! Console gamers can use controllers too, such as those compatible with Xbox Series X or PS5.
If you like playing games on both systems then investing in a universal controller is an excellent choice – and there are other options available for other devices as well.
Mechanical Keyboard
Once you go mechanical, you never go back! This type of keyboard gives users a much faster response time and greater accuracy. The keys require less force and the switches (used instead of rubber domes) don't get stuck like traditional keyboards, especially after long gaming sessions.
While more expensive than standard models, this style is great for both gamers and those who prefer to use a computer for work purposes as well.
USB Hub
A USB hub is essential if there are multiple devices you want to connect at once without needing to switch out cords constantly.
It's also helpful when you need increased connectivity options close by – such as creating your own laptop dock with an external monitor; or, if your keyboard doesn't have enough USB slots for all of your devices and printer at once. This accessory can increase efficiency and cut down on clutter too!
Bluetooth Headphones
These wireless headphones are a great way to keep other people from being distracted when you're in the middle of concentrating on something important.
Whether you just need some peace and quiet for a few minutes or you want to turn up your favorite tunes while working, these headphones allow you to listen without disturbing others nearby.
And if that's not enough, they can also be used with mobile devices so you can talk hands-free while driving too!
Power Strip Urge Protector
When there are multiple outlets right next to each other it makes it all too easy to plug in another appliance – even if it's a space waster. Power strips give users the ability to spread out their cords instead of piling them together like spaghetti!
Look for surge protectors too so the next time there's a power outage, none of your devices will get damaged.
Microphone
Depending on what you do for a living or how you want to use your computer, an external microphone can be very helpful! It allows users to give audio samples and input voice commands, such as turning it on and off.
This is also useful when creating projects in programs like Garageband – especially if recording instruments in a solo setting.
Portable Hard Drive
The more photos, videos, music files, and other data someone accumulates over the years, the more likely they'll need additional storage space to keep everything organized properly.
A portable hard drive provides huge amounts of memory in a small package that's easy to move from place to place. It also ensures that important information doesn't get lost in the event of a computer crash or virus!
Laptop Backpack
Even if someone travels mostly via car, they're still carrying their laptop around on their back for hours at a time. This can be uncomfortable so it's smart to invest in an ergonomic laptop backpack with padded back support and straps to take some of the pressure off shoulders.
There are even options available to suit your type of lifestyle – whether you need additional compartments for things like books or just want something chic that will match every outfit perfectly!
Air Duster
Most people try using canned air to clean out dirt and dust from their keyboards or other hardto-reach places, but it's more effective to use an air duster instead! Not only are they less wasteful, but there's no risk of moisture getting into the device.
They're also more convenient for cleaning off desktops – especially in between uses of a computer screen where dust buildup can be extremely problematic and cause eye strain and damage!
Cleaning Kit
Even if someone tries to keep their working space clean, dust and debris will eventually build up over time.
A cleaning kit provides everything needed to restore computer screens back to factory condition – including sprays, wipes, polishing cloths, and other items. It's also helpful for maintaining monitor appearances in the long run!
USB Fan
If someone is using a laptop at work or in an environment where it's difficult to find space for fans, this gadget can offer cooling relief without needing to set up an entire system with noisy cooling pads beneath the unit.
These small fans plug right into tablets and laptops so users can stay cool no matter how hot it gets during sweltering conditions!
Webcam Cover
The webcam was created as a tool for business professionals, but it can also be a privacy concern whenever video chatting or recording video with friends.
A webcam cover snaps onto the built-in camera on laptops and desktops to prevent others from seeing what you're doing, especially if they're likely to use the same computer without your permission!
Steering Wheel
Steering wheels are perfect for racing game fans who are either too young or prefer playing games in a relaxed setting. They're also good for disabled users who need access to the full range of motion offered by this accessory.
The major benefits are built-in controls designed specifically for racing simulators and tilt functions that make it more comfortable to hold the wheel steadily while driving!
Conclusion
Gadgets and computer accessories make it possible to optimize your work space for maximum comfort, function, and ergonomics. From USB fans to cleaning kits, there are plenty of helpful devices on the market that can save money by preventing damage or saving time with routine maintenance!