Have you ever wanted to transfer files, pictures or music from your phone onto your computer? If so, then you've seen the little USB cable that was usually included with your device. The problem is that it only offers one way of transferring data – in other words, it can't be used to charge up your phone while transferring data at the same time. This is where a USB adapter comes in handy!
What Does a USB Adapter Do?
A USB adapter provides two functions: It transfers data and charges devices at the same time by connecting them both with a single cord.
Some adapters come equipped with an additional advantage too- they are able to provide power through their ports for charging laptops or tablets on the go when there isn't an available outlet.
You can use your USB adapter to sync your phone while it's charging, transfer files and pictures from your digital camera onto your computer or even charge up your laptop on the go! Say goodbye to instances where you forgot to pack the right cables for transferring data.
With many new devices coming out yearly, new types of ports are being developed every day. A USB adapter allows you to connect almost any type of device with a USB port to your computer, regardless of what it is.
The serial port is one of the most prevalent non-USB ports. Serial ports are still available on a number of recently manufactured computers for connecting peripherals such as printers and scanners.
If you purchase a contemporary computer and wish to connect it to an older printer, there might be a problem. A USB port is most likely on the computer, whereas a serial connection may be found on the printer. This can happen with more modern computers as well. A USB adaptor is required to connect the two items together.
The USB adaptor can connect a USB-port device to a non-USB-port device. On one end, it usually has a USB cable, but on the other, it has a non-USB cable. Simply connect the appropriate end into the correct port, and you'll have an apparent barrier that appears to be unbridgeable removed.
You may also discover a USB adapter that works with wireless devices. A dongle that connects to a USB port on the computer and does not need to connect to anything on the other end can be used with a keyboard, mouse, or headset.
Example of a USB Adapter
Cowzuc USB C Hub 3.0 and USB C Adapter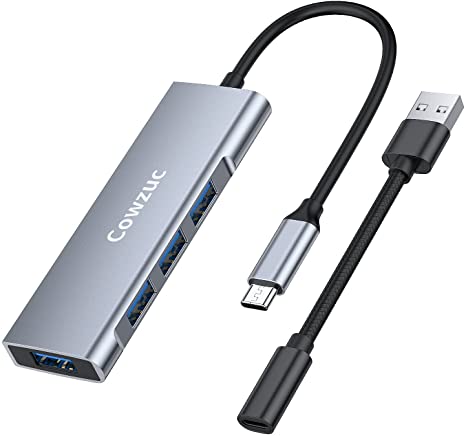 Liven up your data with this one-of-a-kind USB C Hub 3.0 and USB c adapter! With this device, you can plug-in devices from the latest technology including iPhones, iPads, laptops, and more!
This product will make it easy to take control of your space-saving all your gadgets in one simple move.
Its small size makes it easier than ever to take on the go or bring to work for convenience purposes.