If you're like most people, you probably think of action cameras as tools for capturing extreme sports and other outdoor adventures. But the truth is, you don't need to be a professional athlete or videographer to use one. Action cams are inexpensive and can go virtually anywhere with you, so they make for an excellent travel companion.
In this post, we'll take a look at what is an action camera, its benefits, and how to choose one.
What is an Action Camera?
Action cameras are typically used as sports cameras or for video recording. They can be mounted to the body, helmet, bike, car, and so much more! Action cameras come in all different shapes and sizes to best suit your needs. There are many benefits of using an action camera including durability; long battery life; shockproofing; waterproofing; and affordability.
Action cameras are designed to record action at any given moment. They are usually waterproof or come with a case that provides them with this feature. The design itself is focused on the loop recording mode, allowing a user to record video without adjusting the camera or using its controls.
Furthermore, they are capable of recording fast movements and actions, therefore the name, action cameras. In addition, they are commonly associated with sports and recreation.
Among action cameras, GoPro is one of the most popular choices for adventurers and athletes who want to capture their exploits on video. GoPro is a wearable camera that is popular for recording outdoor activities such as skiing, surfing, and mountain biking. The camera is small and lightweight, and it can be attached to a helmet or other piece of gear.
Advantages of Action Cameras
Action cameras are built for tough environments and can handle lots of different types of weather (i.e., rain, snow, sand). They're better able to hold up in extreme conditions than most phones or point-and-shoot cameras.
The casing is typically made from a hard plastic material that's easy to clean off if it gets dirty. Action cams also have sealed ports which include the lens cover and battery compartment so you don't need to worry about water getting inside during heavy rainfall!
Many action cams come with protective cases to take on outdoor adventures like skiing, mountain biking, skateboarding, or surfing – they'll even float if dropped into the water! And because there's no glass screen on these models people often use them as a POV cam for skiing or mountain biking.
Action cameras are smaller than DSLRs and although they may have fewer features, the user interface is generally simpler because it doesn't rely on buttons as its larger counterparts do. The small size also makes action cameras more portable so you can easily mount them onto your bike helmet if you're going cycling or to a surfboard, if you're surfing – whichever sport tickles your fancy!
In general, action cams differ in terms of their physical design, weight (which varies from model to model), video resolution, and processor speed. They range in price depending on those specs too: some go for $30 while others cost upwards of $500+. But all come with one feature in common – they're designed to be tough and withstand the rigors of an active lifestyle.
Which Specs Matter?
Perhaps this sounds like a simple device, but a real, action camera is a complicated unit, with plenty of features and plenty of factors to consider when looking for one. Here are the main factors to consider.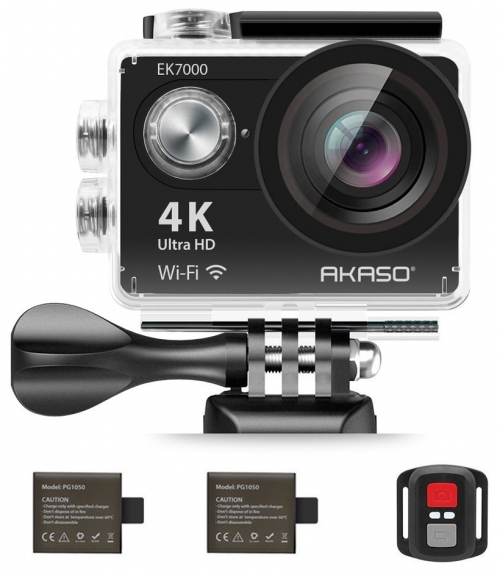 Video quality
At the moment, 4k is the best resolution you can get. These cameras are also rated as the best and suitable for more demanding users. Obviously, they are the most expensive as well. Let's just add the fact there are models with a resolution of 720p and 1080p.
Field of view
In essence, the field of view of an action camera is the same as the field of view of human eyesight. It ranges between 140 and 170 degrees and it depends on the wide-angle lens. The size of the lens itself is between 17 and 33 mm. The larger the lens, the wider the field of view will be.
Image Quality
Action cameras with a higher megapixel rate offer much better images. The situation is the same as with smartphones and conventional, digital cameras.
Size, Shape, and Weight
All of the three factors here are mandatory to consider when looking for a new action camera. Shape, for instance, is especially important. Those with a shape of a bullet are suitable for mounting on helmets, while box-shaped models are better in the terms of stability. The main goal is to acquire a lightweight and portable action camera.
Durability
Make sure your new camera is waterproof and dustproof. It won't be used at home, so these features are mandatory if you want to have a fully functional action camera for a longer period of time. Materials have a huge role here. Look for metal, heavy-du plastics, titanium and etc.
Battery Life
How long can a battery last? Sadly this cannot be generalized. It depends on the Wi-Fi use, the video quality you choose, and the outdoor temperature. For example, recording while the temperature is below zero will reduce the battery life. Some models can provide a battery life of 8 hours, while others are closer to 4 hours. Tip: Look for the battery capacity. The more the merrier.
Connectivity
How easy is it to transfer video from a camera to a computer? Connectivity has huge importance. Look for Wi-Fi, and USB connectivity, but also for HDMI.
Memory
A memory card of class 10, paired with 310mb/s of writing speed is the best choice. Also, make sure a camera supports memory cards of extra-large capacity (256GB or more). Once the memory runs out, a camera won't be able to record anymore.
Accessories
If you want to use a camera while surfing, you will need a suitable mounting accessory. The same goes for cyclists, paragliders and etc. lays check the official website for available accessories.
All of the factors here are mandatory to look for. Combined, they can guarantee you have an action camera that meets all of your requirements.