Valve's Steam Deck is looking like it will be one of the must-have gaming items in 2022. The flexibility of PC gaming with the accessibility and portability of handheld gaming is a great combination that many gamers will love. Being able to play your favorite Steam games on the go is a great perk that this handheld offers.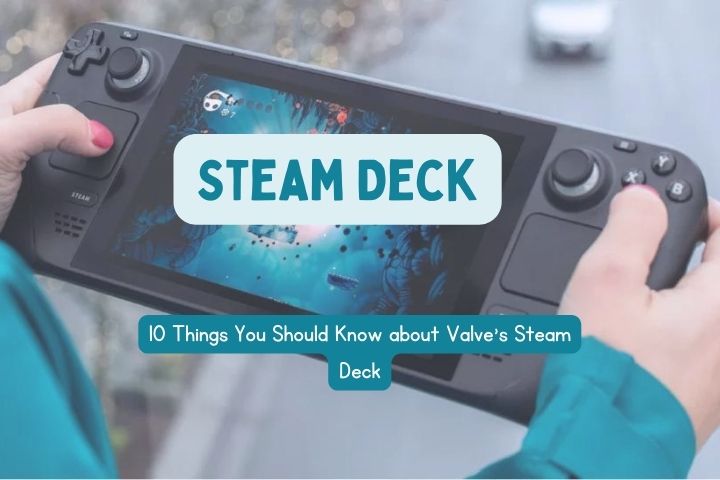 Here are 12 interesting facts about the Steam Deck that you may not have known!
Steam Deck runs on a modified version of Arch Linux called SteamOS and uses Proton, a compatibility layer, to run Windows games.
Proton is based on a customized version of Wine, along with a variety of high-performance graphics API implementations.
The handheld was released on February 25, 2022, and came with 3 models with different prices and built-in storage capability: $399 for 64 GBs of memory, $529 for 256 GBs of memory, and $649 for 512 GBs of memory.
The console also has a MicroSD card slot, which allows you to expand the storage capacity up to 1TB or even 2TB. The microSD card on your Steam Deck uses the ext4 file system format with casefolding.
The Steam Deck comes with an impressive 16 gigs of RAM, making it a powerful tool for running big game titles and software smoothly.
The screen of the handheld is a 7-inch LCD with a resolution of 1280X800. The size of the Deck is 298mm x 117mm x 49mm and it weighs about 669g.
Remote Play is a great feature for anyone who wants to game on the go. With Remote Play, you can stream a game from your PC to a Steam Deck. This means that you can take your games with you wherever you go, and never have to worry about missing a session.
The Deck supports Bluetooth 5.0, which allows you to pair it with external controllers. This means that you can use your favorite controller, regardless of whether it is designed for the Steam Deck or not. Simply turn on Bluetooth on your controller and connect it to the Steam Deck!
The Steam Deck Dock Station allows users to connect their Steam Deck to a TV or monitor. It works in the same way as how the Nintendo Switch can be used solely docked or solely portable. The dock has HDMI and USB ports and comes with an AC adapter.
The Deck is powered by an AMD APU that is built around two key AMD architectures: Zen 2 and RDNA 2. The CPU is Zen 2 4c/8t, 2.4-3.5GHz (up to 448 GFlops FP32) and GPU is 8 RDNA 2 CUs, 1.0-1.6GHz (up to 1.6 TFlops FP32).
Valve offers a list of verified games which show details of their compatibility for Steam Deck. Any games that are included in this list will perform great on the device.
Valve has released official drivers for Windows 11 and Windows 10. This means that you can now choose to install either of these Windows versions on your Deck, giving you more flexibility and choice.