During the last years, a desire for cryptocurrencies has been increased significantly. Now, more and more users want to trade, earn, sell or simply be in touch with this type of currency. These apps can assist you with this matter.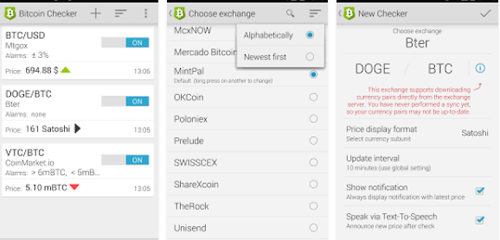 Bitcoin Checker is one of the simplest and the most popular apps of this kind. It allows to the users to check the Bitcoin value, trade and etc. Basically, you will get all the information needed which are associated with the cryptocurrencies. The app is completely free to use.
Blockchain – Bitcoin & Ether Wallet
All of those who are dealing with cryptocurrencies will need an appropriate wallet. The app here is a wallet designed specifically for this purpose. You can send and receive funds and etc. One of the main advantages is the PIN protection, longwise availability on 25+ languages. There are 17 million users at the moment and the number is increasing as we speak.
Here is another app which is developed as a cryptocurrency wallet. It allows to the users to make payments using their smartphone and an app. It is safe and reliable to use, but at the same time sophisticated. You can pay using Bluetooth when the Wi-Fi is unavailable. The app is something each Bitcoin user must have. It is also the oldest and one of the most popular digital wallets at the moment.
Cryptonator is loaded with features. Not only it supports more than 500 different cryptocurrencies from all parts of the globe, but it also has modern features which are essential nowadays. What this means is that you can keep your eye on the cryptocurrency value at all times. The built-in widget makes the entire app even better. An interesting option is to check out how the specific cryptocurrency did in the past month.
Crypto Tracker – Bitcoin, Ethereum
This is a must-have cryptocurrency app. First and foremost, it is developed to make tracking of the virtual currencies easier than ever. Users can sort all types of display options and can customize the search option. Then we have the feature which will analyze the movements of the prizes at any given moment.
Summary
All of these apps are relatively easy to use, but they can completely eliminate a need for a computer. Try them today and you will see.