An Internet of Things (IoT) is a network of physical objects or "things" that are embedded with electronics, software, sensors, and network connectivity, which enables these objects to collect and exchange data. IoT has the potential to change the way we live, work, and play. IoT devices can include everything from smartphones and laptops to wearable devices and home appliances.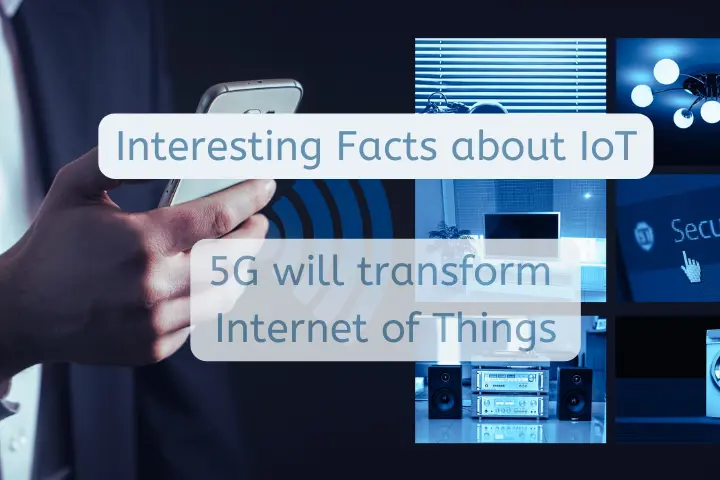 IoT Facts and Stats
Here are some intertesting facts about IoT:
 IoT is a key component of Industry 4.0. Industry 4.0, the Fourth Industrial Revolution, is the current trend of automation and data exchange in manufacturing technologies. It includes a number of new technologies such as the Internet of Things (IoT), robotics, 3D printing, and artificial intelligence (AI). This new era of industrialization is having a profound effect on all aspects of society, from the way we work and live to the way we interact with each other.
The ATM, or automatic teller machine, is often credited as being the first widely used Internet of Things device. While the concept of connecting devices to the internet is now commonplace, this was not always the case. The ATM was developed in the early 1970s as a way to allow bank customers to access their accounts without having to visit a physical branch. To do this, the machine needed to be connected to the bank's computer network. This required the use of new technology, which was not yet widely available. As a result, the ATM can be seen as an early pioneer of the Internet of Things.
IoT devices come in all shapes and sizes. Some are small enough to fit in the palm of your hand, while others are as large as an industrial robot. The size of the device depends on the use case. For example, a small sensor might be used to track temperature or humidity, while a larger device might be used to control a machine in a factory. IoT devices can be used for a variety of purposes, so there is no one-size-fits-all solution.
According to DataProt, there were over 10 billion connected IoT devices in 2021.
By 2025, the number of IoT devices connecting to the internet per minute will exceed 152,200.
The growth of the internet of things (IoT) is one of the most significant trends in the tech sector. By the year 2030, according to some forecasts, there will be about 25.4 billion connected devices in the world. The opportunities for businesses to leverage IoT technologies are vast, and the sector is expected to continue to grow at a rapid pace.
There is so much data generated by the internet of things that It is now measured in zettabytes. A zettabyte is a unit of data that is equal to one sextillion bytes, or one trillion gigabytes. To put that into perspective, one zettabyte is equivalent to the amount of data generated by every person on Earth over the course of an entire year. And with the growth of the internet of things, the amount of data being generated is only going to increase.
IoT is the driving force behind smart cities, including Shanghai, Barcelona, Seoul, New York, and Beijing – which are the top 5 smart cities in the world according to Juniper Research. In these cities, IoT has been used to improve transportation, public safety, energy efficiency, and more. For example, traffic lights are now connected to an IoT network. This allows the city to optimize traffic flow in real-time, reducing congestion and improving air quality. IoT-enabled surveillance cameras have been installed throughout the city. These cameras provide live streaming of video footage that can be used to monitor crime and respond to emergencies. IoT sensors have been deployed to track energy use in buildings. This data is then used to improve energy efficiency and reduce greenhouse gas emissions.
It's no secret that the internet of things opens up a whole new world of security concerns. After all, when you connect physical objects to the internet, you create potential entry points for cyber criminals. We've seen this play out in several high-profile cases in recent years. For example, in Vegas, an IoT sensor was placed inside a fish tank and utilized to gain access to the casino's internet network. This allowed hackers to obtain personal information about the casino's customers and employees. And we've also seen attacks on smart home devices like thermostats and light bulbs.
The healthcare industry is in the midst of a major transformation, thanks to the rise of the IoT. By connecting devices, sensors, and data sources, the IoT is enabling a new level of insight and automation that is improving patient care and driving down costs. One of the most promising applications of the IoT in healthcare is remote patient monitoring. By using wearable devices and other sensors, doctors can now track a patient's vital signs and health status in real-time, allowing them to intervene early if there are any problems. This is especially important for elderly or chronologically ill patients who are at risk of complications.
Green tech is an umbrella term for technology that aims to mitigate or adapt to the effects of climate change. This can include everything from renewable energy sources to energy-efficient appliances. The rise of the IoT has played a significant role in driving innovation in green tech. By connecting devices and systems, IoT allows for greater transparency and data-driven decision-making when it comes to developing new technologies. For example, connected transportation systems can help to reduce congestion and emissions. In every sector, from agriculture to manufacturing to transportation and logistics, clean technology helps us produce higher-quality products that use less fossil fuel.
5G is the next generation of wireless technology, and it promises speeds up to 100 times faster than current 4G LTE networks. This means that 5G will be able to support large numbers of devices and extremely high bandwidths, making it ideal for the IoT. When the 5G network is deployed, the IoT will finally reach its full potential. Millions of devices will be able to connect to the internet and communicate with each other in real-time, paving the way for a new era of intelligent transportation systems, smart cities, and connected homes.
A 2019 study found that 86% of healthcare organizations were using IoT devices in some way, with the most popular applications being telemedicine, remote patient monitoring, and asset tracking.
As you can see, the Internet of Things is set to have a big impact on both our personal and professional lives in the years to come. It's already made huge strides in recent years and shows no signs of slowing down any time soon!