The world of GoPro is a vast and varied one. There are many different models, all with varying specs that will make them more or less suitable for certain activities. For the most part, though, they are designed to be used anywhere you go. You can take them underwater and capture everything from the best surf spots to your skydiving adventure! But there's an issue: if you're not careful about how you store this expensive device, it could get damaged when it falls into water or snow (or even dirt). This article will give you some tips on choosing the best GoPro waterproof cases so that your camera stays safe from harm!
Why You Need a Waterproof Case for Your GoPro
Protects your GoPro from dirt, sand and other external elements. Protecting the delicate electronics inside as well. A water-resistant or waterproof case will also keep out any moisture that would otherwise damage the device if it were submerged in liquid for a long period of time.
If you plan on using your GoPro underwater (to capture surfing footage, say) then getting an appropriate housing is essential to prevent short circuits and avoid disasters like flooding with saltwater ruining expensive equipment!
In fact, a camera case can go hand-in-hand with some mounts which often come specifically designed to fit into them snugly without too much wiggle room – this protects both the mount and the gear against harmful debris like sharp rocks or tree branches while also ensuring your shots remain beautiful.
Many cases offer a variety of different mounting options, so you can use them in any environment or scenario – even upside-down! With the ability to attach lights and other accessories on top of the case itself for added protection (or greater versatility) this is one piece of gear that will never let you down when shooting outside in harsh conditions like rainstorms.
Factors to Consider When Choosing GoPro Waterproof Cases
Light Transmittance
It's important to note that not all waterproof cases are created equal. Some may say they can withstand extreme depths, but have a cloudy plastic cover that prevents you from seeing the screen or viewing your footage! Others might be clear and make it easy for you to see what's going on inside of your case. It is also very possible that some will even give you distortion within video playback due to light refraction (which only happens at certain angles). Choose one with a level of clarity appropriate for where you plan to use it most often so that visibility won't be an issue.
Durability
One of the most important factors to consider when buying a waterproof case is how durable it will be. If you plan on using your GoPro in harsh environments, then durability should be one of your top priorities! Durable cases can withstand drops and impacts that result from weather or terrain conditions better than flimsier ones.
Weight
Another thing to keep an eye out for as you shop around is weight-bearing capacity. This refers not only to carrying the device itself but also things like extra mounts and attachments if you need them. The lighter the case, generally speaking, the less likely it'll weigh down your bag or cause arm fatigue while holding it up over long periods of time (especially during activities).
Size
If you want to go hand-held with your camera or attach it to an object like a surfboard then choose something smaller than if you plan on strapping it onto yourself.
5 Best GoPro Waterproof Cases
Kupton Waterproof Housing Case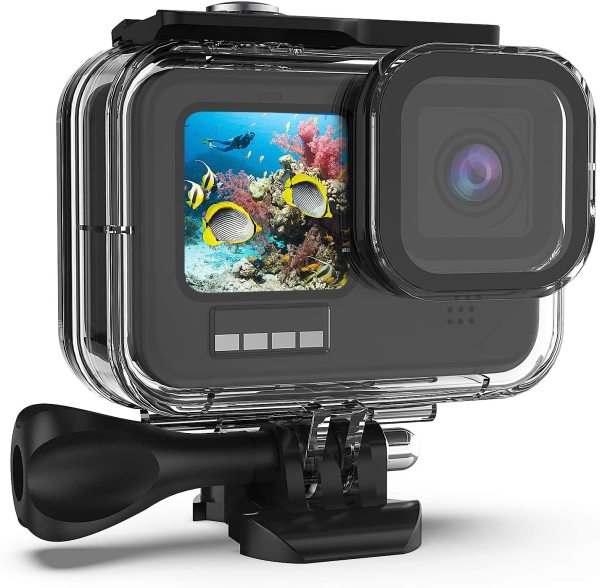 With this waterproof housing case made specifically for your HERO9, you'll no longer have to worry about water leakage or fogging because our durable yet lightweight casing is guaranteed to keep your camera safe and dry.
Inside you'll find upgraded waterproof sealing rings with tight buckles that will keep any moisture out…all the way down up to 196ft underwater! With more than 99% transmittance, photos and videos won't be distorted by pesky fog.
And after all of this amazing protection, it's easy as 1-2-3 when it comes time for cleaning: Simply remove the GoPro action cam from inside the housing case, rinse off with fresh water and pat dry before reattaching back into the seal in less than a second.
Artman Housing Case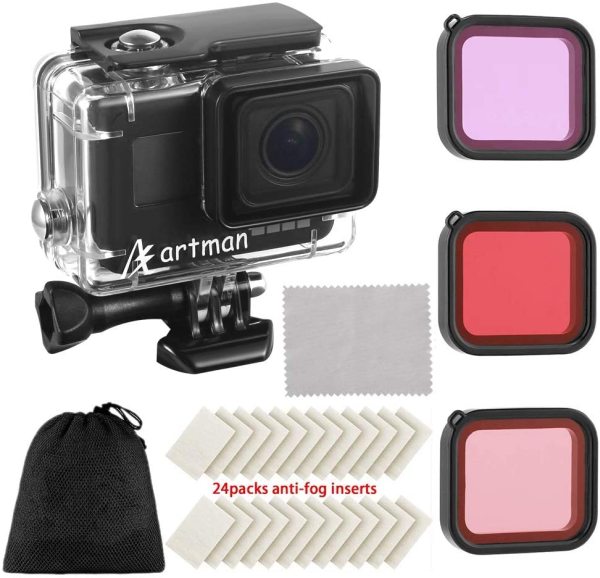 The Artman Housing Case is a perfect underwater camera container for your GoPro. Made specifically to fit the newest Hero 5/6/7 Black, it will protect your camera and allow you to capture all of the water adventures that come with scuba diving, surfing, snorkeling and other water sports activities.
This housing is also airtight so you won't have to worry about water splashing inside during any accidents or unfortunate contact with saltwater because there's none in here thanks to our handy design. The case works as an external lens cover too- something essential when you're dive or free diving through murky waters – keeping "fog" from settling on your precious camera lens. Why not look for marine life too? With its included filters, you'll be able to get your shots while you're in the water.
Yimobra Waterproof Housing Case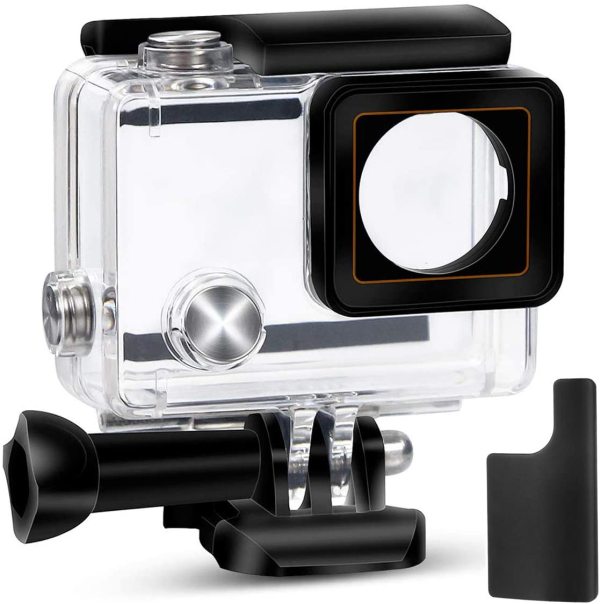 Your adventures will be a whole lot safer with the Yimobra Waterproof Housing Case for Toughest Conditions. This waterproof case is equipped with tempered glass lens to protect your camera, as well as HD scratch-proof high transmittance lens to record clear activities even 147FT/ 45M under water and it won't damage the shooting effect – making those action shots clearer than ever before!
The housing features a specially designed bracket that securely attaches it to a GoPro HERO 3+ or 4 series camera so you can keep your hands more comfortable while leaving everything within easy reach. Ideal for tough dives, impenetrable surfing conditions, relentless snorkeling environments, steadfast skiing weather and other intense adventures.
Deyard 60M Waterproof Case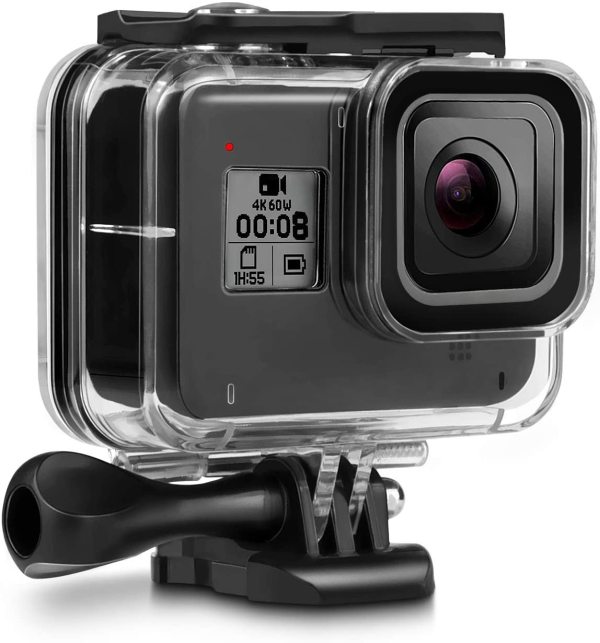 The Deyard 60M Waterproof case is the newest innovative technology for underwater camera gear. Now you can have peace of mind about your GoPro, because with this case you will never worry about water damage!
With a plastic frame and one-layer high impact PC, the Deyard waterproof case is 4 times more durable than similar products on the market which means it offers a safeguard against all material damages such as scratches, cracking, bangs or other shocks.
It floats on top of the water so that if it falls off your surf board's edge while out in dangerous waters, you'll still catch its quick thinking open design. The miniature package also contains over 200 ft/60m deep protective capabilities without worrying about damaging your GoPro bag by accident.
This case has two variants which are suitable for GoPro 8 and 9 .
Deyard Accessories Kit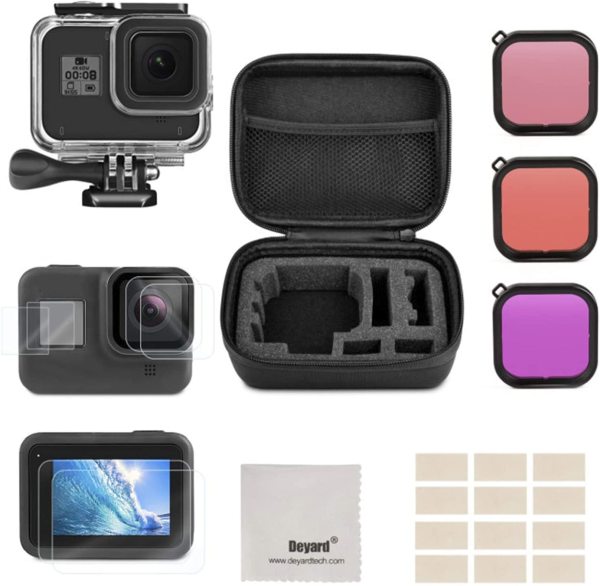 Whether you're using your GoPro for outdoors or travel, this compact accessories kit will give you everything you need in one place. The perfect gift for the proud owner of a new GoPro Hero 8 Black, it includes the Shockproof Small Travel Case which has an EVA case that is well-organized with Go Pro Accessories and easy to carry around.
Secure with 196ft/60m water resistance as well as superior shock protection all around (trust us!), there won't be anything standing in your way come rain or shine!
Whether they're off on an adventure or traveling abroad, equipped for every scenario from surfing to skiing and skydiving, be prepared yourself with Deyard Accessories Kit Compatible.
You can choose the kit of Go Pro 8 or another variant for GoPro 5/6/7.