Cell phones have definitely come a long way since the first brick-sized models were released in the early '90s. These days, there are all sorts of different types of mobile phones on the market. You have your standard smartphones, like the iPhone and Galaxy line. Then you have your feature phones that don't have all the bells and whistles of a smartphone.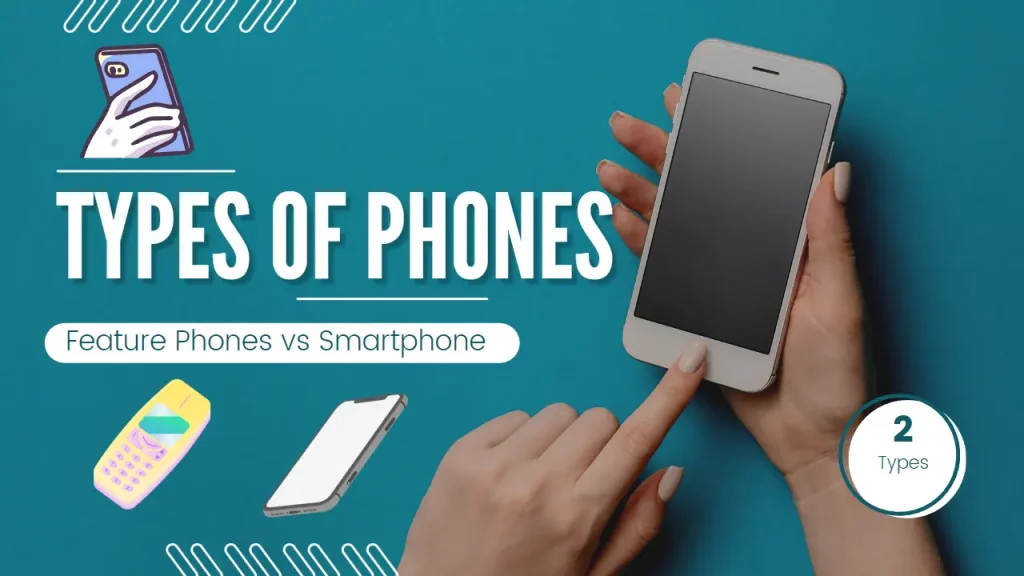 2 Types of Mobile Phones
Feature phone
Feature phones are simpler than smartphones in terms of hardware and capabilities. They usually don't have touch screens or powerful processors; instead, they rely on physical buttons for navigation and input.
Feature phones tend to be less expensive than their smartphone counterparts but also offer fewer features—they can make calls, send texts, play music/videos, browse the web (in limited capacity), etc., but don't offer much beyond that.
Feature phones have come a long way since their first incarnation decades ago. Today's feature phones offer users a variety of versatile features and designs. The most common design is the flip phone, which features an easy-to-open design that allows users to answer calls or dial numbers with a simple flip of a hand.
The flip phone also protects screens from dirt and dust, making it an extremely practical choice for users who need durability and reliability in their phones. But not all feature phones follow the flip design; some are designed with no covers at all – these are called candy bar phones, due to the rectangular bar-like shape extended by the screen and keypad array.
Regardless of design, however, all present-day feature phones rely on physical buttons rather than touchscreens, making them excellent options for those looking for control when it comes to texting or dialing numbers.
Smartphone
A smartphone is a mobile phone with an advanced operating system that includes features like checking email, browsing the internet, and social media. It can perform a lot of the functions of a computer. They run on different types of software and usually have access to the internet and email.
Smartphones typically have more processing power than your average cell phone as they are running on either Google's Android or Apple's iOS systems (or other proprietary operating systems).
Most also have GPS, music players, games, and various apps that can be downloaded from app stores. You can also use them to take pictures and videos. Some newer models even have fingerprint sensors and facial recognition technology.
They vary in size, but most are around the same size as a traditional cell phone. Smartphones are generally more expensive than regular cell phones, but their capabilities make them worth the investment for many people.
Functions of a Smartphone
Smartphones are essentially miniature computers that we can fit into our pockets. They allow us to do many of the same things we can do on a computer, but they're much more portable. Let's take a look at some of the most popular functions of a smartphone.
Text Messages: Text message is an essential function of a phone, esp. a smartphone. With text messages, we can stay in touch with our loved ones no matter where we are. We can also use text messages to communicate with coworkers or business contacts.
Email: Email is one of the most basic functions of a smartphone, but it's also one of the most important. With email, we can stay in touch with our coworkers, bosses, and clients no matter where we are. We can also use email to stay up-to-date on the latest news, whether it's from our favorite news sources or from friends and family.
Web Browsing: Web browsing is another essential function of a smartphone. With web browsing, we can access any website we want regardless of where we are. This means we can check our bank balance, book a hotel room for our next vacation, or even buy groceries all from our phones.
Taking Photos and Capturing Videos: Photography is one of the most popular uses for smartphones. The cameras on smartphones have gotten increasingly better, and many people now use their phones as their primary cameras. We can take photos of our friends and family, or we can even use our phones to take videos.
Social Media: Social media is one of the most popular uses for smartphones. Social media apps like Facebook, Twitter, and Instagram allow us to stay connected with our friends and family no matter where they are in the world. We can also use social media to stay up-to-date on current events or find out about new products and services.
Gaming: Gaming is another popular use for smartphones. There are now thousands of different games available for smartphones, and many of them are free to download. Gaming can be a great way to pass the time when we're bored or waiting for something.
Drawing: Drawing is a popular use for smartphones, especially for those who are creative. There are many different drawing apps available that allow us to create works of art on our phones. We can also use drawing apps to edit photos or create graphic designs.
As you can see, there are many different things a smartphone can do. There are many other functions of a smartphone that we didn't mention here. But these are some of the most popular and essential functions of a smartphone.
5 Types of Smartphones
There used to be a time when there were dozens of different types of phones on the market, each with its own unique features and capabilities. But in recent years, the smartphone has become the dominant type of phone, and there are now only two major types of smartphones: iOS and Android. While there are some minor differences between these two types of smartphones, they both offer a wide range of features and apps that make them ideal for nearly any user. As a result, the once-diverse world of phone types has been largely replaced by just two major players.
Android Phones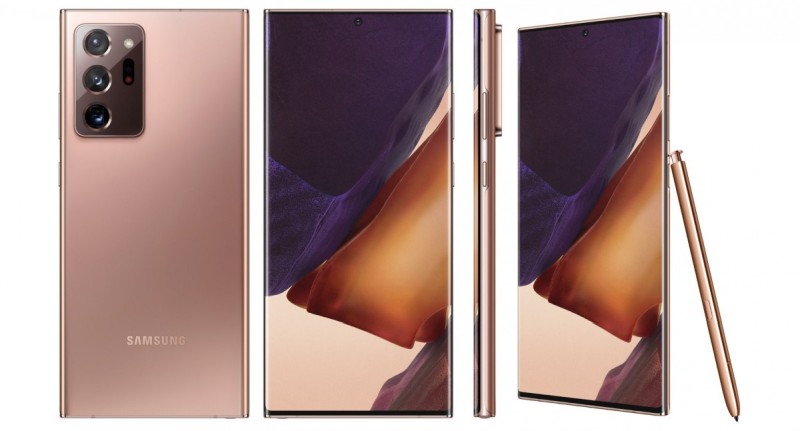 Android phones are a type of smartphone that runs on the Android operating system. Android is a mobile operating system developed by Google, and it is based on the Linux kernel. Android phones are available from a variety of manufacturers, and they come in all shapes and sizes. Some of the most popular Android phones include the Google Pixel, the Samsung Galaxy, and the OnePlus 6T.
Android phones are known for their customization options, as well as their wide range of features and apps. Many people use Android phones because they prefer the interface or because they want to use certain Google apps, such as Gmail or Google Maps. Others choose Android phones because they are more affordable than iPhones.
Android phones are loaded with Google services, including Google Search, Google Drive, Gmail, Maps, and more. You can use an Android phone even if you don't have a Gmail account.
iPhone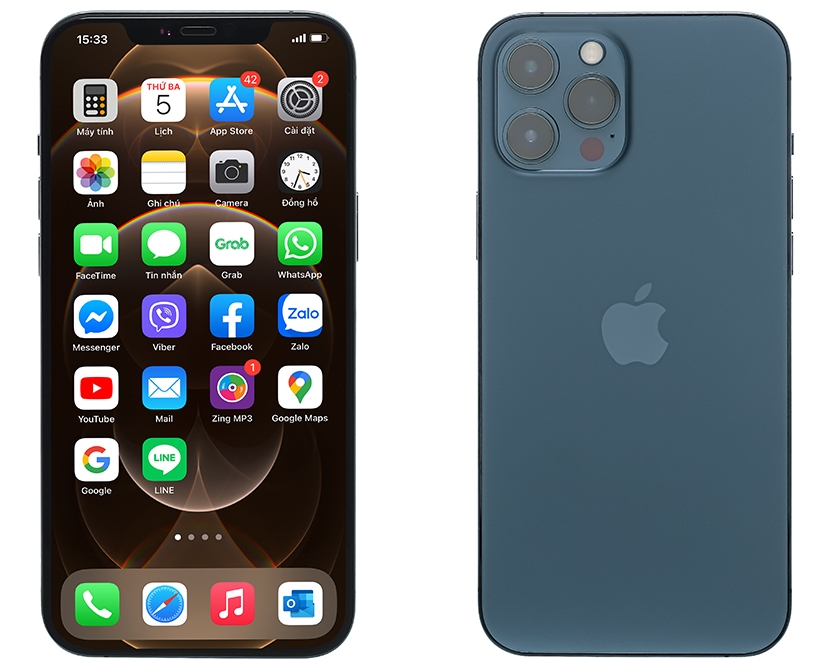 Apple is a company that has made an impact on the world for over 40 years. They have changed the way people interact with computers and how they communicate with each other. One of their most popular products, the iPhone, is a smartphone that can do everything from making calls to checking email to playing games. It has been the best-selling smartphone in the United States for several years, as well as one of the longest-running models in world history.
The first-generation iPhone was released on June 29, 2007, and multiple new hardware iterations with new iOS releases have been released since. The iPhone is a smartphone made by Apple that combines a computer, music player, digital camera, and cellular phone into one device with a touchscreen interface.
The iPhones are powered by Apple's iOS and have pre-loaded apps like FaceTime, Siri, and Safari. Siri works as your digital assistant. It reminds you of appointments and allows you to play your favorite songs hands-free by simply speaking the title of the song into the phone. You can search for paid and free applications on Apple's App Store.
Amazon's Fire Phone
The Amazon Fire Phone is a new phone that was released on July 25, 2014. Amazon's Fire Phone is based on Android OS with its own customization.
Amazon's Fire Phone is a smartphone that runs on Android but has features, unlike any other phone. It includes innovative technology like Dynamic Perspective which lets users interact with the device in three-dimensional space. The Fire Phone has an excellent camera and offers access to Amazon's music service, Prime Instant Video, and Kindle eBooks.
Amazon's Fire Phone features Silk browser, Kindle app, Amazon Music, and Amazon Instant. You can also buy TV shows, apps, and movies from Amazon through the phone. Amazon's Fire Phone features Fire Technology, which can immediately recognize bar and QR codes, songs, and TV shows. It also comes with free video chat support and access to Amazon Prime for 1 year, as well as free shipping on all Amazon orders.
Windows Phone
Windows phones are powered by Microsoft's Windows operating system for mobile. They feature Microsoft products like Bing, OneDrive, and Xbox. Their AI assistant manager is Cortana, a personal assistant that can give birthday reminders, help you avoid traffic, and more. You will find paid and free applications on Window's Phone App Store.
Some of the best Windows phones include the Nokia Lumia Icon, Nokia Lumia 1020, Nokia Lumia 1520, and Nokia Lumia 635. Windows phones also use Live Tiles, which is one of the main features of Windows 8 for personal computers. Live Tiles enabled apps to display information on the phone's home screen.
Windows phone was discontinued. Nokia is now making Android phones only.
KDE Phone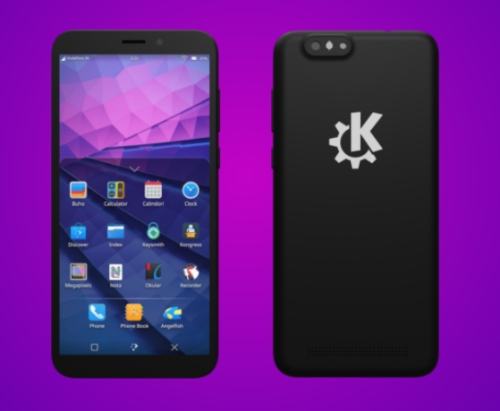 KDE Community tries to bring Linux to smartphones via the first KDE-powered phone, Pine64. The community edition includes most of the essential features a smartphone user would expect and its functionalities increase day by day.
2 Popular Types: Android Phones vs iPhones
Advantages and Disadvantages of Android Phones
These days, technology has totally taken over the lives of people. Just envision a life with no smartphone. Isn't it impossible? To this day and age, all people make use of Android phones. It cannot be disputed that these devices have really made the lives of people simpler. However, all the things that the world has to offer have both sides – advantages and disadvantages.
The point is that nowadays, people have this opportunity where they can obviously purchase a smartphone based on their budgets due to the massive availability in its various price ranges, its utilization has turned out to be even more well-known. Well, it is undoubtedly that the Android phone is an excellent invention but has detriments as well.
Android was invented by Google and is now the most popular mobile operating system worldwide. Companies manufacturing mobile phones apart from Apple make use of the operating system of Android. This is more dependable and accessible but has disadvantages as well.
Advantages
Android phones are typically much cheaper than competing Apple products.
The Google Play Store offers a much wider selection of apps and games than the App Store.
Android phones offer more customization options than iOS devices. For example, you can install third-party launchers and widgets to change the look and feel of your device.
Android phones receive timely software updates directly from Google. This means that you'll always have access to the latest features and security fixes.
Multitasking is much easier on Android phones than it is on iPhones. This is because Android uses a true multitasking interface.
Disadvantages
Android phones are often less intuitive and user-friendly than iOS devices. This is especially true for first-time smartphone users.
Because Android is used on so many different devices from different manufacturers, the level of quality can vary greatly. Some Android phones are very well made, while others feel cheap and flimsy.
Android phones are more susceptible to malware and viruses than iOS devices. This is due to the open nature of the platform and the fact that there are more third-party app stores which you can download apps from.
In general, Android phones are one of the best devices ever created to make the lives of users simpler and faster. However, similar to other equipment and devices, Android phones too have their advantages and disadvantages.
Advantages and Disadvantages of iPhones
The iPhone is a family of smartphones invented by Apple. Though released initially as a mobile phone in order to make communications simpler and faster, the iPhone these days can perform almost everything the user wants, from being present at online meetings to getting a PowerPoint presentation ready.
These kinds of smartphones are regarded as among the finest inventions of the century because of their impact on a lot of people. As of 2018, more than 2 billion iPhones were purchased all over the world. iPhones are powerful, minimalist, and sleek.
Every production of iPhones makes use of iOS, a developed operating system by Apple exclusive only for its devices. The original iPhone generation was released in 2007, with a catchphrase of "This is just the start," and for more than a decade, iPhones have turned out to be the most recognized smartphone ever invented.
Advantages
Apple Ecosystem – iPhones are perfect for people who own other devices of Apple, including the Apple Watch, iPads, or MacBooks. Connecting a device with the other is extremely convenient and seamless. iPhones are very handy if a person needs to transfer photos or files from the laptop to the mobile phone, or vice versa. macOS and Apple iOS have improved to the degree where the user can begin watching a movie on the phone and watch it again later, even on the laptop.
Operating system updates -One advantage that iPhones have is that their operating system (iOS) is updated regularly. Apple typically releases a new iOS update every year, and these updates usually bring new features and improvements.
Secured platform – They're considered to be more secure than other types of smartphones. This is because Apple has tight control over both the hardware and software used in its devices.
iCloud – iCloud is an Apple cloud storage feature. When it is turned on, iCloud can automatically save the photos and files to the cloud as their backup if the device is stolen or lost. In addition, users can access iCloud with email wherever as long as there is internet access. It is actually beneficial, and users will no longer require a pen drive or a consequent storage device since everything is already included in the cloud.
Simple user interface – iPhones have an unsophisticated interface, and the resemblance of the user interface between all the devices of Apple makes it absolutely simple to access. In addition, iPhones make sure that all functions and applications are being carried out the way it aims to which enables for basic user experience. While Android has a lot of choices and freedom, users will find it quite hard to use.
A device for everyone – two years ago, a brand-new iPhone would cost almost 1200 dollars, which is very expensive for a phone. On the other hand, a lot of things have changed these days. People can be able to purchase an iPhone SE for only 400 dollars or an iPhone 11 for just 700 dollars, or even an iPhone 11 pro for just 900 dollars. This provides the user a variety of options to select from, and they will no longer have to break the bank to purchase a new phone.
Disadvantages
Apple Ecosystem – It is both a curse and a benefit. Once the user gets in, it is quite hard to get out. The ecosystem of Apple is basically there in order to make users buy more products of Apple. People will tend to buy a MacBook if they already own an iPhone compared to a Windows laptop. In this way, people will not be able to recognize if other brands have much better devices, and they will wait until Apple updates the earlier model.
Overpriced – while products are extremely sleek and beautiful, prices for products of Apple are very high. Brands such as One Plus are extremely pushing hard on developing cheap phones so that people will feel cheated for paying a lot just to purchase an Apple product.
Less storage – iPhones do not feature SD card slots, so the impression of upgrading the storage after purchasing the mobile phone is not a possibility. Hence, people will most possibly need to purchase a pricy internal storage higher version.
iPhones are excellent smartphones and absolutely can become an eminent choice. However, it is still best to consider the alternatives. There are a variety of smartphones that are quite inexpensive that function very well. On the other hand, for people who have a MacBook or other products Apple, it is highly recommended to purchase an iPhone.