Learning a new language can be daunting, but it doesn't have to be. Vietnamese is a tonal language, which means that the meaning of words changes based on how they are pronounced. For example, depending on the tone, "ma" can mean mother or horse. This makes it hard to learn Vietnamese for native speakers who don't speak any other languages with a tonal system.
People often ask me if it's hard to learn Vietnamese. It can be difficult, but I think it's worth the effort for its beauty and usefulness in our world today! In fact, it has over 100 million native Vietnamese speakers spread across both Vietnam and Cambodia. You can hear it spoken on TV broadcasts, radio stations and children's programming in other countries too! Learning the language will help you visiting Vietnam and talking to the locals at ease.
Best Resources to Learn Vietnamese
I'm going to share with you some of the resources that helped many expats learn Vietnamese and hopefully they'll help you too!
Here are the resources I consider essential to learn how to speak Vietnamese:
Online Courses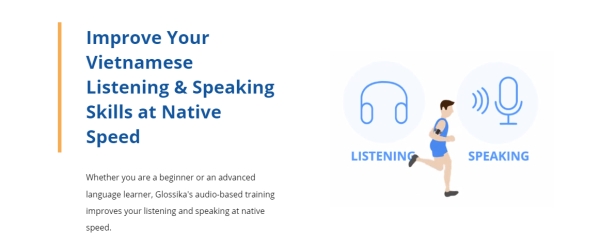 VietnamesePod101 – VietnamesePod101 is my favorite audio course. I think it's a good idea to supplement Duolingo with an audio course, especially for beginners. It gives you some more practice and teaches you about the pronunciation of the language as well.
Live Lingua – Live Lingua is the bridge over language barriers, uniting the world. Vietnamese is an uncommon languages for many in the Western world, making them some of the most difficult to learn. Fortunately, Live Lingua has you covered when it comes to learning this challenging tongue! Live Lingua offers these courses with 6 Vietnamese courses, 6 ebooks and 110 audios.
Glossika – Introducing Glossika, the smart app that teaches you a language from scratch in just 6-8 months. Created and developed by linguists who speak fluently in over 50 languages, this revolutionary product is designed to train your brain to pick up new languages quickly with fun memory exercises called speed drills. Unlike ordinary online programs, our customizable software provides only active learning so you are actively sent words and phrases of relevance for your level without wasting time on irrelevant information. So if you've been looking for an effective way to learn a language fast – Glossika is perfect for you!
Mobile apps
Duolingo – Duolingo is a free platform that makes it easy to learn languages. It teaches you vocabulary, phrases, sentence structure and grammar through games. One of its most unique features is the ability to translate text from one language into another in real-time! It's free and is really easy to use, with a lot of different learning methods that will fit anyone's needs. You can also have it installed in your browser if you don't want an app on.
HelloVietnamese– This app called HelloVietnamese is my favorite way to learn new words by listening and trying to figure out what they are reading.
The Vietnamese Alphabet apps – The letters are a little more difficult to learn, but it has good explanations and examples. I would recommend this for people who want to go beyond the basics of sentence structure or have an interest in writing. There are many apps which are available on
Memrise – Memrise helps learning words faster. It has a lot of different ways to help user learn Vietnamese vocabulary.