This guide provides information on the AppData folder. It contains important application data, so you should rarely access it. The AppData folder holds information such as software data, game data, and other important application data. We'll teach you how to find, access, and unhide the AppData folder, as well as what will happen if you delete it.
What is the AppData Folder in Windows?
The AppData folder in Windows 10 is a hidden folder located in the C:\Users\[username] directory, which contains data for all the applications that are installed on your computer. This folder, commonly referred to as AppData, is short for Application Data and stores various pieces of information that programs need to run properly. For example, custom settings, temporary files, and other data that the applications need to run.
It's important to note that the AppData folder is hidden by default, so you'll need to make sure you can view hidden files and folders in your file system to access it. The AppData folder is present in all versions of Windows, including Windows 10, 8, 7, and XP.
Why Does Windows Use a Separate AppData Folder?
Windows uses the AppData folder to store user-specific data for applications to ensure that each user can have their own set of preferences and settings. The separation of user-specific data from system data also ensures that the operating system files remain stable and are not affected by user data. This helps to ensure the reliability and security of the system as a whole.
The AppData folder is further divided into three subfolders: Roaming, Local, and LocalLow.
The Roaming folder stores user data that can roam with the user account, such as application settings, browser history, and other user-specific data.
The Local folder stores non-roaming data that is specific to the machine, such as application caches and temporary files.
The LocalLow folder is similar to the Local folder, but it is used by applications that require low-privilege access to the system.
How to Find the AppData Folder
The AppData folder is hidden by default, but it can be accessed by following these steps:
Open the Windows File Explorer by pressing the Windows key + E.
Click the "View" tab in the File Explorer window.
Check the "Hidden items" checkbox to show hidden files and folders.
Navigate to the "C:\Users\[Your Username]\AppData" folder, where "[Your Username]" is the name of your Windows user account.
Alternatively, you can quickly access the AppData folder by typing "%appdata%" in the Windows search bar and pressing Enter. This will take you directly to the Roaming folder within the AppData folder.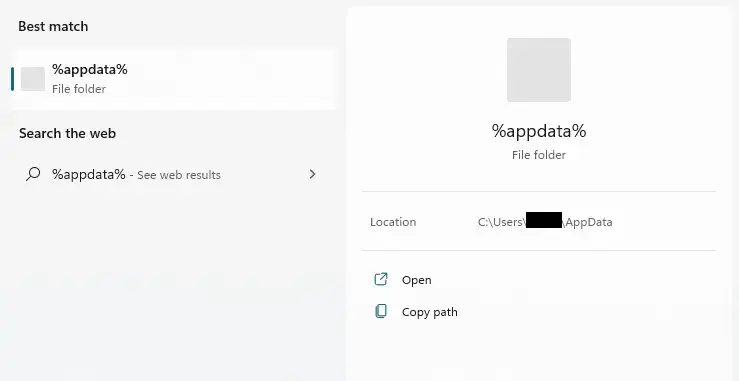 Or you can type "%appdata%" on the Run box which can be accessed via pressing Windows + R keys.