If you do not have your own portable photo printer now, you are surely missing out on many amazing benefits.
What is a portable photo printer?
A portable photo printer is a device that you can connect to your smartphone via Bluetooth. This device allows bringing pictures directly from the camera reel to the real world from mobile phone up through high-quality printed copies. A portable photo printer is very useful during travels, parties, and more.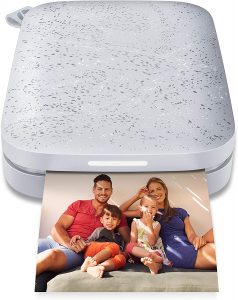 HP Sprocket Portable Mini Printer
The mini printer can easily print your favorite photo captured on advantures on 2×3″ sticky-backed photo paper. This luna pearl smartphone-sized photo printer is designed to easily slip into your pocket, purse, or backpack.
What benefits can you get from using a portable photo printer?
You probably hear about fancy portable photo printers and why you may want one. If you can't think of solid reasons, you are probably not yet aware of the capabilities of these handy devices and the benefits these can offer you.
The benefits of using a portable photo printer are as follows:
This is the biggest benefit you can get from portable photo printers. You can easily connect this to your smartphone with one click via Bluetooth, but this still depends on the camera. This is a feature that makes this portable printer user-friendly. A portable photo printer is small; therefore, it can be carried easily, making this device highly preferred.
These printers have printing companion applications making these devices easy to use. These also allow you more convenience and freedom to edit filtered photos. These portable devices are also much cheaper than standard office printers.
Portable photo printers use recyclable papers, and no ink is required, so ink cartridges are also not needed.
These are just a few of the many benefits of using a portable photo printer. Many other benefits are waiting next in line for you to take advantage of, so consider investing in this product now. There are an array of brands and models available in the market these days, so do your research and make sure that you pay only for a high-quality printer.