Price: FREE | Developer: BitMango | Download: App Store
All of you who have played Candy Crush will be familiar with the Lollipop Sweet Taste. Basically, you have to link 3 or more candies in order to crush them. But, there are unlimited moves, directions, possibilities, which makes the game more than just interesting. Furthermore, there are 200 levels in the game, meaning that you will have plenty of fun, for a long period of time.
The game features high quality graphics, meaning that all the candies and the user interface look terrific. All players enjoy the game and they are thrilled with the animations implemented.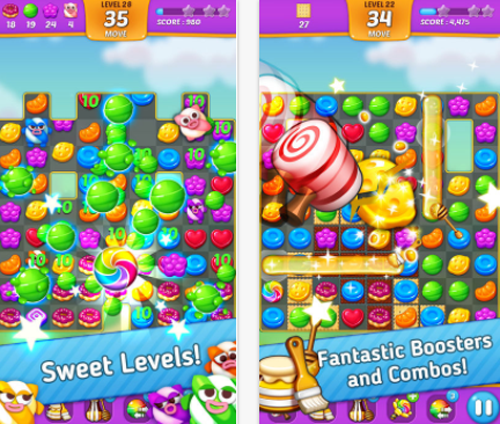 The good
There are several, positive sides of the game in question. Beside superb graphics, the game also features appealing and calming sounds. Combined, they make playing simply fantastic. You will enjoy the levels and playing the game at all times.
Here we have one, more important advantage. The game comes with unlimited lives, finally! If you played games of this kind before, you know that most of them have awaiting period, meaning that when you lose all the lives, you must wait for hours to get a new one. Here, there is no such thing. You can play as long as you want, period. Regardless of how many lives you lose, you will be able to play.
A basic gameplay should be mentioned as well. It makes the game suitable for people and children of all ages. It is simple, yet practical.
The bad
Although you will be able to play as long as you want, you will have to encounter a lot of ads. This is the biggest drawback here. Also, some levels are too difficult to complete. You will have to use boosters in order to pass them. To overcome this issue, simply save boosters on easier levels, so you can use them when needed.