Step into the cockpit, strap on your virtual helmet, and prepare for an intergalactic adventure unlike any other! Space shooter games have long captivated gamers with their high-octane action, stunning visuals, and immersive gameplay. Whether you're an aspiring astronaut or a seasoned gamer looking to conquer the cosmos, the App Store is teeming with stellar titles for your iPhone and iPad. In this article, we've handpicked the best space shooter games that will transport you to the farthest reaches of the universe, allowing you to unleash your inner space warrior and experience the thrill of space combat right at your fingertips.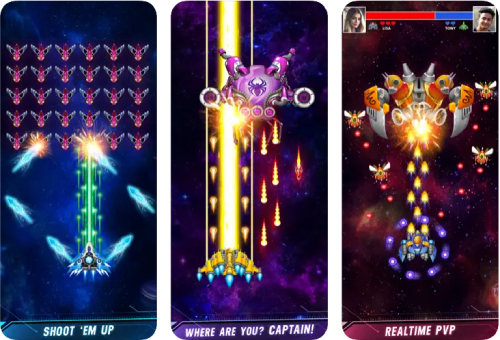 Galaxy Attack: Space Shooter is an exciting arcade shooting game that brings a modern combat experience to fans of the genre. With its classic arcade gameplay and a fresh galactic setting, this game immerses players in an intense war against evil enemies. As a space pilot, you'll face numerous challenges and engage in epic battles with powerful bosses. The question is, will you have what it takes to survive until the end?
The game features a perfect shoot 'em up experience, allowing you to choose from a variety of fighter ships and build your own space team. With over 200 levels filled with space invaders, the campaign offers endless shooting missions to test your skills. Engage in PvP battles in online shooting games, team up with friends in cooperative gameplay, and compete for a spot on the global leaderboard.
Galaxy Attack: Space Shooter captivates players with its stunning designs, incredible lighting effects, and impressive special effects. Additionally, the game offers rewarding features such as a lucky wheel, daily quests, and free gems to enhance your gameplay experience.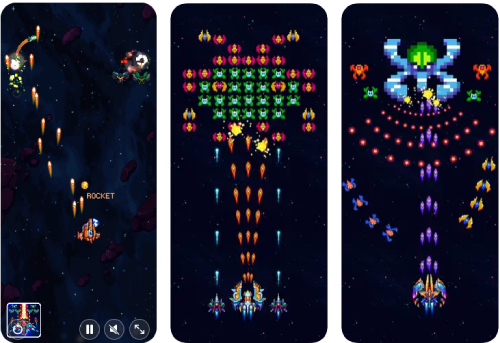 GALAXIGA takes you back to the classic gaming era, evoking intense childhood memories. Immerse yourself in the nostalgic atmosphere as you face countless enemies from the infinite galaxy. Take control of your spaceship and unleash a barrage of firepower to eliminate all adversaries in the galaxy.
Featuring stunning pixel graphics reminiscent of old-school games, GALAXIGA offers a visually pleasing experience. The game's super-easy controls make it accessible to players of all skill levels, eliminating the need for a tutorial. Prepare for intense battles against a variety of strong and diverse enemies, culminating in epic boss encounters that will test your abilities.
GALAXIGA provides various ways to upgrade your power and enhance your spacecraft. Engage in true space battles as you navigate through the game's high-quality images, optimized for tablets and large screens. With multiple upgradeable spaceships at your disposal, strategize and adapt to each level and boss, utilizing power-up items and boosters to your advantage.
Embark on an exhilarating journey in GALAXIGA, where sliding the screen allows you to dodge enemy bullets and survive the relentless onslaught. Utilize coins and gems to evolve your space crafts, empowering you to combat giant enemies and alien invaders.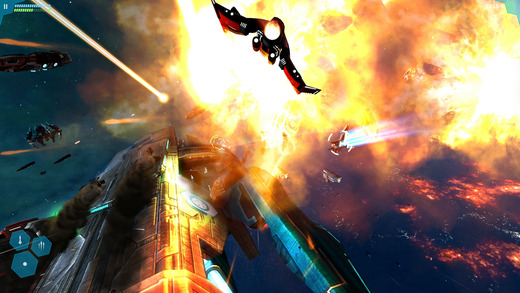 Star Horizon is a game that promises to deliver an immersive and fun space shooter experience with a humorous and engaging story. You play as John, a Federation soldier who wakes up from a long hibernation to find himself in a galaxy full of conflict and mystery. Along with your AI companion Ellie, you will have to make choices that affect the outcome of the story and the fate of the galaxy.
The game features dynamic battles with various enemies and bosses, as well as upgrades for your ship that you can purchase with in-game currency. The game also boasts a simple and intuitive control scheme that uses your screen as your controller. The game is designed for mobile devices, but it has also been ported to PC and Switch platforms.
However, Star Horizon is not without its flaws. The game suffers from repetitive gameplay and a lack of depth and challenge. The game also has a game-breaking bug that prevents you from completing the seventh mission. The game's story is also clichéd and predictable, and the choices you make do not have much impact on the overall plot.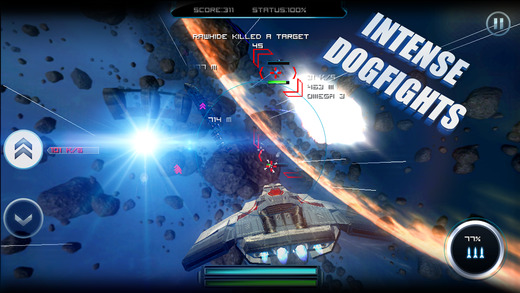 Strike Wing: Raptor Rising is a thrilling space combat simulator that lets you fly a variety of ships in stunning environments. Whether you prefer fast and agile fighters or heavy and powerful bombers, you can find your perfect match in this game. You can also customize your missions to suit your playstyle and skill level, making each experience unique and challenging.
The game features a captivating story mode that follows the elite black ops squadron DSO-01 as they investigate the mysterious Sirius Incident. You will encounter different factions, enemies, and allies as you unravel the secrets behind this interstellar conflict. The game also offers a challenge mode where you can test your skills in a series of missions that change to fit your playstyle.
Strike Wing: Raptor Rising boasts beautiful graphics that immerse you in the vastness and beauty of space. You can fly in asteroid fields, planetary orbits, or deep space, and enjoy a colorful and vibrant representation of the galaxy. The game also supports Apple TV, Android TV, and Ouya, giving you an immersive experience on large screens. The game has fluid controls that allow you to play with the accelerometer, touchscreen, or supporting gamepads. You can also switch between first or third-person mode and cockpit view to suit your preference.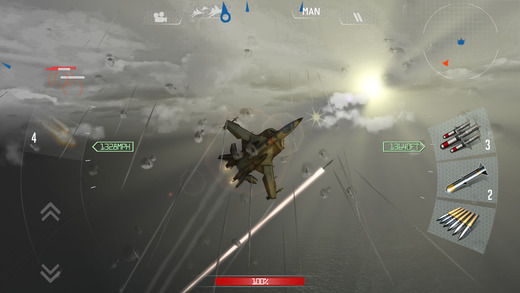 Sky Gamblers Air Supremacy is the air combat game that will keep players on the edge of their seats. With an extensive single-player campaign and groundbreaking multiplayer modes, this game delivers non-stop action and excitement. The visuals, special effects, and audio are unparalleled, creating a console-quality gaming experience exclusive to iOS devices. The game takes full advantage of the capabilities of the new iPad and iPhone 4S, offering high-definition textures, realistic lighting, and various visual enhancements.
In addition to the captivating single-player campaign, Air Supremacy offers a range of single-player modes to further challenge and entertain players. From Dogfight Missions to Capture the Flag and more, the game provides a diverse and expanding selection of gameplay options. Moreover, the online multiplayer component offers cooperative and competitive modes, allowing players to invite their friends and engage in intense aerial battles.
Air Supremacy caters to players of all skill levels, from novices to veterans, with its customizable gameplay features. Players can even choose to let the auto-pilot handle the flying while they focus on firing missiles and issuing commands to their squadron. This accessibility and flexibility make the game enjoyable for a wide range of players.