Sniper games have long captivated gamers with their thrilling gameplay and strategic challenges. The ability to take precise shots from a distance, carefully plan your moves, and execute stealthy operations make sniper games a favorite genre among mobile gamers.
If you're an iPhone or iPad user looking to experience the exhilaration of being a sharpshooter, we've compiled a list of the eight best sniper games available on the iOS platform. Get ready to embark on intense missions, test your marksmanship skills, and immerse yourself in the world of covert operations. Most of them support game controllers so you can play using a gamepad.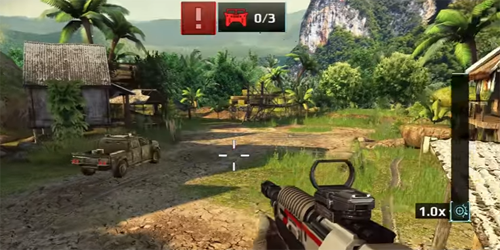 Sniper Fury is the ultimate destination for those seeking an adrenaline-pumping online sniper adventure. As a skilled sniper shooter, you'll find yourself immersed in action-packed 3D FPS battlefields, where your precision and marksmanship will be put to the test. With over a thousand missions and a variety of events spanning the globe, from the bustling streets of Washington to the towering skyscrapers of Shanghai, this game offers an immersive and visually stunning experience.
What sets Sniper Fury apart is its vast collection of weapons. From 3D sniper rifles to automatic assault weapons, you have a wide range of firearms at your disposal. Collect and upgrade hundreds of guns to ensure you bring the best arsenal to each shoot-out. Whether you prefer engaging in the gripping story mode or competing with other players in online PvP battles, Sniper Fury offers a plethora of game modes to suit your playstyle.
Team up with fellow snipers by joining a clan or take on missions as a lone wolf hitman. The game's clan action feature allows you to strategize and collaborate with your gang, while the squad ops feature enables you to recruit and deploy shooters on covert operations. The aim and shoot mechanics are simple yet satisfying, allowing you to focus on honing your sniper skills and becoming a legend in the FPS realm.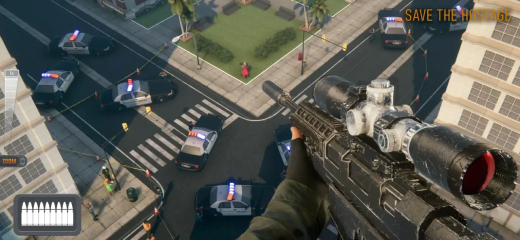 Sniper 3D: Gun Shooting Games is a thrilling and addictive FPS game that is perfect for fans of war and shooting games. Immerse yourself in the global war on crime and unleash your skills as the ultimate shooter.
With its ultra-realistic 3D graphics and captivating animations, Sniper 3D Assassin® delivers a visually stunning experience. The game offers an extensive selection of missions that will keep you engaged, and there's always new content being added to keep things fresh.
Choose from a wide variety of weapons, including snipers, rifles, and guns, as you embark on your mission to clean 13 incredible cities from the clutches of terrorists. Assist the cops, police, and army in their fight against crime and become their indispensable ally.
Sniper 3D: Gun Shooting Games also offers limited-time events where you can test your skills against zombies and robots. Earn exclusive rewards and compete against real rivals in a race against time to prevent a potential 3rd World War.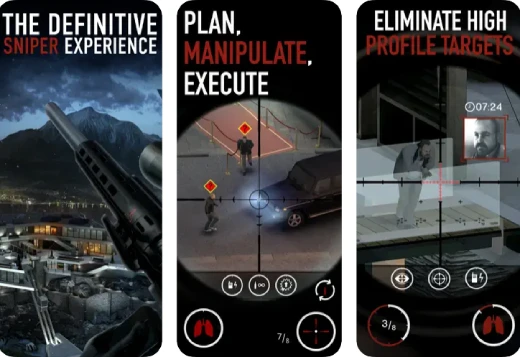 In this Android game, you step into the shoes of Agent 47, taking on the role of a sniper. It's considered one of the finest online sniper games available. To progress, you'll need to complete over 150 different missions. As you play, you'll unlock a variety of weapons that you can use throughout the entire game. It's not just about your shooting skills though; you'll also need tactical expertise to hunt down villains while remaining undetected. Prepare yourself for a challenging experience!
Key Features of this exceptional sniper game, playable both online and offline, include:
Immersive Graphics: The game offers stunning visuals that enhance your gaming experience, providing a visually impressive environment.
Extensive Arsenal: As you advance in the game, you'll have the opportunity to unlock and access 16 different guns. Each weapon offers unique advantages and capabilities, allowing you to tailor your strategy to the situation at hand.
Friendly Competition: Connect with your friends and engage in competitive gameplay. Measure your skills against theirs to see who can achieve the highest scores and complete missions more effectively.
Zombie Mode: For those seeking an additional challenge, the game offers a thrilling Zombie mode. Test your abilities against hordes of undead enemies, adding an extra layer of excitement and difficulty to your gameplay.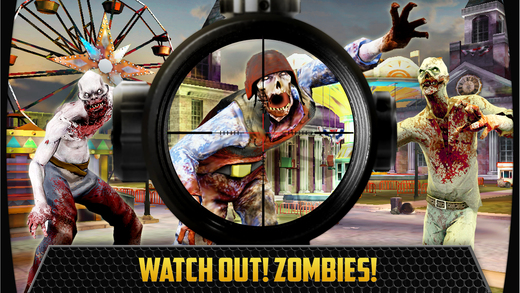 This military first-person shooter game thrusts you into high-stakes missions where your marksman skills are crucial. With a wide array of powerful guns at your disposal, you must upgrade your sniper rifle to enhance accuracy, damage, and range.
As a sniper, your objective is to venture deep into enemy territory, locate hidden targets, and eliminate them with precision. Utilize your rifle scope, zoom in to identify your targets, and when the moment is right, take a breath and pull the trigger to make the kill shot. Confirmation of your kills is essential, and the success of your missions depends on it. Good luck, soldier!
Kill Shot delivers high-octane gameplay with over 1000 first-person shooter missions to conquer. The game boasts immersive 3D graphics that enhance the intensity of each mission. Experience unforgettable bullet cam kill shot moments that add an extra layer of excitement to your gameplay. Engage in the Global Ops event system to compete for valuable prizes and explore 50 unique maps set in stunning locations.
Choose from a vast arsenal of 100+ different weapons to customize your loadout. Whether you prefer the precision of a sniper rifle, the versatility of an assault rifle, the close-quarters power of a shotgun, or the firepower of a SAW gun, Kill Shot has you covered. Unlock powerful upgrades for each weapon to maximize your firepower and gain an edge over your adversaries.
To aid you in your missions, utilize killer power-ups such as the Spotter, which helps you quickly locate all enemies, and Slow-Mo, which slows down time, allowing you to line up the perfect kill shot. With Armor-Piercing Bullets, no target is safe if you can hit it.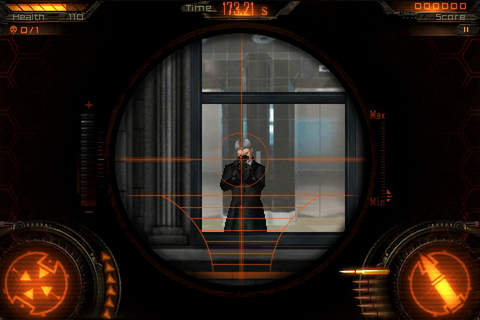 After successfully preventing a catastrophic biological missile attack, a new threat emerges from HEAVEN, the world's largest terrorism group. Retirement is no longer an option as you are called back into action to join GATO's new special forces unit, GST. Get ready for an adrenaline-fueled experience that will test your skills and push you to your limits.
iSniper 3D offers intuitive and exhilarating gameplay, immersing you in incredibly detailed full 3D battlefields. The gripping cinematic storyline unfolds as you navigate through intense missions. With super easy tap and tilt controls, you'll find yourself fully immersed in the action. Engage in the classic hold-your-breath mode, where every shot counts and precision is key.
Choose from the world's greatest sniper rifles and upgrade your weapons as you progress. The game features multiple modes, including story, arcade, and challenge mode, offering a variety of gameplay experiences. With different difficulty levels, from easy to hard, iSniper 3D caters to both novice and experienced players.
Gear up, aim steady, and take down the most dangerous terrorists in iSniper 3D. This game combines thrilling gameplay, a captivating storyline, and immersive visuals to deliver an unforgettable sniper experience. It's time to prove your mettle and become a true hero in the war against global terrorism.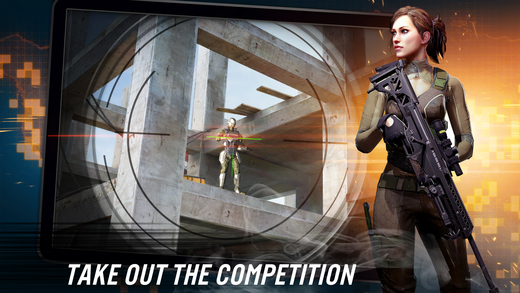 Contract Killer: Sniper is an exhilarating game that puts you in the shoes of a skilled assassin tasked with eliminating high-profile targets. As a master assassin, you must adhere to the one rule: Honor The Contract. In this latest installment, a secret military organization is unleashing cyborgs and mechanized combat units upon cities worldwide, and it's your mission to push back this invasion at any cost.
The game offers an exciting new campaign where you'll face enemies with enhanced powers and deadly tactics. With over 250 missions and campaigns to choose from, you have the freedom to select your contracts and decide whether to eliminate a mob of enemies, destroy bases, or focus on the most important single target. You can stake out targets from long-range, take them down with precision shots, launch frontal assaults on enemy bases, or stealthily infiltrate enemy lines.
To succeed, you'll need to upgrade your weaponry and base defenses, choosing from a wide range of options including sniper rifles, assault rifles, tesla guns, rocket launchers, and more. As you progress, you can also collect Nanomaterials to evolve your offensive and defensive strategies. Additionally, Contract Killer: Sniper offers a competitive PvP mode where you can assault other players' bases, steal their resources, and establish your dominance in player-versus-player battles.
With its immersive gameplay, strategic decision-making, and diverse arsenal, Contract Killer: Sniper provides an engaging experience for those seeking to become the ultimate global assassin. Whether you prefer a stealthy approach or an all-out assault, this game allows you to master your environment, overcome challenging enemies, and conquer the elite campaign to thwart the Cyborg Invasion.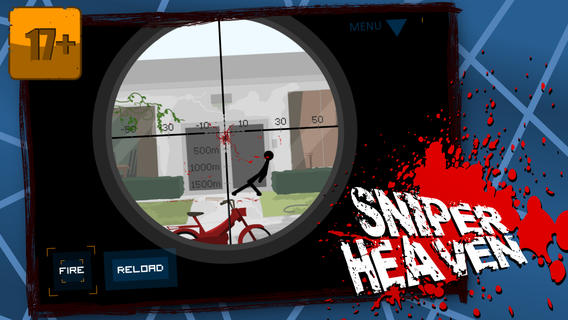 Clear Vision is an exceptional sniper game available for iPhone. It offers a wide range of engaging features, including vivid depictions of blood and humor that will keep you entertained. The game includes impressive cinematic scenes that enhance the overall experience.
In Clear Vision, your objective is to complete various missions. You'll need to make adjustments for distance and wind while aiming at amusing cartoon characters. After eliminating your targets, take a moment to read the amusing headlines in the in-game newspaper. The game allows you to shoot at anyone you desire, guaranteeing a fun-filled adventure.
Key Features:
Customize your weapons to suit your preferences.
Embark on 55 unique missions, each with its own challenges.
Enjoy animated cut scenes that bring the story to life.
Engage in a captivating storyline that will keep you hooked.
Experience realistic blood and gore animations.
Factor in wind and distance calculations for precise shots.
Immerse yourself in a cool and immersive game world.