Price: FREE | Developer: Gameloft | Download: App Store, Play Store
Here we have the Sniper Fury, a game which is almost completely explained by its title. Players will be placed into a role of a sniper who must take down specific targets. Some are easier and some are more complicated to kill, which makes this game suitable for gamers of a specific type. There are a lot of games which feature the same gameplay, but the Sniper Fury is slightly different.
The game comes with more features than most other developments have to offer. Then we have the fact main menu is wonderful and futuristic. Let's not forget that you get 130+ missions and plenty of weapons to choose from.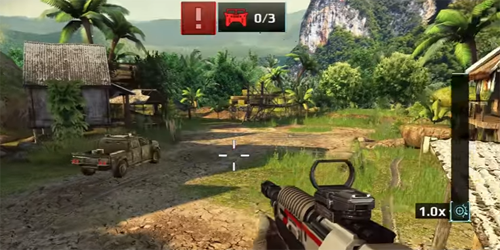 The good
Despite the fact there are a lot of games of this kid, the Sniper Fury brings to us a lot of nice features. One of the most appealing ones is "ride a bullet'". It allows you to watch how a bullet is traveling and hitting a target. It is especially beneficial when you are performing headshots or difficult shots. What's more, a bullet will be detailed and animation is just right.
Another great fact is that you get plenty of different weapons. Some are already known, while others are treated as top-secret weapons. Of course, top-secret weapons are available at higher levels, so you will have to reach them first.
3D graphics is the main reason why so many players play the game all the time. It is realistic and attention to details is phenomenal.
The bad
The main concern here is the need for currencies. You must have them in order to advance and purchase new weapons. In a case you don't get it enough, you can use real money to purchase them or you will have to repeat missions in order to collect. These are only options.