Roguelikes are among the most replayable and infinitely rewarding genres of games you can play. Here are the ten best roguelike games you can find on iOS platforms.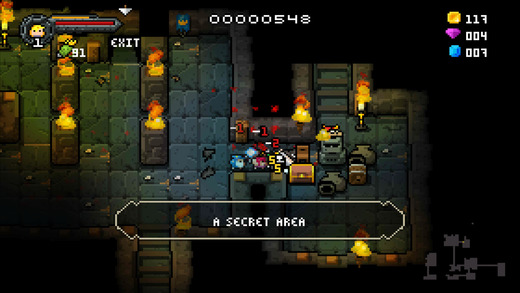 This game is a combination of twin-stick shooters and the dungeon crawling of roguelike games. Players will find themselves amidst hordes of ghosts, cyclops, critters, skulls and much more. They need to survive the game with the help of quick reflexes and by leveling up to improve their weapons. Heroes of Loot 2 has hidden rooms with special items to find, various secrets to uncover, and perma-items to find and obtain extra power.
This traditional roguelike game features a simple mouse-based interface and pixel-art graphics. You need to explore the depths of the Pixel Dungeon while collecting useful items and fighting fierce monsters to get the ultimate artifact of the game, the Amulet of Yendor. Pixel Dungeon has twenty-five randomly generated levels along with twenty-five types of monsters and five bosses.
This is a point-and-click puzzle game that features roguelike elements. The details of each and every murder are generated procedurally, which makes one case different from the other and every time you solve a case, you have to deal with more challenging logic puzzles. A Matter of Murder randomly combines different logic puzzles randomly to create a dynamically generated case file to allow replaying.
This roguelike role-playing game focuses on risk vs. record. Strategically making the choice of their battles, the players have to build their character and enchant their equipment. It is crucial to know when to escape the cave to succeed. The Enchanted Cave 2 features four playable characters and a hundred randomly-generated floors of loot, mini bosses, and monsters.
If you are looking for an action-adventure game with an epic story and unique gameplay, Cloud Chasers is what you need to install on your iPhones and iPads. You need to guide a trailblazing father-daughter team through the deadly deserts of the dystopian future. While playing, you will experience several narrative encounters with the wicked, wondrous and weird inhabitants of the five deserts.
This exciting roguelike game allows players to follow the protagonist to challenge a monster-filled tower. They need to make use of their wits and skills to bravely walk through the hordes of monsters while defeating the opponents. I Wanna Be A Hero features loads of interaction and procedurally-generated levels, which mean every gaming session will be different.
It is one of the most challenging roguelike games that blend turn-based combat strategy with the classic role-playing elements. In Runestone Keeper, you can dive into a dungeon to start your epic adventure. So sharpen the dusty swords, grab your rucksack, and step into the dark chamber to fight for glory.
This role-playing game features light roguelike elements that enable you to summon and customize a huge number of creatures to fight in strategic battles. As you fight your way through randomly-generated dungeons, you will find rare treasures that can be used to upgrade the castle.
Featuring dwarfs, trolls, treasures, golems, magic, potions, hammer, bow and a lot of other tools, Pitman is a traditional roguelike game with randomness and high replayability. It is a turn-based game where strategic role-playing combines with innovative levels. Players will die a thousand deaths before their survival seems satisfying.
The game features Cally whose parents have been abducted and her archenemy is in control of the Caves to perform his evil experiments. In the action-packed Cally's Caves 3, you can join Cally and her friends to explore and find secrets, conquer insane bosses, and level up. As you keep playing, you will be able to unlock new character abilities such as Triple Jump, Water Wings, and Dodge Roll. Solve challenging puzzles to rescue Cally's parents from the enemy's clutches.