If you're a fan of Japanese pop music, then you know that there's a ton of great content out there. But with so much to choose from, it can be hard to know where to start. That's why we've put together a list of the best Android apps for Jpop fans. Whether you're looking for the latest news, the best music, or just a way to connect with other fans, these apps have you covered.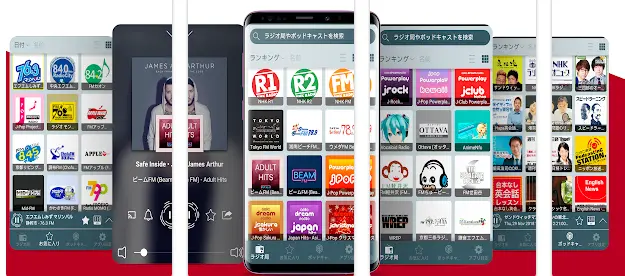 Radio Japan is a great free radio app with a really modern, beautiful, and easy-to-use interface. You can listen to the radio in the background while using other apps, which is really handy. And if you're ever abroad, you can still listen to FM radio stations – which is great!
Another great feature is that you can usually find out which song is playing on the radio station (depending on the station). Plus, adding a radio station or podcast to your favorites list is super easy – just one click!
And if you ever need help finding something, there's a handy search tool. Plus, you can set an alarm to wake up to your favorite radio station, and set a sleep timer so the app turns off after a certain amount of time.
Oh, and one more thing – you don't even need to connect headphones to listen. The app will play through your smart speaker!
The iAM48 app is the perfect way to stay up-to-date on all the latest news, live sessions, and exclusive content from BNK48 and CGM48. You can enjoy live sessions with members of these two idol groups and can send cookies to support them.
You can also watch theater live through our application, including live streaming and purchasing to your playback collections. Enjoy supporting all the member's campaigns in our app for the best gift in the precious moment.
This app also provides utility in access to BNK48 & CGM48 handshake events and for scanning handshake and 2shot.
There are few things more relaxing than sitting back and listening to your favorite radio station. Whether you're a fan of JPop or classic rock, there's a station out there for you. And with Radio Japan FM Live, you can easily find and listen to all your favorite stations from anywhere in the world.
Just type in your location and Radio Japan FM Live will bring up a list of local stations for you to choose from. Once you've found a station you like, just hit the "play" button and sit back and relax. You can also save your favorite stations to your list for easy access later
If you're looking to improve your Japanese reading comprehension skills, familiarize yourself with the latest news and topics, and practice your listening and translation skills, then look no further than TODAI EASY JAPANESE NEWS.
With articles updated daily on a wide range of topics from sports to business to music, TODAI EASY JAPANESE NEWS has something for everyone. And with full add-ons including the ability to hide furigana, highlight important Japanese words, underline vocabulary by JLPT level, and change the font size, you can customize your reading experience to suit your needs.
With quick access to a Japanese dictionary and translation tools, you can easily look up unfamiliar words and practice your translating skills.
If you are a Jpop fan, you need to learn some words for easy interaction with other fans and understand the lyrics of your favorite songs. And with Japanese Translator & Dict., it's never been easier to learn new vocabulary.
Japanese language learners often face the daunting task of learning Kanji, which is the system of Japanese writing that uses characters borrowed from Chinese. In addition to being time-consuming, Kanji can be difficult to memorize. However, the Japanese Translator & Dict. app can help make the process of learning Kanji simpler and more efficient.
The app includes a kanji dictionary with information about each character, including meaning, pronunciation, and stroke order. The app also has a notebook feature where users can practice writing Kanji characters. And for those who need a little extra help, there is also a quiz function that tests users on their knowledge of Kanji characters.
JPop Music app is the best way to listen to Japanese pop music for free. You can find a wide variety of stations that transmit the best of J-POP, Japanese rock, anime, KPop and new JPop. The radio stations in this app are specialized in transmitting great quality music from different countries that spread the best of Japanese Pop culture.
In Manga Radio you will be able to listen to live radio and tune in to the best stations with a wide content and different musical genres such as J-Rock, Visual Kei, Anime Soundtracks, KPOP, J-POP Ballads, Love Songs, Relaxing Music, Instrumental Music and many more.
AKB48 Mobile is the official mobile app for all things AKB48. If you're a fan of the group, this is a great way to stay up-to-date on all their latest news and activities. The app also features profiles of all the members, so you can learn more about your favorite idols.
However, it should be noted that the app is only available in Japanese. So if you're not fluent in the language, this might not be the best option for you. But if you're willing to put in the effort to learn, it could be a great way to improve your Japanese skills while keeping up with your favorite band.