In recent years, there has been a decrease in the number of flagship Android devices released. However, that doesn't mean that there is any less interest in emulating Android on PC. In fact, as our phones become more and more like miniature computers, the line between what we can do on our phones and what we can do on our PCs is becoming increasingly blurred.
For many of us, our phones are the first thing we check in the morning and the last thing we look at before bed. They're always with us, which means they're often the most convenient way to access the apps and games we love. But what if you could have all of your favorite Android apps and games on your PC? That's where Android emulators come in.
An Android emulator is a piece of software that allows you to run Android apps and games on your PC or Mac. There are a number of reasons why you might want to do this. Maybe you're a developer who wants to test your app on a larger screen. Or maybe you just want to be able to play your favorite mobile games on your PC without having to worry about battery life. Whatever your reason, there's an emulator out there that's perfect for you.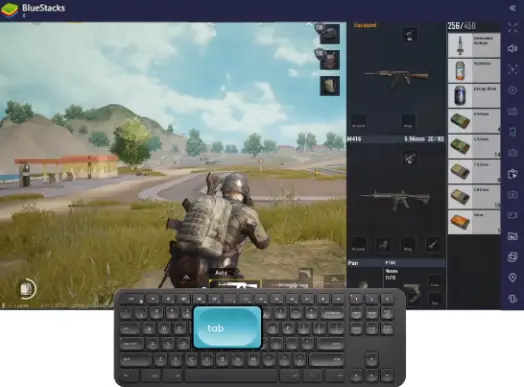 BlueStacks is one of the most popular Android emulators out there, and for good reason. It's compatible with Windows and Mac, it has a simple interface, and it's easy to set up.
BlueStacks is most widely known for its affiliation with the popular game, PUBG Mobile and Fortnite Battle Royale. It also provides a free-to-play version that allows people to try out the app before they decide if they want to purchase it or not on their device.
With controls specifically designed for touchscreen devices, you can use your keyboard and mouse to play games with a degree of precision that was previously impossible. You can also toggle between "Shooting Mode" and "MOBA Mode" to get the most out of your gameplay.
The Android emulator also supports "Multi-Instance" gaming, so you can play multiple games at the same time, and even sync them up so that your actions in one game are replicated in the others. And if that's not enough, you can also use macros to record and replay complex game-play or use the real-time translation feature to play any Android game in your local language.
NoxPlayer is one of the most popular Android emulators out there. It's free, it's easy to use, and it allows you to play your favorite Android games and apps on your PC or Mac. But what sets NoxPlayer apart from other Android emulators is its ability to run both 32-bit and 64-bit apps at the same time. This means that you can use NoxPlayer to play both older and newer Android games and apps without any compatibility issues.
Perhaps the most noteworthy is the in-built Google Play Store, which means you can easily download and run Android games and apps on your computer.
The Nox player also has a built-in ad blocker, which blocks all ads within the apps while playing and lets you get rid of ads in other applications when browsing the web.
Another great feature is the custom key-mapping, which allows you to assign keys from your keyboard to replace the game's original controls. This can be particularly useful for games that are designed for touchscreen devices.
NoxPlayer comes with a built-in file manager, game controller support, and a range of other features that make it the perfect tool for any Android user. NoxPlayer also supports multiple Android versions, so you can choose which version of Android you want to use. This makes it a very versatile emulator.
This free Android emulator for PC supports a wide range of popular mobile games and provides a number of features that can help to improve your gaming experience. For example, you can adjust the graphics settings to get the most out of your PC's hardware or use the physical mouse and keyboard for greater precision.
You can also customize the on-screen keyboard to better suit your gaming style, and take advantage of the fraud prevention and security measures to keep your account safe.
LDPlayer is a relatively new Android emulator for Windows 11. What it lacks in age, it more than makes up for in performance. It supports both Intel and AMD PCs, is fast and lightweight, and is based on Android 7.1.2.
In addition, it is relatively less bloated than some of the other emulators on the market. As a result, LDPlayer has quickly risen in popularity due to its great performance. If you are looking for a great Android emulator for Windows 11, then LDPlayer is definitely worth checking out.
MEmu is a versatile Android emulator that supports both AMD and Intel chipsets. It has a clean user interface and can run multiple instances of Android at once, allowing you to play multiple games or use multiple apps simultaneously. This can be extremely useful if you need to test how an app behaves on different versions of Android, or if you simply want to use two or more apps side-by-side
It also supports the latest version of Android, including access to the Play Store and Google services. Additionally, MEmu has a wide range of customization options, including the ability to assign specific keyboard keys for specific actions in a game.
MEmu is also based on Android Nougat (7.1.2) by default, but it can also run Kit Kat (4.4) and Lollipop (5.0). In addition, it allows you to have three different windows for all three Android versions. This makes it easy to switch between them and helps to prevent any confusion.