Installing Android on PC is a useful method to enjoy Android apps and games on big screen and without battery limit. This post will introduce software and tools which help bring Android OS to Windows and Mac OS (maybe Linux in the near future). There are 3 ways to emulate Android on PC.
I'm going to share with you the best Android emulators for PC. I will cover some of the most popular and widely used emulators, as well as a few lesser-known ones that have more potential than they might seem at first glance. All of these are available on your Windows or Mac computer, so you don't need any extra software installed on your device in order to use them! Let's get started…
Android App Players
This is the easiest way to access Android on a PC. Android App Player is a PC's software which is designed to let Android apps run on Windows, Mac and Linux computer. I already introduced the most popular ones in another post. If you want a short version, just choose either Nox APP Player or BlueStacks to run Android games.
Nox APP Player
Nox APP Player is an Android emulator. It allows users to play any app from the Google Play Store without installing them on their device. The Nox player also has a built-in ad blocker, which blocks all ads within the apps while playing and lets you get rid of ads in other applications when browsing web.
BlueStacks
BlueStacks is another popular Android emulator. BlueStacks is most widely known for its affiliation with the popular game, PUBG Mobile and Fortnite Battle Royale. It also provides a free-to-play version that allows people to try out the app before they decide if they want to purchase it or not on their device.
Android OS
If you are willing to do an installation that is a little more involved, you might want to consider going with this method.
Phoenix OS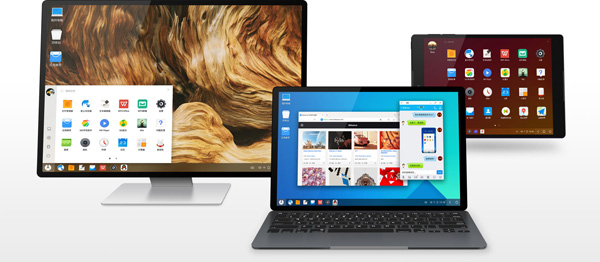 Phoenix OS is a new operating system based on the Android 7. This OS is suitable to run on tablets, laptops, and desktop computers. It inherits many easy-to-use UX of desktop while allowing millions of mainstream Android apps and games to be run smoothly.
Remix OS is the first Android operating system which brings desktop-like windowed environment to Android. Remix OS is built on the Android-x86 project (see below), which introduces a whole new range of versatility to how and where you can Remix while taking advantage of PC's high performance resources. The current OS version is a custom engineered version of Android Lollipop. The OS can be copied to a USB stick and run from any PC or Mac.
Console OS is a distribution of Android OS designed to take everything that has made mobile awesome, and bring it back to PC. Console OS Pro will add over 20 premium features. Among them, InstaSwitch is the est feature which allows user switch back and forth between PC OS and Console OS.
An open sourced version of Android for Windows, this is an actual operating system that you'll need to install on a piece of hardware or inside of a virtual machine to use. You'll want to download the Android x86 installation files from their open source directory, determine whether you want to install it directly to a partition on your hard drive and boot into the operating system from time to time or set it up in a virtual machine, and then run through the pretty standard installation process.
Android on Cloud
Everything is on cloud nowadays, and Android is not an exception.
Similar to service like LogMeIn for Windows and MacinCloud for Mac OS, Mobizen allows access to Android OS anywhere. Users can access mobile apps and access multimedia content on Mobizen by using either a web browser or a PC's software.