Who doesn't love match-3 puzzle games? These games enthrall every player whether young or old because they are easy to play and highly addictive. Due to their simplicity and accessibility, they have become one of the most popular mobile game genres in the entire world. Here are the top 10 Android match-3 games that everyone should try.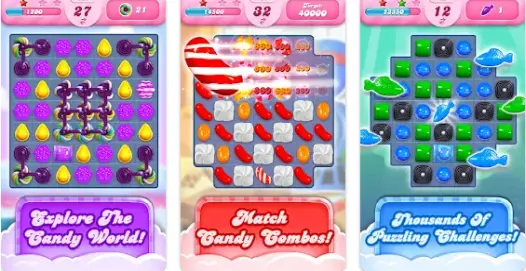 One of the most popular mobile games of all time, Candy Crush Saga is a classic match-3 game that's as challenging as it is addictive.
In Candy Crush Saga, you can win thousands of matching puzzles, with new puzzles added every 2 weeks. Not to mention the delicious rewards you can get from spinning the Daily Booster Wheel. But that's not all! There are also various sugar-coated puzzle challenges, like Target Score, Clear the Jelly, and Collect the Ingredients. You can even play offline!
With over 2,000 levels to play through, there's plenty of content to keep you occupied for hours on end. And if you get stuck on a level, you can always ask your friends for help via Facebook.
A fast-paced twist on the classic match-3 formula, Bejeweled Blitz challenges you to score as many points as possible in 60 seconds.
Bejeweled Blitz is an explosive new way to play the classic game. Now with special Boosts like Scrambler to scramble the board, and Detonator to blast all special gems, you can add extra power and fun to each match. Plus, you can upgrade your Boosts up to 10 times for scores that reach the stratosphere! And you can use Boosts any time and without spending Coins. 
The 60-second play is perfect for quick gaming sessions when you only have a few minutes to spare. Plus, with over 40 puzzles to play through, there's plenty of content to keep you coming back for more.
If you're looking for something a little more family-friendly, Diamond Digger Saga is a great option. Help Diggy dig his way through underground mazes in search of treasure in this cute and colorful game.
In Diamond Digger Saga, your goal is to create precious items of jewelry by linking 3 or more charms of the same color. You can travel to exotic cities and enjoy a ton of fun, challenging levels, and exciting new modes.
You can even take on this epic saga alone or play with friends to see who can get the highest score! This game is completely free to play but some optional in-game items will require payment. With over 200 levels to play, there's plenty of content to keep you entertained for hours on end. Just watch out for those pesky ghosts!
Toon Blast is the perfect game for fans of Cartoon Network shows like Adventure Time and Regular Show. Join Cooper Cat, Wally Wolf, and Bruno Bear on their adventure through wacky worlds full of exciting puzzles to solve. With over 3,000 levels to play through, Toon Blast will keep you entertained for hours on end.
You can play with unique game objectives and dozens of entertaining obstacles, and unlock whacky boosters to blast your way to the next level. You can also collect stars by completing levels to win awesome rewards. Plus, you can create your own team & compete with others to rule the puzzle world! Receive lives from your teammates to keep on playing, and sync your game easily between your phone and tablet!
Pyramid Solitaire Saga is a twist on the classic card game that's perfect for casual gamers or solitaire enthusiasts alike. In this game, you match cards together in order to clear them from the board and uncover hidden treasures along the way.
With over 1,000 levels to play through, there's plenty of content to keep you coming back for more. And with rich and exotic graphics, you'll be transported to magical and forgotten worlds that are lost to ancient times.
You'll adventure with Helena the Treasure Hunter and Kingsley the cunning gerbil as you solve puzzles and discover new Solitaire strategies. Plus, there are powerful magic boosters to help you with challenging levels.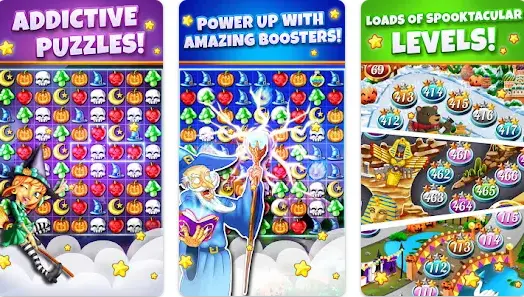 Witchcraft has never been more fun or entertaining than Witch Puzzle, the best match 3 game around! For all you boys and girls out there who thought Harry Potter was the name of the game in wizardry, just wait till you play this highly addictive match 3 game with amazing graphics! Not only is the gameplay incredibly fast-paced and thrilling, but you can also use a variety of power-ups to make things even more exciting.
With the Magic Book power-up, you can match 5 items to create it and then combine it with another item to destroy all matching items. The Wizard Spell power-up allows you to clear all the items from the game, and the Magic Broom Sweep power-up lets you sweep an item from the game. And if that's not enough, you can also use the Magic Wand power-up to select 8 connecting items and destroy them, even without a match.
Clash of Diamonds is a compelling match-3 puzzle and cascade adventure game that allows you to swap charms and gems in a row and win the puzzle as a real star. This game comes with hundreds of challenges to keep you engaged in this fun-filled adventure. You can also match magic gems and produce special boosters that will help you solve the puzzle easily.
The game also has the ability for players to match 5 jewels or gems for a dazzling blast. The game is one of the most popular on the Android market and has been downloaded by millions of people. The reviews for the game are overwhelmingly positive, with people praising the graphics, gameplay, and overall entertainment value.
Match 3 Jewels is a time limit match-3 game in which players have to detonate as many jewels as possible in sixty action-packed seconds. This incredibly addictive game is so popular that over twenty-five million people play it.
Players can discover gems, boost fun with Scramblers, Detonators, and Multipliers with an incomparable power of always available or rare gems, and top the leaderboards. Launching meteors by making matches of 4 or 5 not only makes the game saga more fun but also helps you complete the level. Meteors crush either the squares under the jewels or the jewels under the candy to make the candy fall down.
Puzzle & Dragons is addictive match-3 puzzle gameplay with the monster-collecting RPG mechanic. it is the most popular mobile game in Japan, with the highest current number of downloads.
It even has a Nintendo 3DS version because of its popularity. Players will match 3 or more orbs of the same color to attack their enemies. The game features over 700 unique monsters to collect, which means players can try a limitless number of team attacks.
Ruby Gems Blast is one of the most captivating diamond-matching games ever. Players have to switch and match the gems to win hundreds of adventurous levels. They can also earn extra points by playing fast or by setting up combos to double the score. It is no doubt an easy and challenging game at the same time.