Are you a fan of the Pokemon franchise? If you are, then you're in luck! There are plenty of great Android games that capture the spirit of Pokemon. From games that let you catch and train your own Pokemon to ones that task you with becoming a Pokemon Master, there's something for everyone. Here are 8 of the best Pokemon-inspired games available on Android.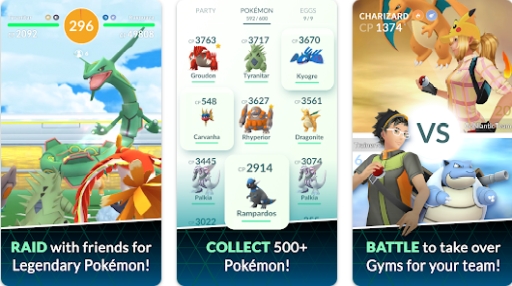 Pokemon GO is a massively popular augmented reality game that tasks players with catching wild Pokemon in the real world. Using your phone's GPS, the game tracks your location and displays nearby Pokemon for you to catch. Pokemon GO is a great way to get out and about, meet new people, and catch some rare and powerful pokemon.
These are just five of the many great Android games inspired by Pokemon. So if you're looking for your next gaming fix and want to try something new, be sure to check out one (or all!) of these fun and exciting games!
Assemble your team of monsters, train and customize them at the ranch then take them to the fight online and compete in special missions for rankings, or clash with other players!
Neo Monsters lets you capture and evolve over a thousand monsters, training them to unleash their deadly potential in turn-based 4v4 battles. Finding and catching evolution ingredients will help you create the ultimate team of sixteen monsters, each with its own unique abilities.
Neo Monsters also features an expansive campaign mode with six leagues and sixty hours of content, as well as a multiplayer mode that pits you against players from around the world. Duels in the online PvP leagues offer big rewards, and there are dozens of online missions to complete.
Do you love adventure? What about dragons? If you answered yes to both of those questions, then Dragon Mania Legends is the game for you! In this game, players will collect and prepare dragons for battles to reclaim their homeland.
You can breed cute baby dragon eggs and raise them into powerful warriors to fight off the Vikings. The game supports over 200 species of unique and highly detailed dragons, which will immerse you into the game to collect and discover all of those. Players can fight against other players in the Arena to win exclusive prizes.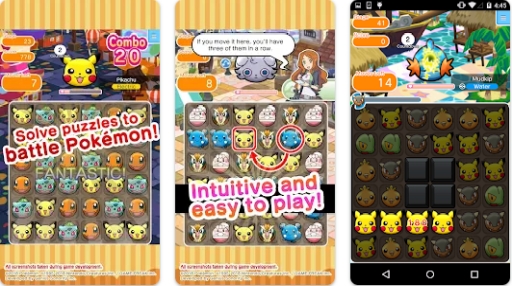 If you're a fan of Pokémon, you'll definitely want to check out Pokémon Shuffle Mobile. It's a new puzzle game from the same company as the original games, and it's a lot of fun. In the game, you line up three or more Pokémon vertically or horizontally to battle against wild Pokémon.
It's a great casual game that you can play when you have a few minutes, but it also has enough depth to keep you engaged for hours. Collecting and leveling up Pokémon is a lot of fun, and I can't wait to see what new Pokémon are added in future updates.
Bulu Monster is a game for Android that allows users to become monster trainers on Bulu Island. Players must find, tame, fight, and train over 150 monsters. The game also allows its users to engage and challenge other players of the game.
Bulu Monster can be played both online and offline, allowing the user to play the game even without Internet access, making the game more versatile than most. The game features 14 different maps to explore and over 50 NPC monster trainers to challenge.
Players of Bulu Monster progress by completing quests given by NPCs. These quests often involve defeating other trainers in battle or collecting a certain number of a specific type of monster. As players complete these quests, they are awarded experience points and items. These items can be used to help train monsters or can be sold for in-game currency.
Bulu Monster is a unique monster-collecting game that offers tons of replay value. With new quests being added regularly, there is always something new to do on Bulu Island.
EvoCreo is a pixelated monster-catching game for mobile devices with gameplay and art style similar to that of Pokemon. In the game, players take on the role of Evokers, trainers who capture and battle monsters called Creo.
There are more than 170 different monsters to catch, and each can evolve up to 99 times. Battles are fully animated, and players can adjust their monsters' attacks, skills, and stats to suit their strategy. The game also features multiplayer challenges and evolutions, as well as idle evolution for when players are not actively playing. For fans of classic monster-catching games, EvoCreo offers a nostalgic pixelated experience with all the modern gameplay elements that make the genre so enjoyable.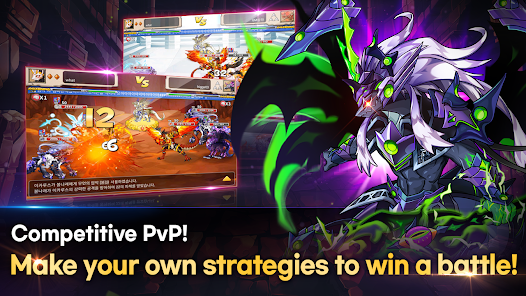 Dragon Village 2 is a mobile game that follows your adventure to save Yutacan and the dragons while unveiling the dark mystery of the unknown Clan of the Dark Robes. You can collect, train and battle with your own Dragons at DragonVillage 2.
The game features over 300+ dragons, each with its special skills and personality. Players must choose their team wisely in order to succeed. In addition, players can evolve their dragons through 5 levels of super upgrades. This game also features engaging stories, quests, and missions that you can play with various friends and rivals.
Every month, new dragons are introduced to keep the game interesting and new.
Monster Legends is a mobile RPG game with over 900 collectible monsters to breed and battle with. New monsters are added to the game every week, giving players a reason to keep coming back for more. And with different elements and rarities, there are endless possibilities for breeding cool new species of monsters. Not to mention, all sorts of incredible monsters can be obtained through the game's limited-time events.
When it comes to gameplay, there's a lot of focus on progression and strategy. Players have to level up their monsters for the battles ahead and rank them up in the Monster Lab. Additionally, boosting a monster's powers with runes, relics, beasts, and talents is essential for gaining an advantage in battle.
But perhaps the most important part is setting up a strategy that combines attacker, tank, and control monsters. Only then will you be able to take on other Monster Masters in real-time Live Duels. Or compete in the Multiplayer Mode for trophies, rewards, and a chance to reach the top Leagues.