When it comes to clicker games, few have as large a selection as the Android and iOS smartphone operating systems. If you're not familiar with idle clicker games the premise behind them is often surprisingly simple.
Basically, it is a passive experience that emphasizes grinding but without the constant need for player input. Think of it as a one-button Japanese role-playing game: You're grinding levels and building up your character but in a relatively passive, and thus painless, way.
In this article, we're going to tell you about the 12 top idle clicker games currently available on smartphones. Hopefully, you'll find something that's your style here!
Human Evolution Clicker Game: Rise of Mankind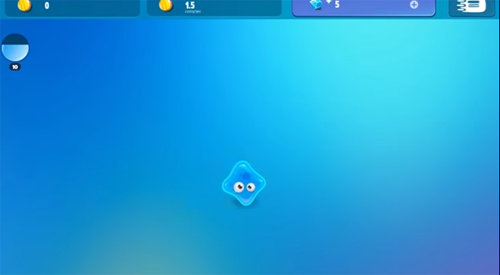 Human Evolution Clicker is a game that lets you lead creatures from their primordial beginnings and evolve them into different animals like fish, lizards, and monkeys. You can tap to evolve life further and open up the next steps of human evolution: cyborgs, robots, and posthumans. In this game, you can also conquer space and develop life on other planets.
There are almost weekly themed evolution events where you can get new worlds with new planets and creatures. For example, there are worlds of dragons, birds, ocean animals, and many more. If you want to accelerate the evolution process, you can even buy some animals for cash.
Idle Miner Tycoon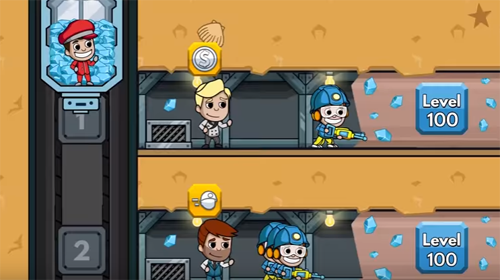 Idle Miner Tycoon is a game that allows you to automate your gold mine to make more idle cash income. You don't need to tap like in an online clicker simulator! The game is designed to increase your miners' motivation for gold digging by providing a fun and easy way to manage your mines.
With Idle Miner Tycoon, you can build up your idle billionaire empire simulation without the endless clicking you experience in other clicker money games and offline adventure simulation games!
Plus, there is no cap! You can also hire a manager to help you with your gold mining operation. This game is perfect for people who want to get rich quickly! And best of all, it's offline so you can play it whenever and wherever you want.
Clicker Racing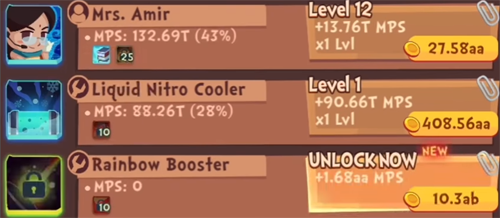 Maybe you'd like to race in your idle clicker game? Clicker Racing has you covered with a simple yet addictive game that takes the best of both genres for an engaging experience.
With thousands of race stages to challenge, players can join a tournament for valuable prizes every week. They can also recruit a crew of 36 racing technologies and unlock 6 incredible cars with benefits.
The game also features 8 hand-crafted wonderlands, 30+ rival cars, and 17 big bosses to defeat. In addition, there are 36 cards to collect in order to boost cars' speed and 28+ magic tools to enhance cars' power and gold bonus.
Collector sponsors can also get permanent boosts. Lastly, the game features daily rewards, a prestige feature, a cloud save feature, and an offline progress feature.
Idle Factory Tycoon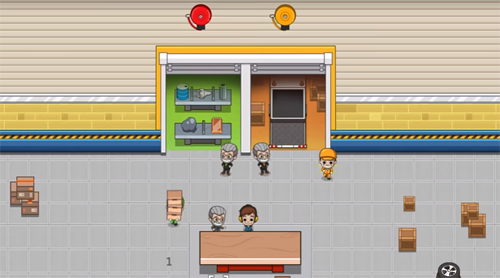 Like Idle Miner Tycoon, Idle Factory Tycoon lets you build your industrial empire with taps. You are able to automate your workflow to get more idle cash and money. Idle Factory Tycoon is one of the best idle games because it offers the ability to upgrade your workflow to increase your idle benefit.
With this game, you can continue producing even when you are offline. You are also able to invest your idle cash in this adventure tap game and boost your income. In Idle Factory Tycoon, you can manage up to 30 different workstations in each factory. This game also allows you to use trophies and the prestige of your factories.
Make More!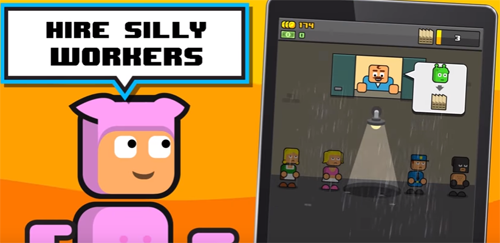 Make More! is the perfect game for anyone who has ever wanted to run their own factory. You start out with a single factory but quickly expand to multiple locations as you hire new workers and upgrade your equipment.
The goal is to Make THE BIG BOSS happy by pumping out products as efficiently as possible. Along the way, you'll collect 200+ workers, bonus jobs, trophies, and more.
Vlogger Go Viral: Tuber Life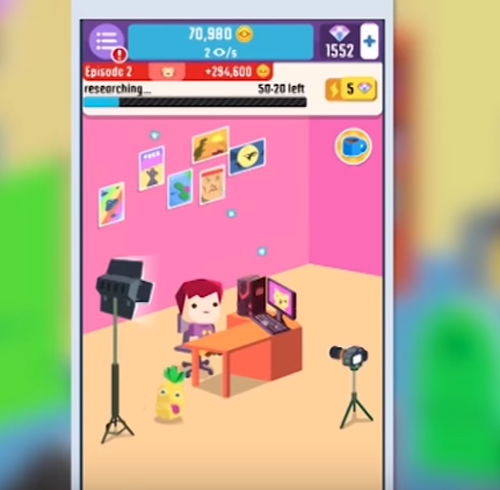 Vlogger Go Viral is a life simulator game that gives you a chance to experience what it's like to be a YouTube superstar. The game is very engaging and simulates real-life activities such as streaming movies, series, music, cute pets, and more.
You can also join in on YouTuber community events with daily missions and rewards for everyone who participates. There are also exclusive items that are available for players only. In addition, you can customize your avatar's style based on your tuber life.
You can also upgrade your home studio equipment to increase your channel's views even more. This game is a great way to have fun and learn more about the YouTube community.
Partymasters Fun Idle Game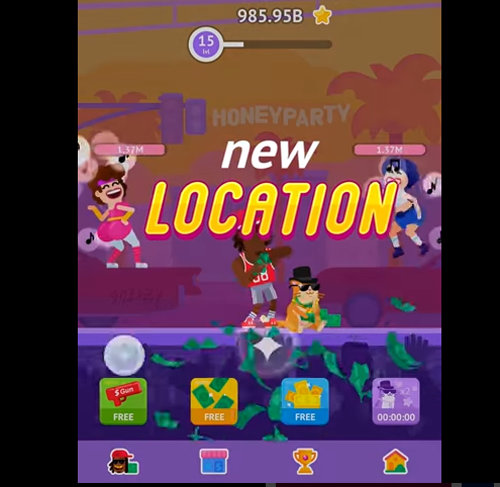 Partymasters is a game that simulates the life of a party animal. You start off as a lowly DJ, and your goal is to work your way up to being a world-famous party animal. The game is played in an idle clicker format, and you'll need to perform various party activities in order to progress.
There are more than 40 amazingly crafted characters to meet, and you'll need to follow the story of Lol Wayne in order to unlock all the characters. You'll also need to use super boosters to help you get your fans rabid. Be the life of the party by dressing up your character!
Epic Party Clicker – Throw Epic Dance Parties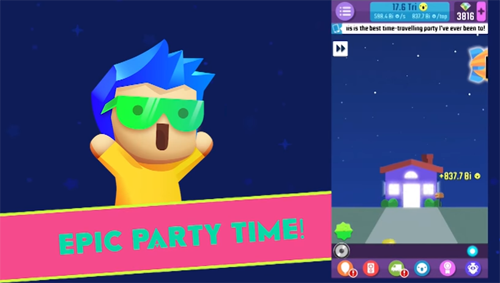 Epic Party Clicker is a game that lets you set up and engage in a wild party of your creation. You can follow your guests' posts on social networks and see how your party goes, drum on the screen to raise the number of guests per tap, and get over 20 party upgrades to drive your guests crazy.
Some of the upgrades include arcades, laser ice sculptures, a moon lifter, and even a time machine that can bring party relics of different eras to your celebration. You can also upgrade your sound equipment to outstanding and really powerful ones, like Illuminati Amplifier, Dubstep Wizard, and Hyperspace Echo.
Tap Tycoon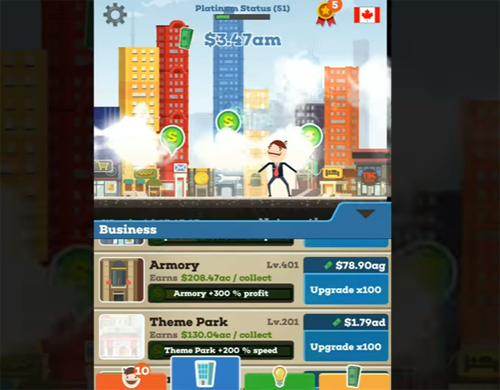 Are you ready to lead your country to world domination? In Tap Tycon, it is your job to create money and invest in businesses to shape your multi-industry conglomerate. This takes place in the 35th century, so you will get to invest in some fascinating technologies! Some examples include the anti-gravity fork, luggage shrink ray, and holographic window view.
You can compete globally with other countries every week by building the most powerful businesses. The countries that earn the most medals and rewards will be victorious! So make sure your business is the best it can be if you want to lead your country to Tap Tycon glory.
Doomsday Clicker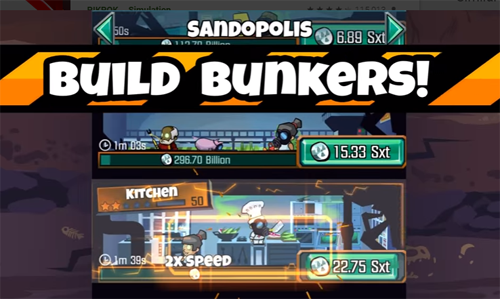 In Doomsday Clicker you can collect bonuses when "unwanted visitors" come knocking at your bunker's door. You can also discover endless quirky surprises, feel immense satisfaction as numbers tick ever higher, and visit THE SUPERCHARGER – a wheel of chance that gives a limited-time productivity boost.
You can destroy the world over and over again to increase profits, making more and more money each time. You'll also meet tons of crazy characters… and watch them mutate!
Cash, Inc.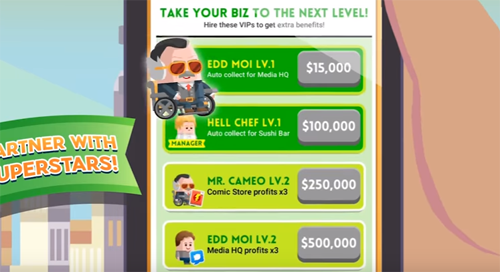 There's nothing quite like the satisfaction of becoming a self-made millionaire. And with Cash, Inc., you can do just that! This idle clicker game lets you live the life of a business tycoon, where tapping will be your greatest asset. Tap whenever, wherever you want, and take a break. Your businesses will continue to earn money even when you're not there! Use your earnings from tapping (as well as from your managers) to upgrade various businesses. The more money you make, the more you can spend on what YOU want.
In Cash, Inc., you'll also enjoy amenities fit for a business tycoon. Lead a lazy, yet productive idle lifestyle while your celebrity business partners take care of you and your businesses! Just click and tap to upgrade your businesses and keep the money flowing. You can also make money while you renovate your business tower. More money means having better and more stunning tower appearances!
Hooked Inc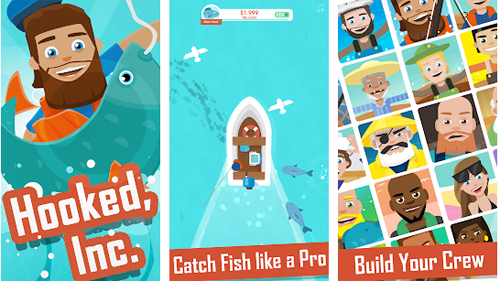 Hooked Inc is a mobile game that tasks players with catching fish and expanding their fishing empire. The treasures of the sea are at your fingertips in this game that places you in charge of a fishing boat that reaps the rewards from long hours spent floating in the ocean. Similar to the other business clicker games except for featuring one goal and one product – fish!
The game is set up as an idle simulator, meaning that players can earn money even when they are not actively playing the game. This is accomplished by hiring crew members and upgrades that help to automate the fishing process.
In addition, Hooked Inc features daily tournaments in which players can compete for rewards, gems, and other items. While the overall concept of Hooked Inc is fairly simple, the game provides a good deal of engagement and enjoyment for those who enjoy idle simulators or casual games.