Clicker Racing is an exciting mobile game that combines endless tapping with racing through thousands of race stages until you reach the finish line. Although simple in concept, it takes a few tips and a smart game plan to win the race. Luckily, we have managed to test and device five cheats to improve your performance and guarantee a sure-win.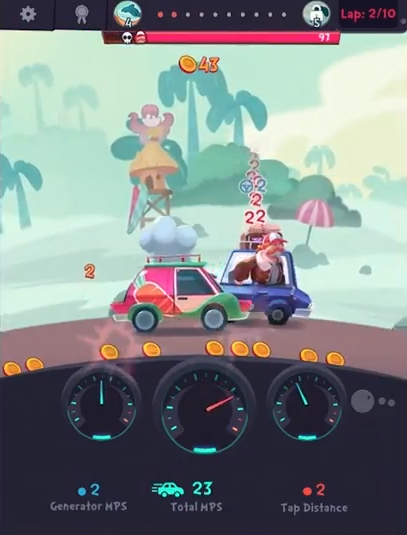 Upgrade the Generators:
The generators or the "idle workers" boost speed from tapping. Upgrading them whenever possible will save you energy from too many manual tapping and unleash bonuses.
Aim at reaching each of the milestones as soon as possible to unlock exclusive rewards.
Continue to upgrade even the old generators so that the little points will eventually add up.
Upgrade the generators by unlocking all Tier 1 generators first and update at least 3 to level 50 and then move to the next tier and continue enhancing till you reach your target
Upgrade the car
Prioritise on upgrading to Prestige so that you can gain superpowers such as the Gold Rain which will help you buy more upgrades quicker for your race car.
Once your car upgrades and you have reached level 400, it will boost your tapping power, and you will need manual tapping only for boss battles.
Use gems to buy cards
One of the rewards of the game is gems. These cards offer various advantages to help your game and powers even after you reach Prestige because you will be able to use them permanently till the game ends
You can collect every gem that you get and use them to buy cards instead of using it to level up for a few gems.
Get Milks by Prestige
Milks give you a permanent boost at some percentage and to quickly get Milks you should reach level 400 to enable Prestige.
Once you prestige at this stage, the game will reset and remove all upgrades and generators but leave you with a boosted new match and better tools.
Watch Ads to Double Earnings.
Watching the ads with before you start the game will increase your earnings for 2 hours.
You can replay the ads to stack your bonus hours.
Keep the ads active and get offers by tapping the 2x button on the screen.
You can keep them playing while you do other things to stack your bonus when you get back in the game.
The concept of the game is to tap faster to go farther and upgrade your car to gain advantages by defeating around 17 bosses along the way and collecting the 36 cards. Stick to the rules, add the cheats and you'll be the speed racer!