Being stuck at home can be frustrating. With nothing to do, many people find themselves scrolling through social media or playing mobile games. If you're looking for something a little more challenging than the average game, try quiz games. They're sure to get your brain working and provide some entertainment. Among them, games with tricky questions are fun to play and require players to think in a unique way in order to solve problems. Following are the best 5 tricky games you can find on Android.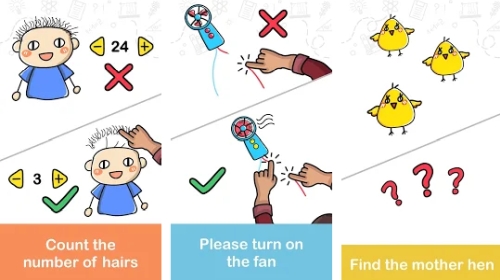 Brain Out is the perfect game for anyone who wants to challenge their mind. With a series of tricky brain teasers and different riddles, the player must use their logic, reflexes, memory, and creativity to solve the puzzles.
The game features absolutely unimagined gameplay, an easy and simple but humorous game process, funny sound effects, and unexpected game answers. So many trivia questions are designed to boost your brain power. The perfect combination of knowledge and creativity, exercise your mind with the triple test of EQ, IQ, and dumbfounded challenge.
The game is full of spoofs, fun, and subverts for your imagination!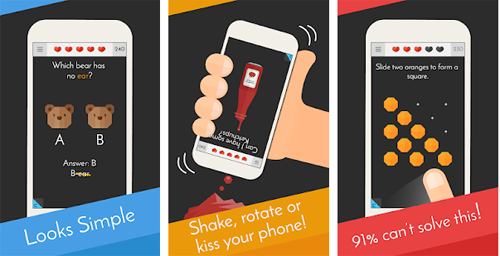 Tricky Test 2 is an addicting free IQ game that will tell you if you have a genius mind or not. This free puzzle game is full of tricky brain teasers that will push your creative thinking to the limit. The questions are so tricky that even geniuses will have to put their thinking caps on.
Think you're a genius? Take the Tricky Test 2 and find out! This free puzzle game features 111 unique brain teasers that will push your creative thinking to the limit. If you can finish all the quizzes in 120 minutes, you'll be pronounced a genius!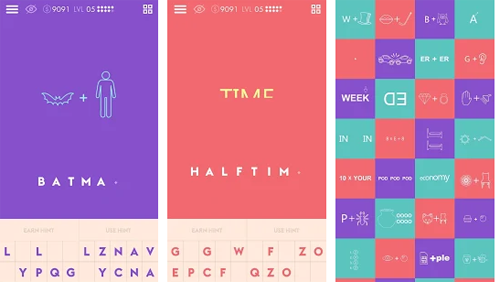 Picture riddles are a ton of fun. They blow your mind and stump you all at the same time. You'll find yourself spending hours at a time trying to figure them out, and in the process, you'll learn new words and concepts.
The questions can be easy, like two pictures, one of a bat and one of a man. Most people can answer that one as "batman." But what if a "time" word is divided in half? Not everyone can answer it as "halftime."
It takes a certain kind of thinking to see beyond the obvious answer and come up with something clever and original. That's what makes picture riddles so much fun. They challenge you to think outside the box, and in the process, you just might learn something new.
This game will challenge everything you know and leave you guessing. With brain-twisting puzzles, this game is perfect for trivia lovers and word guessers. The levels are designed to challenge you and push the boundaries of what you think is possible. The picture combos will leave you feeling like there is no way you can solve them but that is part of the fun.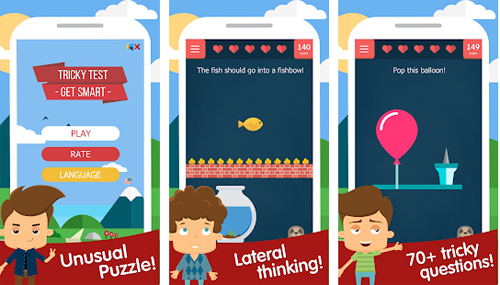 Are you tired of the same old puzzles and quizzes? If you're looking for something new, fun, and challenging, try Tricky Test. With 131 creative and tricky puzzles, this game will put your logic and observation skills to the test.
Some levels are very complicated, and the solution is often hidden in the text. So read carefully! This game is perfect for developing your memory, attentivity, and concentration. And best of all, you can play offline.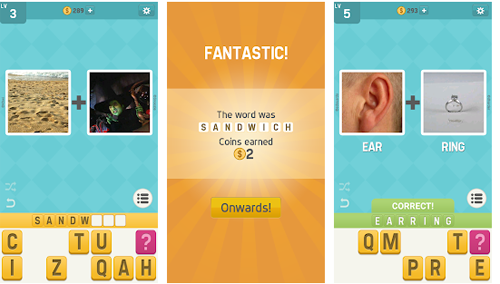 Pictoword is a simple yet addicting word game where you "read" two pictures that combine to create a word or phrase. When you guess the word, Pictoword will show you how the word is spelled! Pictoword is perfect for kids, adults, and everyone in between.
The simple premise and easy-to-learn mechanics make Pictoword accessible to players of all ages, and the wide variety of topics covered in Pictoword packs to ensure that there's something for everyone. Whether you're a fan of pop culture, or history, or just want to test your brain with some challenging puzzles, Pictoword has you covered.
With solo mode, you can test your brain power with multi-picture puzzles. And if you get stuck, there's no need to worry – you can ask your friends for help via e-mail or Facebook connect. There's also a flexible and fun turn-based mode where you can take turns with friends to see who can unscramble the pictoword puzzle the quickest.