Are you looking for castle defense games for your Android device? Then here is the list of the best castle defense games for Android that won't let you put your phone down.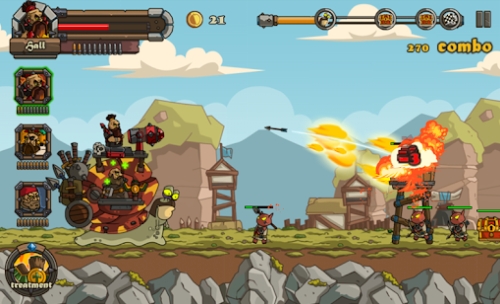 In Snail Battles, players can experience full freedom of shooting action in this ambitious blockbuster game. Player will swipe and tap to perform combo shots and build a monster-slaughtering weapon machine on the lovable snail. You'll start off with the legendary heroes and the battle snail to scatter the evil monsters, but throughout each battle you'll collect coins and gems to upgrade your weapons and unlock new heroes.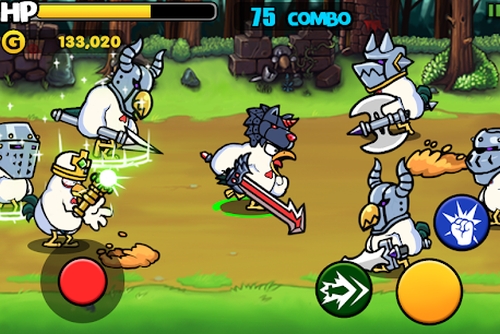 It is a spin-off of a highly popular game called Chicken Revolution. In this action and fun-filled game, you will find a countless number of weapons including ax, spear, sword, and throw, enemies of numerous kinds, a lot of items, and incredible skills. It also supports various costumes and other similar things, which makes it more fun and exciting to play.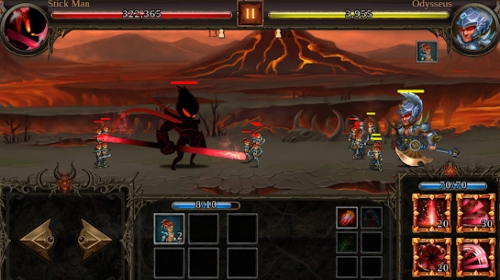 Epic Heroes War is a real-time strategy game, Online Side-Scroller Defense combines RPG. Build up a powerful army and slaughter enemy hordes in quests and battles with other players! The game features 20+ heroes with unique skills, 250+ items, 20+ units, 60 campaign levels & online PvP, and epic Boss fight.
The Dragon Kingdom is a very addictive army-building, real-time strategy, and tower defense game in which you have to protect the castle before the enemies overtake it. You can win the battle by building and sending an army of soldiers to fight the war. Moreover, this game provides ease of control, super cool effects, and much more.
It is a unique strategy and tower defense game that is based on the mechanics of time management. You will have to defend your kingdom by hiring a rag-tag troupe of adventurers. You can also earn crystals from winning various battles. These gems will come handy in unlocking powerful heroes and treasures.
What makes Sensei Wars different from other games of the similar genre is the Sensei. This warrior is the only one that can be directly controlled in combat. You have to define the fighting style of your Sensei to best defend your Dojo, as his skills is the most vital part in a battle. With his power, you can conquer enemy bases and command special healing powers. You can train your army to use them in battles, fortify your base to withstand attacks and join forces with friends by creating a Dynasty for co-op play.
Heroes of three kingdoms have come from every territory of the Three Kingdoms and united under a powerful oath! Enemies falling like leaves with each touch! Are you ready to protect your lands? There are 16 generals and 25 soldiers which can be used in battles.
Droid 3K TD: Enemy at the Gate is one of the Three Kingdoms Series games made by WSW. It is based on the famous wars during the Three Kingdom era at the end of Han Dynasty. In this TD game, you are playing as the defending role to prevent the intruders from invading into your city and killing your people.
The enemy is at the gate now, commander. What are you waiting for? Being a hero, leading your armies and defending your homeland right now!
3 Kingdoms TD:Defenders' Creed
In Defenders' Creed, you will be required to use your sagacity for protecting your homeland. This game is super creative and uses unique systems such as soldier, commander, and purse which makes it easier and adventurous for players to defend their kingdom. Also, there is a countless number of challenging levels for you to explore. Since you are the defender of this city and the commander of your people, you have to hold this kingdom and repel all the cruel and evil intruders.
In this exciting game, troops of monsters are hurtling towards your territory, so you have to amass your army and train them to fight in the battle. Throughout the game, you have to defend your fort and conquer the opponent's tower. There are an incredible number of creatures available, and it also allows you to use your imagination and create a new species.
Defender II is an astonishing castle defense game with unlimited unique features. You are a champion in this game with more powers than ever as compared to its previous version. In this game, you must fight off the waves of monsters that are moving fast, striking hard, and never giving up. Moreover, Magic Towers and Lava Moat will be with you in your war against the monsters.
If you like Greek Mythology, especially Zeus, you should download this game for sure. You have to defend Zeus and his worshippers in this game from other rival gods who wants to destroy him and all of his people. It's up to you to take charge of the power of Zeus and subjugate the enemies before they reach the other cities of the world and threaten them. This game consists of more than fifty levels that are based on up to six unique worlds.
In this game, you will find yourself immersing in the stories of different heroes and save the world from an ongoing war between the human race and the undead. All of the heroes' stories are utterly amazing such as the story of Holy Archer whose fiancé died during the previous war and now he is standing again to fight against evil. In the same way, you'll find yourself absorbed in different stories and play a different role every time.
Waves of monsters are attacking your castle. They move fast, strike hard, and never give up. It's time to equip your BOW to fight. Can you defend your castle against intruders with your archery? Touch the screen to shoot arrows at the right palce to fend off your enemies.
Innovative mobile action Defense game! A Charming full 3D Graphic! Perfect control that everyone can easily enjoy just with a single touch! RPG? Defense? Now, these are combined to Spirited Soul! Please help Elia and her friends to save this beautiful world!
It is a side scroller defense game in which you will have to assemble a powerful and mighty army so that they can kill a horde of enemies in various quizzes. Not just that, but in this game, you'll also have to battle other armies. Epic War Saga provides about more than 250 items for players to unlock and use them to win the battles.
Features: 20 heroes to play for, 250+ items to unlock and use, 100+ units to hire for your army, rank up to 9999 levels, and 100 v 100 massive battles.
Century Wars is a seamless combination of strategy and castle defense in which your goal is to defend your base while you destroy your enemies' bases. For this, you can also assemble a variety of turrets and units. Moreover, you'll be of cavern man's age at the beginning, but gradually as you level up, you'll start evolving. As you grow, you'll become more powerful.
iRome is an unique project that combines the original idea of the game world, excellent graphics and the rethinking of the classical canons of the Tower Defense game genre. In the role of commander you will be able to go through three historical campaigns, fighting in different parts of the world for the benefit of 
the Roman Empire! During the game you will be accompanied by the Main Hero – a young centurion protecting the Main Camp. From level to level, he will gain 
experience, obtain new titles and discover special skills.
Colosseum Defense features a touch response gameplay mechanism that allows you to press and attack the area of your choosing. Defend against waves of enemy monsters by equipping up to 3 unique weapons at one time. Each weapon has its own unique abilities so choose the weapon that best fits your play style! Thwart any enemy siege by upgrading your Castle and its Defense Weapons. Featuring real time adaptive game interface, you can control how your game looks by advancing through the levels and unlocking new terrain and by upgrading your Castle.
The three tribes of Union, Buster and Deven lived peacefully amongst one another until one day, from the Deven clan, rose Destroin- the evil twin brother of Adonis. Seeking to rule the world whilst bringing destruction and demise, Destroin leads his troops to the neighboring tribes. Amidst the chaos, the three tribes rise in to action and ready their troops for battle.
In this addictive action-filled adventure game, you will be embarking into new, unknown, and strange territories. There are lots of weapons you can take with you such as short and long swords and wacky helmets, which can help you a great deal in fighting the monsters during your journey. Moreover, it has an amazing soundtrack, so you can stab, slice, and shoot monsters with a hip-hop beat.
It is a fantastic action-packed, side scrolling, and fun game which incorporates elements of adventure, defense, and RPG games. You will have to fight against thirty different enemies with unique attacking range and skill sets. You can also select from eleven distinctive arrays of weapons as you fight off the evil troops.
Ghost Wars Pro is the best arcade war game for Android that derived from both Defense Game and RTS Game. You must produce special and unique units during the battle and must conquer the enemy's Tree Base. You can upgrade units, hometown, fire arrow, productivity, and others with the money you earn in the war.
Spartans vs Zombies defense HD
Spartan vs. Zombies Defense is a casual defense and action game. In this game, you'll be Leonidas, Sparta's hero king, and fight against hordes of zombies. To win, you'll need to recruit allies such as swordsmen, archers, royal guards, witches, and more into your army and build defenses.
This game is based on a classic MGM movie, Army of Darkness. In this casual defense game, you have to play the role of Ash Williams, the evil-fighting, time-traveling and, of course, the S-Mart sales clerk. You must defend the castle of Lord Author and Necronomicon from the hordes of evil undead. Since it is a hard job for a single person, you can get help from your allies which includes Duke Henry the Red, Lord Author, the Wiseman, and many others who can assist you in completing your dangerous quests.
The Pixel Kingdom allows you to command your army towards victory. It is a fantastic RPG defense game which permits you to collect units across infinite levels to fight off enemies. Not just that, but there is also a multitude of gear, items, and units to unlock through the gold you earned after winning quests.
One day Alice goes to the wonderland by following a strange rabbit. This is the place of dream created by peculiar imagination of Alice. However, someone was unpleasant about the existence of Alice.. It is the fearful ruler of the wonderland, the heart queen. Because she thought she only can be the genuine ruler of the wonderland by eliminating Alice. Therefore, she send her powerful troops to eliminate Alice. Let's make the heart queen keenly feel that who is the genuine owner of the wonderland!
Castle Master 3D is a full 3D action strategy siege game. Massive battle of 600 will thrill you, which is 300 vs. 300 siege battle. Control 300 followers to attack the gate of the enemy castle. Humans, abandoned by God for their arrogance and greed, were deprived of all their 45 castles by the evil hordes from Hades.
Brilliantly executed with innovative game-play and built from the ground up for Android phones and tablets, Magic Defense evolves the defense genre and pushes mobile gaming to new heights. The game takes place on the fictional continents and you are the lord of the northern border of the kingdom. And it is your job to defend the kingdom from evil creatures.
Long times ago, in the deep desert Mohell, there is a mystery oasis which is called TaKala, in the central area of this land, lies the secret of this oasis, the well of life. War happens every year, for the orcs and monsters never forget to grab this treasure. To protect the well, humanity have build an impregnable castle with a giant magic bow on it. But the orcs and monsters will never lose their greedy heart, a protracted defense war for you have began…
Forest Defense is all about defending an ancient forest from nasty forces that are planning to destroy it. Due to these evil forces, this magical land is now on the verge of destruction and getting darker, and it is up to you now to defend and protect it. It is not your average castle defense game as it combines tower defense and strategy with real-time combat action.
The war between the Empire and the Orcs is breaking out. The Orcs are cursed by darkness. They attack brutally and fiercely, move fast and are almost indestructible. It is predicted that a true warrior would lead the army to conquer the Orcs, and become the king of the virtual little empire. Warrior, command your cavalry, infantry, archers and spearmen, use your wisdom to crush enemy tribes and destroy the den of Orcs!
Wizard and Dragon Defense is not an ordinary castle defense game because it combines the magic of siege, RPG, real-time strategy, and tower defense in one fantasy action arcade game regarding sorcery and good vs. evil. You have to save the world from an unbent dragon who is taking over with its army of evil spirits, zombies, ghouls, and other wicked monsters.
One year has passed since the gates of hell were opened and our castle was laid to waste. Many died in the battles with the undead hordes and now is the time to fight back! Our castle has been rebuilt, our numbers have been replenished and our armies are training. We need a General to lead the troops in the defence of the stronghold.
Face hordes of zombies in an epic showdown in the arena! Your weapon? TRAINS! Blast through waves of zombies with your powerful iron engines, wreaking havoc with power-ups like Fire Train and Mass Death! Stop the walking dead from reaching the goal!
In this adorable game of cute cats, you must gather the scattered cat heroes that possess unique abilities to fight against the army of dogs and protect the kingdom. You are going to be Catphinx, the gold of cats, and will control all of the cats and heroes. You can acquire a huge number of diamonds by playing bonus games which will come handy in fighting your enemies.
An era of wars comes to the world doesn't have the grace of goddess. Enjoy this various combats by 5 distinctive hero characters! The 5 hero characters in this scenario have their own skills. This is why you can feel more interested even in the same stage and you can organize different strategies by making combinations of the heroes and the units.
Little Empire has everything you want in the perfect defense game. You can choose your hero, enlarge your territory, draw your sword, and fight online with a multitude of players around the globe. In this game, PvP meets real-time strategy since you don't get to fight against computerized players but real players worldwide. You can evolve several troops of Jungle Trolls, Magic Shields, Senju Ninjas, Sky Archers, Blood Riders, and Holy Priest and lead them in battles.
In Legendary Wars, you take command of your heroes and build up massive armies to destroy the undead forces of the Netherworld. Campaign mode features 6 lands and over 70 levels each with unique gameplay and secret unlockable modes. You can take direct control of any hero on the battlefield and use their special attacks to conquer the battlefield. The game features a variety of gameplay styles including; castle defense, castle siege, ambush, side-scrolling, free build, and Hero control.