Table tennis, or ping pong, is a classic game that has been enjoyed by millions of people around the world for decades. With the rise of technology and mobile gaming, it's no surprise that there is now a plethora of table tennis games available on Android devices. Whether you're a seasoned player or just looking for a fun way to pass the time, these six table tennis games are some of the best options out there.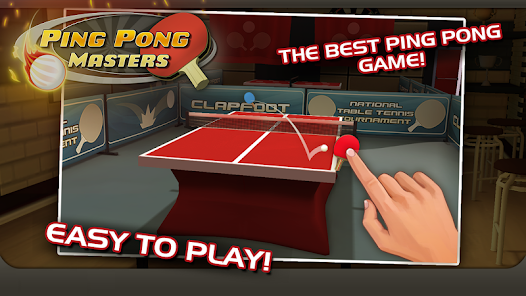 The top-rated mobile Ping Pong game is here! Get ready to compete in the ultimate Table Tennis tournament. You'll face off against some of the best Ping Pong players in the world and try to become the champion. This game is the sequel to Virtual Table Tennis 3D, which was a big hit.
Here are some of the features you can expect:
There are over 90 levels in different table tennis tournaments for you to conquer.
You'll encounter more than 30 Ping Pong masters who are ready to challenge you.
You can use special powers to defeat your opponents.
You can collect more than 40 unique Table Tennis rackets to use during the game.
The game has realistic environments that will make you feel like you're playing in a real Ping Pong tournament.
You can earn numerous achievements as you progress through the game.
There are two modes to choose from: Quick Play and Career.
The controls are intuitive and easy to use, and the Ping Pong physics are realistic.
The download size is small, so it won't take up too much space on your device.
You can play the game offline, so you don't need an internet connection to enjoy it.
Virtual Table Tennis 3D is an exciting sports game that offers fast-paced action on your Android device. This game is perfect for anyone who loves the thrill of Table Tennis. With Virtual Table Tennis 3D, you can perform smashing serves and side-spin shots to defeat your opponents and become the ultimate champion.
This game comes with a variety of features that make it even more exciting. You can enjoy intense Ping Pong action, with 30 levels of Table Tennis across 3 difficulty settings. The intuitive touchscreen controls make it easy to play, no matter where you are. The 3D rendered Table Tennis environments are realistic and immersive, providing a truly authentic gaming experience.
Virtual Table Tennis 3D features realistic Ping Pong physics, so you can truly feel the ball as it bounces off your paddle. The vibration force feedback adds an extra level of immersion, making you feel like you're really in the game. Plus, with its small download size, you can start playing right away.
One of the best things about Virtual Table Tennis 3D is that it's playable offline. This means you can enjoy the game even when you don't have access to the internet. With its exciting gameplay and variety of features, Virtual Table Tennis 3D is the perfect game for anyone who loves Table Tennis.
This game is unique because it is based on 3D physics, which perfectly simulates the motion of a Ping-Pong ball. You can play with other players in real time via the Internet or Bluetooth.
Virtual Table Tennis offers an AI system, which is designed to mimic human behavior. The AI opponents come with various styles and capabilities, such as reaction, speed, strength, endurance, and defense. This makes the game more challenging and exciting.
The game also offers accurate and visual control modes, which allow players to simulate various ways of striking and smashing the ball. You can adjust the settings in "Options" to suit your preferences.
Virtual Table Tennis has various game modes, including animation tutorials, free practices, Arcade Mode, Tournament Modes, and Multiplayer Mode. You can choose from five kinds of rackets and their various accessories to get different hitting effects and various game scenes with different styles.
The game is integrated with Twitter and Facebook, so you can share your achievements and invite your friends to play. Virtual Table Tennis also features a 3D sound system, which makes the game more immersive if you use earphones.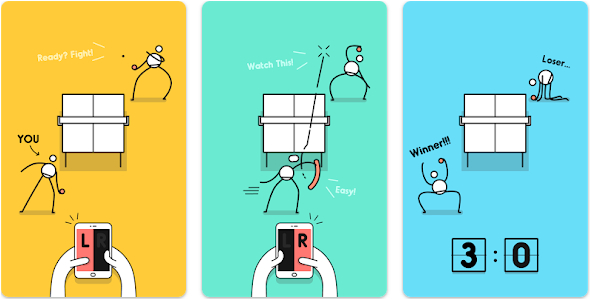 The objective of the game is simple – beat 16 rivals and claim the crown. These rivals could be anyone from a world champion to your boss or even a super grandma!
The game is easy to play – all you need to do is tap the right or left side of the screen to control your stickman. However, be careful not to miss any balls, as that could lead to a failure in the contest. Each rival has a different Ping Pong skill, so you need to concentrate and bring your A-game to the table to emerge victorious.
I'm Ping Pong King boasts several features that make it stand out from other table tennis games. The controls are simple and easy to use, and the graphics are clean and minimalist. The beautiful yellow background and funny stickman add to the overall appeal of the game.
One of the most exciting features of the game is the crazy Ping Pong King dance animation that plays when you win a match. This animation is sure to put a smile on your face and keep you motivated to keep playing.
Playing this game is a great way to enhance your reaction time and table tennis skills. The game challenges you to face 16 tricky rivals from around the world, making it a creative and engaging way to play Ping Pong.
With Table Tennis Fury, you can swipe and hit the ping-pong ball for hours on end!
This game is perfect for two players, with easy-to-use controls. Simply tap the left or right side of the screen to control the ball and smash it past your opponent. You can even apply spin and chop to your returns, and ace it with a pro serve!
You'll enjoy realistic table tennis physics and clean minimalist graphics. Plus, you can enhance your reaction and table tennis skills as you play. Who knows – you might even become a ping pong games master!