One tap and you're off – that's all it takes to get started in an endless runner game. And once you start, it's hard to stop. Whether you're leaping over bottomless pits or outrunning a determined enemy, there's something undeniably exhilarating about the never-ending race. Android users have no shortage of options when it comes to this addictive genre, with new games being released all the time. But with so many choices, it can be tough to know where to start. Here are the best endless running games on Android: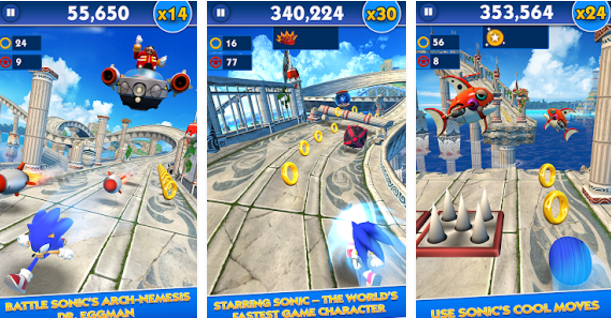 If you played Sega games in the 90s, then you're probably familiar with Sonic the Hedgehog. Sonic Dash brings back the classic game character to Android smartphones and tablets.
Sonic Dash is a free game that allows you to dash/roll to speed, hop over spikes, and collect golden rings. You'll also enjoy classic Sonic music in the background.
The game also includes in-app purchases. You can also play with classic Sonic characters including Knuckles and Tails. The graphics of the game are also great. This provides an even better experience for Sonic fans.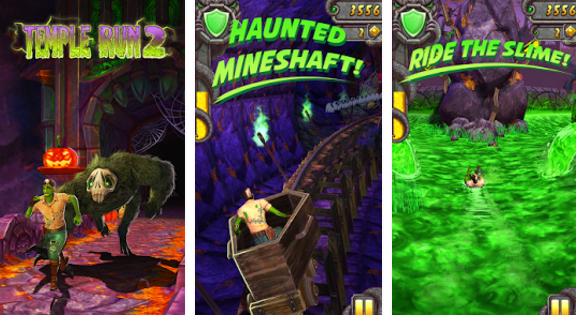 Temple Run 2 is the sequel to one of the most popular running games of all time. This new version includes more characters, power-ups, achievements, and other features that make it even more fun to play.
You can spend hours running through the game's treacherous cliffs, zip lines, mines, and forests in your attempt to escape with the cursed idol. How far can you run?!
With beautiful new graphics and gorgeous organic environments, Temple Run 2 is a visual treat. And with new obstacles and more power-ups, you'll have your work cut out for you in this addicting game. Be sure to try out the special powers of each character as you run for your life!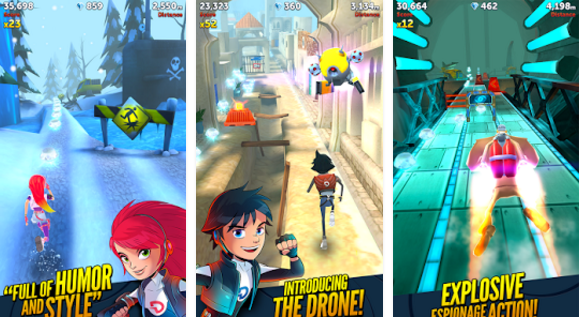 Regarding endless runners, this is close to a James Bond game as you'll get. It's a free game with great graphics and controls. You play as a spy whose mission is to get into and destroy enemy bases.
You'll have to deal with many hurdles and obstacles. You'll also have some gadgets to help you. The features of this game include many achievements and characters, and a great soundtrack. It's certainly a running game you should consider.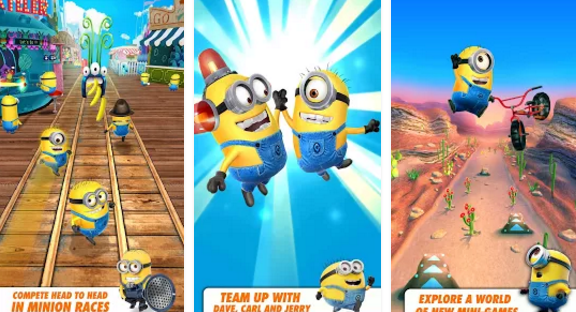 If you enjoyed the movies featuring the Minions, then you'll likely enjoy the game. Gameloft developed it. The game offers players a chance to step into the shoes of their favorite yellow minions, and experience all the zany hijinks of the Despicable Me movies.
But this is more than just a simple endless runner game. Players will run through dozens of unique levels, with each level offering its own challenges. There are also tons of unlockables to keep players coming back for more. And if that wasn't enough, the game also features a competitive multiplayer mode, where players can race against others from all over the world.
Your job is to collect coins and stay away from obstacles. You do that by jumping/rolling.
If you have a low-end Android phone, it won't be a problem. The game is free but includes in-app purchases, which gives you extra lives during runs or the chance to break your personal record.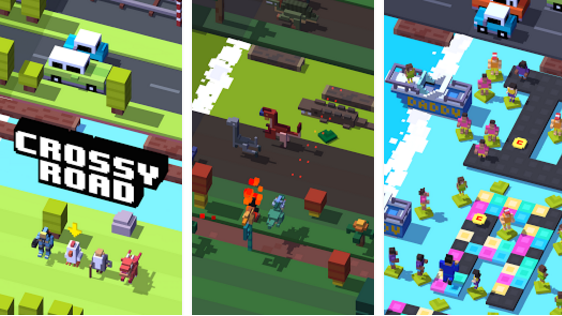 Crossy Road is a massive hit because of its simple, pure, innovative gameplay and distinct graphics. Control your character to cross roads, train tracks, and rivers.
Crossy Road is an endless hopping game in which players must guide their characters across a busy highway, a set of train tracks, and a river. The goal is to get as far as possible without being hit by a car or train, or falling into the water.
The game is set in a candy-themed world, and players can collect over 150 different retro-styled, pop art-inspired characters. The Android Robot is one of the many playable characters, and the game features simple, pure, innovative gameplay that is easy to pick up and addictive.
Crossy Road also features an online co-op multiplayer mode with up to 4 players.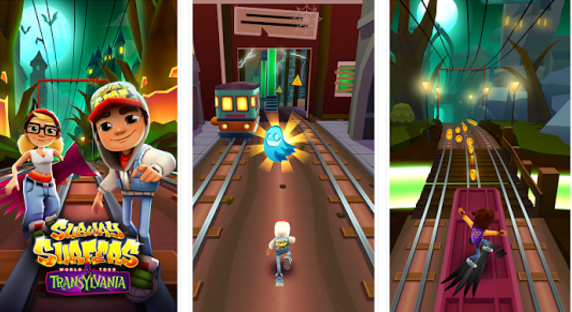 Subway Surfers is one of the most popular endless running games available on Android. It's free to download and offers great graphics and smooth gameplay. In the game, you control Jake, Tricky, or Fresh as they attempt to escape from the grumpy Inspector and his dog. The object of the game is to run as far as possible while dodging trains and collecting coins. As you run, you'll travel around the globe in a variety of different locations.
One of the things that makes Subway Surfers so much fun is the challenge of trying to beat your friends' high scores. The game also features a number of power-ups that can help you along the way, including a paint-powered jetpack and a hoverboard. There are also daily challenges that can help you earn even more coins.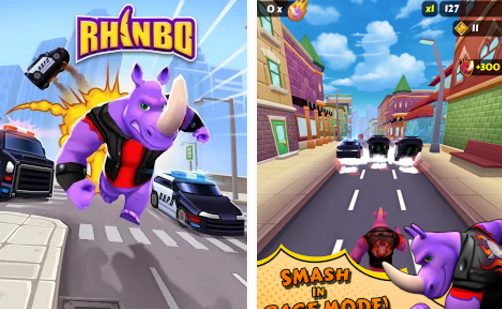 Rhino is an exciting, rhino-rocking endless runner game from the developers of Fruit Bump and Jewel Mash. In this game, your rhino will run, dodge, jump and smash endlessly. You can customize your rhino in his endless journey.
Some of the features of this game include smash with Rage Mode to boost your score, colorful HD graphics, customize your hero, perfect tap and swipe controls, explosive action, amazing upgrades and boosters, challenge your friends, and endless running, jumping, and dodging. With so many great features, this game is sure to keep you entertained for hours on end!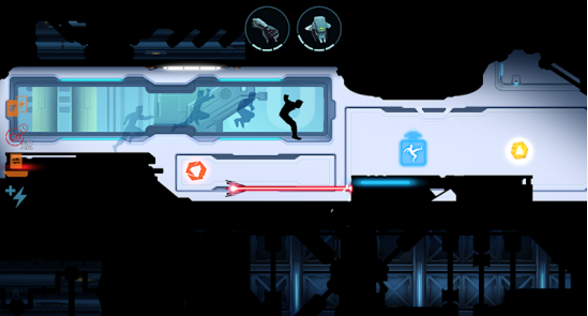 Vector 2 is a different type of endless runner game and is still one of the top titles in the genre. The game is interesting because it provides a 2D side-scroller instead of 3rd personal view. The person is trying to break free from corporations, which puts an interesting twist on the game.
The game's graphics are basic yet eye-catching. The animations and background music also help to make the game more exciting. In Vector 2, you play as a test subject who is trying to escape from a research facility.
The facility is full of deadly traps and obstacles, so you need to use your agility and quick reflexes to survive. As you run through the facility, you can collect coins to upgrade your equipment. You can also earn points by performing stunts and avoiding traps.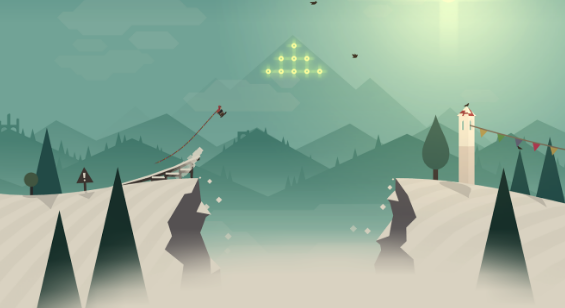 Alto's Adventure is an endless journey down a procedurally generated mountain. The objective is to score as many points as possible by chaining together combos of tricks. The player controls Alto, who automatically jumps and grabs onto ledges when he gets close, and can perform flips in the air by tapping the screen. He can also grind along certain surfaces, such as roofs and power lines, by swiping down.
There are six different types of terrain in the game: powder, crud, jibs, steeps, cliffs, and backcountry. Each type of terrain has its own unique challenges and rewards. The powder is the easiest to navigate and offers the most points, while backcountry is the most difficult but also offers the most rewards.
The game is set in a beautiful alpine environment with fully dynamic lighting and weather effects. It also features six unique snowboarders, each with their own special abilities.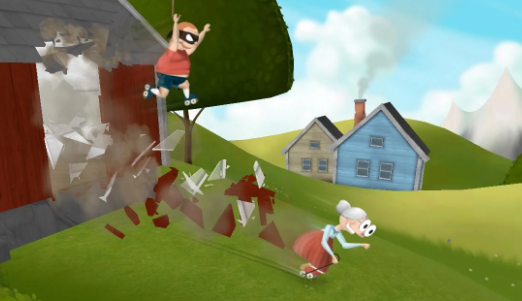 One of the oldest and best platform games on Android, Granny Smith allows you to play as an angry grandma, who has to track down the thief who keeps stealing her precious apples. The game features spectacular physics, dazzling visuals, and intuitive controls, making it a must-play for fans of the genre.
In addition, Granny Smith includes vintage replays, so you can watch your best runs in retro movie style. And if that's not enough, you can also power Granny up by collecting coins and equipping her with a helm.