Level up your entertainment quotient with these top-notch Android drinking games that cater to all tastes and preferences. From classic card games with a boozy twist to innovative digital creations designed to get the laughs flowing, there's something for everyone in this electrifying compilation. Picture this: your friends gathered around, eyes glued to their smartphones, their laughter echoing through the room as they engage in exciting challenges and daring dares. With these Android drinking games, you'll have everyone raising their glasses and creating memories that will be talked about for years to come.
Now, let's dive into the captivating world of Android drinking games and discover the gems that will transform any party into an intoxicating adventure!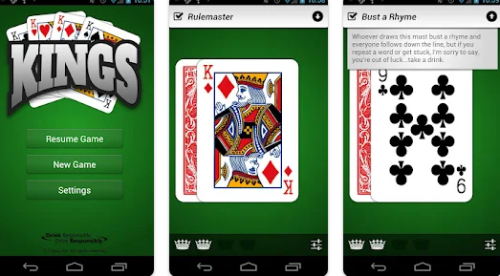 No more searching for a deck of cards or deciphering confusing rules! The beloved drinking game Kings, also known as Circle of Death or Kings Cup, has arrived on your mobile phone, ready to bring the ultimate entertainment to your fingertips. Get ready to embark on a wild and boozy journey as you drink, distribute drinks, and engage in outrageous challenges, all governed by the power of the cards.
With its sleek and visually captivating hi-res graphics, the Kings drinking game app guarantees a visually immersive experience that will elevate your party to new heights. Dive into a world of camaraderie and revelry as you and your friends participate in this classic game but with a modern twist.
And the best part? Customization is a breeze! Add or edit rules to tailor the game to your group's preferences, ensuring a unique and unforgettable experience every time you play.
Unleash the power of unlimited players and let the festivities unfold in epic proportions. Whether you're hosting an intimate gathering or a raucous house party, Kings (Drinking Game) for Android is here to amplify the fun and laughter.
Available for free download, this game offers a wide variety of thrilling drinking games that are sure to liven up any occasion, whether it's a wild party or a casual get-together with friends.
With Game of Shots®, you'll have access to classic favorites like "I've Never," "King's Cup," "Most Likely," "The Roulette," "True or False," and even a drinking slot machine called "Slot Shot Machine." You'll also discover the coolest and most unique games like "Express Hangover."
Carrying all these drinking games in your pocket means you'll never run out of fun ideas. Consider Game of Shots® your ultimate party companion, the Swiss army knife of party games! The app features games that involve dice, cards, and various other formats, ensuring there's something for everyone. Plus, you can invite up to 8 friends to join in the fun!
Game of Shots® also includes a special section called Drunkpedia, where you can explore the rules of numerous drinking games from around the world. Expand your drinking game repertoire and impress your friends with your newfound knowledge.
But that's not all! Game of Shots® lets you capture and preserve your best party memories with its social function. Share your most memorable moments on Instagram using the hashtag #gameofshots and join the vibrant Game of Shots® community.
If you're looking to take your parties and gatherings to the next level, "Seven" is the game for you! This thrilling drinking game guarantees laughter and excitement as you and your adventurous buddies embark on a boozy adventure. All you need is a deck of cards and a group of friends ready to have a great time.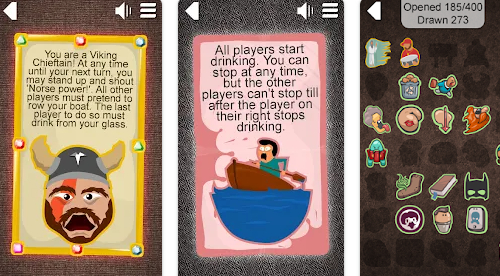 "Seven" is incredibly easy to learn and can be tailored to suit the preferences of the players. The deck of cards is your guide, with each card presenting a unique challenge or task that must be completed while enjoying some alcoholic beverages. The challenges can range from simple sips to hilarious dares, making every turn a surprise.
As the game progresses and more drinks are consumed, the atmosphere becomes livelier, and the fun intensifies. "Seven" is designed to create unforgettable memories and turn any gathering into an experience you and your friends will cherish.
It's important to note that while "Seven" promises an exciting time, responsible drinking is crucial. Always remember to drink in moderation and never drink and drive. The game is all about having a great time and bonding with friends, so be sure to prioritize safety and well-being throughout the game.
Whether you're hosting a house party, celebrating a special occasion, or simply looking to have a memorable night with friends, "Seven" is the perfect addition to your plans.
Drinking Games is an Android game that combines the finest drinking games, the wildest rules, and the tastiest cocktails.
Fed up with repetitive drinking sessions at your parties? Seeking to inject some excitement and amusement into your gatherings?
This app is your ticket to an extraordinary night of endless enjoyment!
Key features include:
A compilation of top-notch drinking games
An array of rules to add a thrilling twist to your games
A collection of delectable cocktail recipes
A game-ending scoreboard
Additional attractions: a card game and a dice game
Experience the classic fun of Spin the Bottle right on your Android device! Enjoy the timeless game as you spin the bottle with a simple swipe of your finger, eagerly awaiting its final stop.
This game is both easy and entertaining, bringing the traditional Spin the Bottle experience to your Android devices. Swipe your finger to set the bottle in motion and observe its captivating spin until it comes to a halt. Immerse yourself in the delightful graphics, featuring adorable visuals with a touch of transparency and subtle shadow effects.
With its cute graphics boasting elements of transparency and shadows, this game is sure to captivate your attention and add a touch of charm to your gaming experience.
Picture this: you and your buddies, enjoying a night of drinks, whether it's pre-gaming, post-gaming, or right in the middle of the action. But wait, there's something missing. You crave a drinking game that takes your night to the next level. And guess what? We've got just the game for you!
Say goodbye to ordinary drinking games because Drink Roulette is about to blow your mind. This game is off. the. hook.
Prepare yourself for:
Totally original rules that will keep you on your toes.
Spicy "never have I ever" games that will reveal secrets and create unforgettable moments.
Crazy "would you rather" challenges that will push your boundaries and spark hilarious discussions.
Speed and reflex games that will test your agility and bring out your competitive spirit.
Hilarious "most likely to…" votes that will lead to laughter-filled debates.
And all of this is wrapped up in a sweet and slick design that enhances your gaming experience.