In the vast realm of Android gaming, Otome games stand out as a genre that brings enthralling narratives and heart-fluttering encounters to the fingertips of millions. Otome are dating games for girls, in which the main character is a girl who is finding her true love. 
Get ready to ignite your passion for Otome games as we present the remaining four sensational titles that will transport you into a world filled with romance, intrigue, and unforgettable memories. Whether you're a devoted fan or a curious newcomer, we've curated a list of the top six Otome games that will sweep you off your feet and leave you longing for more.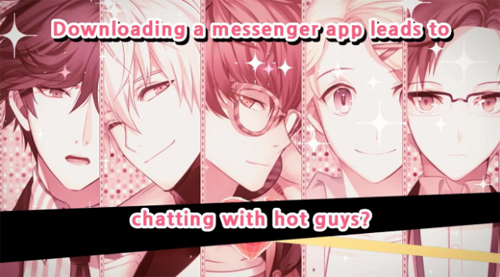 In this game, the player discovered an app called "Mystic Messenger" and downloaded it. This chat app is linked to a mystic group chat with handsome guys. Enjoy your story with Jumin Han, Zen, 707, Yoo Sung, and Jaehee Kang.
Amnesia: Memories is a visual novel game where the main character wakes up with no memories. You navigate through different worlds and interact with a variety of characters, each with their own storylines and endings. The game combines romance, mystery, and suspense.
Every memory, relationship, and experience is a blank canvas waiting to be filled. However, a peculiar spirit named Orion appears before you, revealing his attachment to your mind. Together, you embark on a challenging quest to reclaim your lost memories.
Within this enchanting visual novel, you'll encounter a diverse cast of intriguing characters, each with their own unique personalities and hidden depths. Meet Shin, your childhood friend and current boyfriend, who balances a serious and aloof demeanor with unwavering affection for you. Discover Ikki, a charming and popular man with an ability to captivate women, yet finds solace in a genuine connection with you. Engage with Kent, a brilliant mathematics graduate student known for his logical perspective on the world, but whose composure falters in your presence. And encounter Toma, your protective childhood friend-turned-brother, whose unwavering devotion sometimes reveals a darker side.
Prepare to be whisked away into a captivating realm where destiny intertwines with love. In the delightful game, Midnight Cinderella: Otome Anim, a twist of fate grants you the extraordinary role of a princess in your very own country. However, your journey begins with a crucial task—choosing your prince from a myriad of anime-style hot guys who grace the magnificent palace!
Will you find yourself drawn to the sassy knight, whose wit and charm ignite a fire within? Or perhaps the icy duke, whose enigmatic allure leaves you longing for more? The palace also presents you with a seductive palace tutor and a mysterious king from a neighboring land. The choices are yours to make in this mesmerizing love simulation and otome dating game that showcases beautifully illustrated characters drawn in exquisite anime style.
As you delve deeper into this interactive adventure, each passing day grants you five free Chapter Tickets, enabling you to progress through your royal love story. Immerse yourself in the Cinderella fairytale as you unlock a stunning wardrobe filled with adorable clothes and accessories, all designed to dress your avatar in utmost elegance. From horse-drawn carriages to enchanting balls and glamorous gowns, the world of Midnight Cinderella: Otome Anim awaits you, where your choices hold the key to your destiny.
Delve into a sophisticated and seductive fantasy realm where dark magic weaves its intricate web, and where the hearts of five powerful princes beat with a single desire—to win yours.
Immerse yourself in a realm of fantasy, where exquisite art by the talented Hazuki Futaba brings the world to life in all its mesmerizing glory. Whether you crave rich, immersive experiences, are a fan of anime and seiyuu/voice actors, or have a weakness for romantic movies, TV shows, or novels, Court of Darkness offers an interactive journey that will captivate your heart.
In this thrilling otome game, you will navigate interactive stories and visual novels, making choices that shape the course of your romantic adventures. Romance handsome fantasy men, indulge in the indulgent sweetness of a good otome story, and experience the adrenaline rush of forbidden romances that are worth risking everything for.
With its stunning art, engaging gameplay, and a realm filled with wonder, Court of Darkness welcomes anyone with a taste for whimsy, romance, and intrigue. Become the ruler of your own wonderland, where gorgeous men obey your every whim and happily ever afters are within reach.
Blood in Roses invites you to choose your own romance from a captivating lineup, including vampires, werewolves, dragonewts, fox spirits, grim reapers, and wizards. Brace yourself for a rollercoaster of emotions as you fall into a whirlwind of crazy, painful love.
As you step into this enchanting otome game, you will have the opportunity to shape your destiny by choosing your role. Will you become a Hunter, wielding your strength and skills to combat the darkness that surrounds you? Or will you embrace the path of a Witch, harnessing the power of magic to navigate the treacherous realms of love?
Every decision you make holds the key to your fate, and your choices will pave the way to one of nearly 100 different endings. With a cast of over 25 captivating characters, each with its own intricate storylines, your journey through Blood in Roses will be filled with twists, turns, and unexpected encounters.
This new otome anime game with Ikemen offers a refreshing twist with its immersive and deeply woven storyline. Say goodbye to shallow plots and prepare for a love simulation interactive visual novel otome game that will keep you hooked from start to finish, all while being incredibly easy to play.
As you open your eyes, you're greeted by six unfamiliar faces calling out your name and approaching you. The journey that once felt like a dream has now become a thrilling and mysterious adventure. Experience the captivating features of this otome anime game as you navigate through a romantic otome/visual novel dating sim. Discover various routes with different ikemen, each offering its own unique charm and story. Witness the emotional development and transformations of the characters as you delve deeper into their routes.
Uncover the truth behind the island and its secrets by collecting different endings. The more endings you unlock, the closer you'll get to unravel the mysteries that lie within. Be captivated by numerous beautiful illustrations that bring the story to life, and engage in interesting conversations with the characters that will keep you engaged in this dating simulation.
Indulge in a world of ikemen and immerse yourself in a love story that will tug at your heartstrings. Paradise Lost offers a fresh and engaging experience for otome game enthusiasts, delivering a combination of romance, mystery, and beautiful artwork that will leave you craving for more. Are you ready to embark on this extraordinary journey and discover the secrets that await you?