A tap RPG is a game where you control a character by tapping on the screen to attack enemies and progress through the game. Tap RPGs tend to be very simple in terms of gameplay, with most of the focus being on storytelling and characters. However, this does not mean that they are easy games – many tap RPGs are very challenging, with tough boss battles and complex puzzles.
What makes tap RPGs so appealing is that they can be played in short bursts, making them perfect for mobile gaming. Whether you're waiting for the bus or taking a break at work, a tap RPG is the perfect way to escape into another world for a few minutes.
The following are worth playing Android tap RPG games: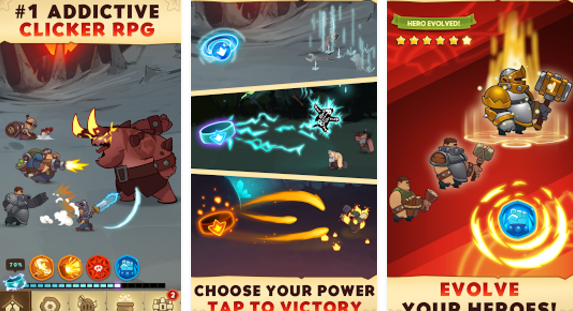 In Almost a Hero, you will control thirteen deeply flawed and emotionally broken characters – also known as the most useless idiots – who go on a journey in an ancient land to be slightly less useless idiots. Among these thirteen heroes are a bold blonde, a night thief, a rich goblin, and even a granny. Features and secrets are unlocked as your team of misfits' adventures go on.
What will you have if you dare to join the Almost a Hero team? The opportunity to evolve your deeply flawed and emotionally broken characters into slightly good heroes, enjoy huge, thrilling boss battles in the Adventure mode, seasons, mysterious gates of GoG, adopt pets, develop ancient magics with our alchemist's powerful artifacts.. and so much more!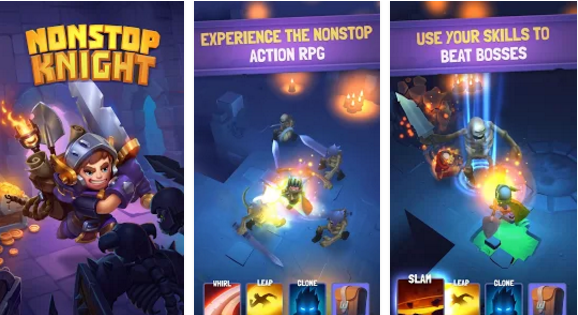 Nonstop Knight combines roguelike and action RPG into idle RPG. You will play as a knight running across continuous dungeons. The knight can automatically detect and run to enemies himself; what you need to do is tap to use skill and upgrade his equipment.
The game is designed to be played offline, allowing players to progress even when they are not actively playing. One of the unique features of Nonstop Knight – Idle RPG is the inclusion of events and boss hunts.
These allow players to team up with friends and free pets in order to defeat powerful bosses and earn rewards.
The game also features a unique loot system that allows players to upgrade their heroes as they progress through the game. You can unlock new skills and equipment after reaching deeper dungeons. If you are new to this game, read my tips here.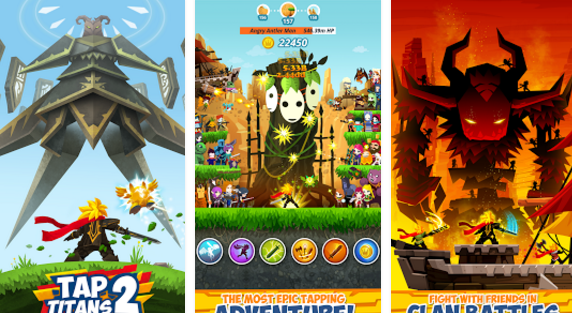 Tap Titans 2 is the 2nd entry in the Tap Titans series, and it sees players taking on the role of a hero who must defend the world from an onslaught of monsters and titans.
The game features beautiful hand-drawn realms, and players will have to tap their way to victory against more than 150 all-new Titans.
In addition to the main campaign mode, the game also features multiplayer clan battles, seasonal events, and global leaderboards. There are also tons of customization options for your hero's blade and armor, allowing you to tailor your play style to suit your preferences.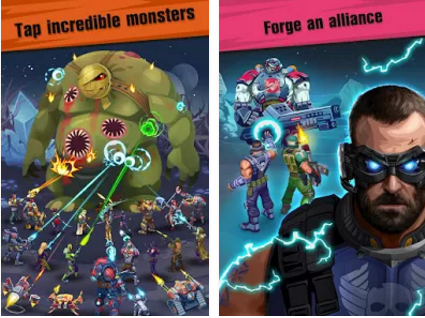 This clicker RPG game is easy to learn and addictive, with plenty of enemies to defeat and heroes to form your team with. Swipe away at mutants, raiders, and robots in both online and offline mode, and enjoy the stunning graphics and animations of Utopia.
With up to 20 characters to choose from, each with their own unique skills, you can tap your way to victory in this non-stop RPG.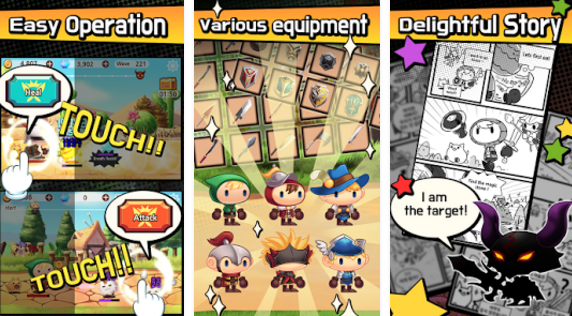 Sudden Warrior is an RPG clicker with a cute art style. You help your warriors overcome endless battles with the right decisions! The game has a fun storyline and thrilling battles that you've never experienced before.
In this RPG, you must help the warrior recover and assist attacks while enjoying entirely different gameplay. Keep the monsters at bay and go beyond limits with endless battles! There are numerous worlds and a variety of monsters to obtain through the game.
Costumes that make you look forward to the next battle as well as fun and interesting storylines with twists await you! With an urgency that keeps you on the edge, let's help our mighty man through a variety of ways to bridge gaps and win the game!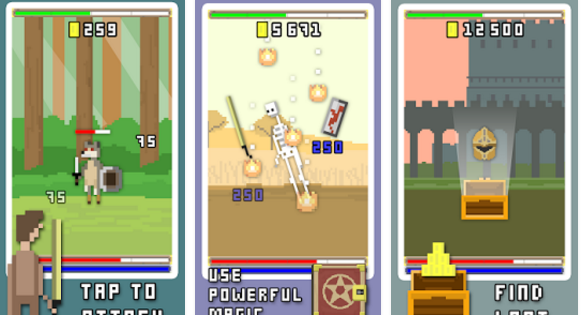 Looking for a new incremental game to lose yourself in? Check out RPG Clicker, the pixel-art tap-based RPG adventure. In this game, you'll simplify your way through terrains and fight hordes of monsters – all with just one finger.
With the inflation system in place, you can deal billions of damage with a single tap, which is incredibly satisfying to watch. No more getting lost in boring dungeons; just tap your way through diverse terrain and menacing monsters to find loot and rack up gold. Then use that gold to buy the ultimate weapon or research powerful spells.
When your hero is ready, engage in epic boss fights against titans to put your strength and skill to the test. With thousands of heroes already playing, don't miss out on this next evolution in clicker games.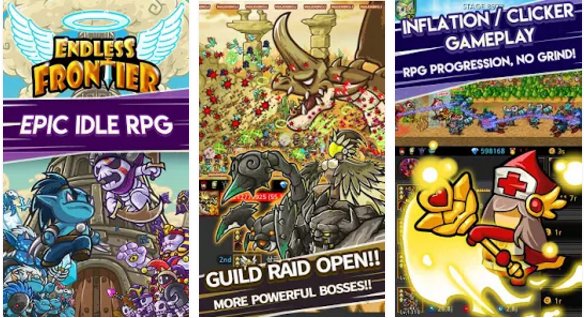 Endless Frontier Saga is an idle RPG with online gameplay set in an exciting fantasy adventure! You'll lead your knights into the heat of battle and defeat the Prince of Darkness in epic auto quests.
Tap mechanics let you select, power up and send out units with a touch of the screen. There are over 150 heroes with their own powers, more than 50 pets, and 100 army units. You'll level up and grow stronger each time you revive, with progressive gameplay. There are endless levels for you to explore in this inflation RPG!
idle heroes is a turn-based RPG game where you can have your heroes trained while you're away. it features 200+ heroes across different factions, each with their own unique skills. you can summon and train them to become powerful heroes, or convert them into Spirit material for evolving. one of the best things about idle heroes is that it's constantly being updated with new content, so there's always something new to keep you coming back.