NonStop Knight is an idle action RPG. Player don't need to do anything and lets his knight run continuously in an endless floors of dungeons, even you already closed the game.
This post will help you understand the basic gameplay and help you reach climb higher on leaderboard. 
Basic Gameplay & Control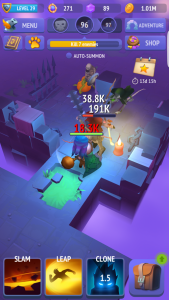 Knight – Your knight's status such as attack, armor, skill.
Leaderboard – Information about who reach what floor.
Bounties – Earn pets completing a given task.
Achievements – Earn gems completing a milestone.
Chests– List of items you collected.
More – Game settings
Skill Book – Choose  your knight's skill and rune.
Pet – Choose your pet and see your collection of pets.
Adventure – Information about bonuses if you ascend at current floor, what skills you've learned, and options to learn new skills. You can join in hunting bosses when there is a notification about a new hunting.
Shop – Where you spend real money to buy in-game items such as tokens, gems.
Ascend – It returns your Knight to floor 1, remove all of your collected items. But it keeps you kngiht's levels and give you a number of tokens depends on the number of floors you passed and other aspects. Ascend will tremendously help you in advancing floors faster and deeper later because you earn tokens to buy skills that increase basic statuses such as earned coins, attack and armor.
Tips & Tricks
When is the right time to ascend? When  you first start the game, it is hard to tell what level to ascend from. A rule of thumb is to ascend when you find it is hard to beat a boss even after 1 day of idle. I suggest ascending a lot before floor 100 to earn tokens for skills that increase money obtained when being online or offline.
Spend your time online. You get more golds, sometime tokens, and more items this way.
Keep watching video to earn bonus. Keep watching video when you obtain it. It is worthy to watch a 30-second video and earn bonuses.
Spend your cash on all three equipments. It will help you attack and defense better.
Don't use your Revive potion. In early stages, you can have an option to train your knight's equipment instead of using it. Save them as many as possible. If you find a 3-star cloak that allows you to revive once, equip it in boss battles.
How to Cheat NonStop Knight
The game use auto-battle as a feature but it becomes backfire as it leaves room for automation. What you need is an Android emulator on PC. I suggest Nox App Player for easy setup.
Install Nox App Player
Install NonStop Knight then run it
Choose your 2nd skill to be Leap + Gold, which let you earn more gold when leaping.
Use Nox's Macro feature to auto-click Leap every 10 seconds.
You will earn a lot of gold this way. My friend used this strategy and reached level 270 after only 4 days.