Puzzle RPGs are fun, and they are a great way to pass the time. So if you want to sign up for an addictive game that'll help you pass the hours at the office or keep you company while you're riding the subway, just try any of these (or all of these) puzzle RPGs on your Android device and thank us later. Here's our pick of the bunch as we dish out the best 20 Android games from the puzzle RPG genre.
See Also: 5+ Best Tetris and Block Puzzle Games on Android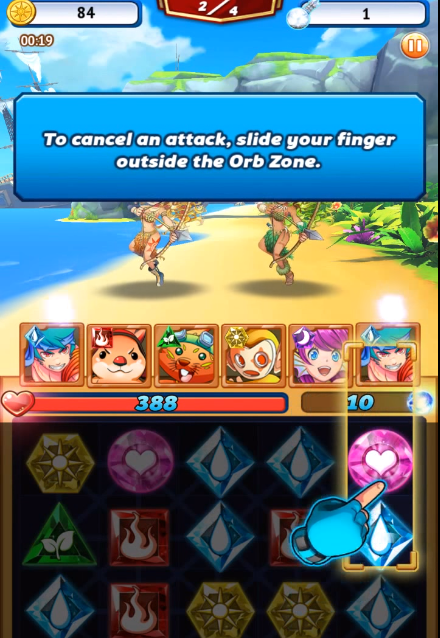 If you have a love for RPG adventure, Battle Odyssey lets you explore the fantasy lands. You can find a magical city in the sky as well as a sunny ocean paradise in this fun and adventurous RPG. It is based on the world of Pondera, which is a fantasy world filled with magic but is being corrupted by evil. Use your powers, make allies, and evolve your alliance to save the world.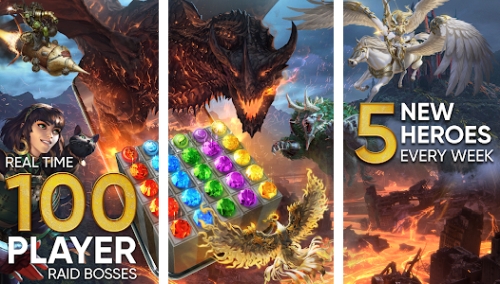 Legendary: Game of Heroes is one of the most addictive, deep puzzle RPG which has been released recently. You will collect cards and choose a team of 5 to send to battles. The game features hundreds of amazing characters which can be powered up and evolved in order to increase battle ability. Besides attacking through match-3, every character offers a unique ability that you can use to attack or fend off enemies.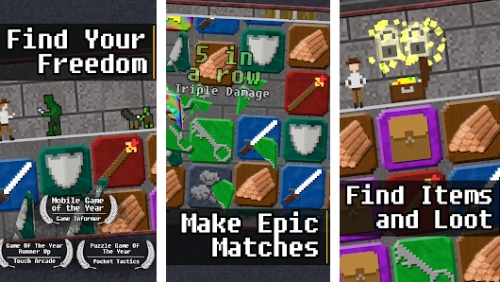 10000000 is an intense RPG with dungeon crawling match-3 rounds as you'll have to kill monsters. You'll also find loot, train skills and improve your gear. Improve your castle with wood and stone and take on more than sixty objectives. This is Age of Empire come again, but you also get to fight more than twenty different types of monsters.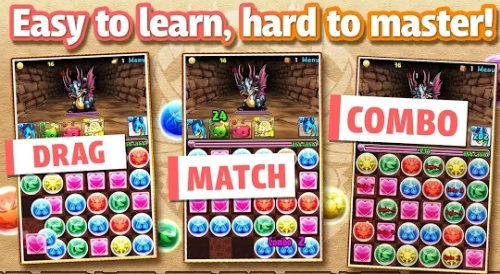 Puzzle & Dragons is the most popular mobile game in Japan, with the highest current number of downloads. With over 700 unique monsters to collect, there's no limit to the number of different team combinations you can try and match. Fuse your monsters to make them even stronger. With the right ingredients, cute baby dragons can become majestic and powerful beasts of battle.
SwapQuest
SwapQuest serves as a captivating game with the old-school RPG elements and some very easy-to-learn puzzle mechanics. In SwapQuest, the Aventana kingdom has been attacked by Horde, a demon cloud. Your mission is to become the savior of Aventana and take on the destructive powers of Horde. Play as a prince or princess, find the magical sword, and embark on a journey that will save your kingdom from cursed monsters.
LINEZETA & LINEZETA Frontier
LINEZETA is the game where puzzle RPG and robot meet as you assemble a unique squad of Zeta Mobiles. You can pick from over five hundred unique Zeta Mobiles with special abilities and rare gifts. Your task is to confront the Legendary Zeta Mobile beyond the reach of the universe and fight it with advantages such as Captain's Skill and Battle Ship.
Hero Forge
Hero Forge is a puzzle RPG that is easy to play but interesting nevertheless. It's all about battling your foes by casting spells, matching blocks and holding your own in a battle of intense rounds. The game offers three unique classes of Orc Berserker, Elf Mage, and Human Paladin. With over hundred unique dungeon quests and dozens of customizable characters, this game will definitely indulge you in hours of addictive gaming.
Dungeon Gems
If you're looking for an RPG where you can join online players from all over the world and indulge in a game filled with puzzle action, fantasy, and dragons, Dungeon Gems is the answer. It's a thrilling and fast-paced game with strategic RPG moves and intense puzzle gameplay. Discover more than two hundred RPG heroes with unique elemental attacks.
Puzzle Quest 2
Puzzle Quest 2 is the game where you will find a puzzle fantasy world that is filled with powerful weapons, amazing creatures and addictive role playing. Customize your characters and explore the immersive RPG world of Puzzle Quest 2.
Dragon Board
This is an Android puzzle RPG that brings a unique experience to your device with its spellbinding puzzle match-3 games including the most popular fantasy creature, dragons. It's a fun-filled and immersive RPG that you will enjoy and spend hours playing. It still keeps the traditional match-3 gameplay; just match three same orbs to create the monster with similar features on your team attack.
Tower of Saviors
Towers of Saviors is one of the widely played and most addictive RPG mobile hits. With over forty alluring characters from the fantastic series of Disney Villains, this game offers a glamorous gameplay with an addictive and fun-filled RPG experience. Take on match-3 challenges, experience the in-game story mode and fight over four hundred battles with increasing levels of difficulty. It offers around four hundred characters based on the Chinese, Greek, Egyptian and other mythologies.
Elements Battle
In the game of Elements Battle, you take on the role of a young student of the elements tasked to retrieve all the missing objects at the behest of your Elements master, Director Fiaryntus. On your mission, you'll have to confront creatures of all manners as you procure these precious items. Using your Elements training, you can battle the enemies with the four elements of air, earth, fire, and water. You'll also get advice from Pixie along the way, who's a trusted advisor.
PUZZLE & MONSTERS
In this game of Puzzles & Monsters, you'll summon the greenhorns of the magical kingdom of Trizarm. The goal is to become a strong summoner as you pass through various trials. This brilliant puzzle RPG offers an interesting and immersive puzzle gameplay where you have to clear out the panels and summon the monsters.
Spellwood: Word Game Adventure
In this magical new word game of Spellwood, you'll become a word wizard and use your magical abilities to grow your power and take on forty-five unique foes across the four towers. Unlock all the towers and you can also make cool in-game purchases. It's a game for those who love word puzzles and some RPG action.
Heroes & Monsters
In this RPG, you enter the world of humans and gods, monsters and demons, but you have to be the strongest and fastest if you're to prevail. The best part is that you get to have a pet dragon with which you can embark on a fun-filled journey, take control of all the elements, and fight your way to the top. Conquer the vast oceans, flaming wilds, sacred temples and deep forests as you gather all the mythical beings.
Need A Hero: Match 3 Adventure
The game features the typical fantasy storyline of a princess stuck in a tower and a dragon attacking as you take on the role of the hero and complete some epic quests in this puzzle RPG. You can acquire treasures, complete some awesome quests, and indulge in engaging puzzle role-playing. You have to battle monsters in the match-three combat style and unleash powerful spells to destroy your enemies by summoning floods and firestorms.
M&M Clash of Heroes
M&M Clash of Heroes is an award-winning puzzle RPG which has recently been optimized for Android devices. The story of the game follows the epic adventure of five young heroes who are leading their clans to protect and save the world of Might and Magic. You can master, hire and earn over ten heroes, fifty artifacts, and forty units and create the ultimate army.
Monster Match
You can jump into the colorful action-puzzle RPG Monster Match and find the mystical creatures of the Prismal Islands as you battle and build your very own team of monsters by tackling the game's strategic puzzle battle mechanics. You can connect all the elemental gems, attack enemies, capture new allies and unleash combos. Reshuffle your very own monster team by picking from over 300 monsters.
Cavemania
Cavemania is another great match-3 game with strategy and dinosaurs. Coming from the developers of Age of Mythology and Age of Empires, this game is a new take on match-3 games that combines strategy and turn-based combat with object-matching tasks. It provides you the prehistoric fun you never knew you needed.
Quiz RPG: World of Mystic Wiz
World of Mystic Wiz serves as a mix of trivia and RPG as you have to take on quests and battles with other wizards from all over the world and prove your trivia knowledge. If you're a fan of trivia and you love RPG, the World of Mystic Wiz will definitely impress you.
Siren Fantasia [Puzzle RPG]
Siren Fantasia is the puzzle RPG telling the story of a distant future when modern civilization has fallen and magic has been reborn. The players have to work together and explore and use the powers of magic to fight powerful monsters. It's the perfect fantasy card and puzzle RPG.
POP MASTER
POP MASTER is an addictive and strategic puzzle gameplay with kungfu master-collecting fun. With over 200 unique kungfu masters to collect, there's virtually no limit to the number of different team combinations you can try. Similar to other card collection games, you can fuse the masters to make them even stronger. With the right ingredients, a novice can become a powerful grandmaster.
Ice Cream-RPG,Puzzle,Fun,Cool
This seems to be a very weird combination of content. Everybody loves a delicious ice cream… have you ever dreamed about being behind the counter serving it? You will have the best time serving wonderful customers and get the joy of creating scrumptious, fun treats that are totally the best. But the challenge is in how will you handle when many customers come quickly to your shop.
Slash of the Dragoon
Slash of the Dragoon is a new and innovative action RPG. Players will swipe and slash through the flying blocks to beat the enemies, and perform combo to send out the best of your team. There are 300+ types of monsters to collect. You can upgrade and evolve your monsters to become the best.
Block Legend
Block Legend has a retro-style graphic. You will travel through different regions as a wide cast of characters, fighting monsters, visiting towns, and completing quests.
Features:
– Huge selection of heroes to choose from.
– Tons of monsters to fight.
– Powerful bosses to challenge.
– Multiple regions to explore with over 100 quests to complete.