Tetris is a game of many's childhoods. If you still like the game, why not try following Tetris games on Android.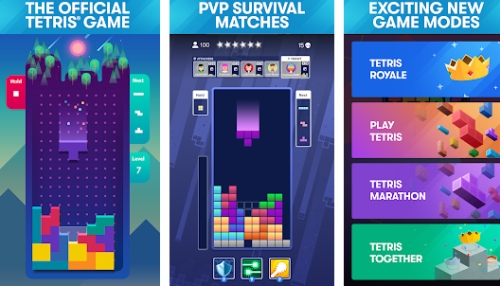 This is the standard Tetris game you should play. The famous Tetris® game now comes to Android with improved touch controls and social features. The game has 2 modes, Marathon and Galaxy. You keeps playing continuously in Marathon mode to challenge yourself in achieving the highest score. Galaxy Mode is a multi-level stage which requires you to clear levels after levels.  Players can connect with their Facebook friends and see who has reached which score on Facebook Leaderboard.
Tetris Royale features:
Battle against 99 other players in last-one-standing matches.
Clear lines and use boosters to send attacks or defend your Matrix from Garbage.
Earn Tournament Points to climb limited-time leaderboards and win rewards.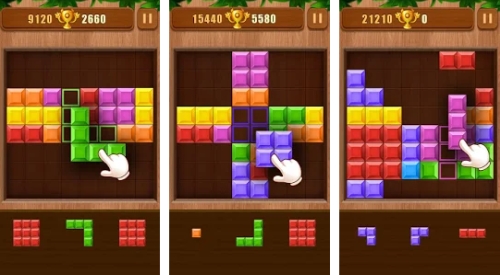 Brick Classic is a addictive puzzle game with simple gameplay that most people already know. You can simply drag the bricks to move them in order to create full lines on the grid vertically or horizontally to break bricks. The more brick break, the more scores you have.
This is an upgrade version of the Tetris® game, which implement many new features. The blitz mode introduce a challenging match against the time in a two-minute blitz in which player need to clear lines and stack points. Tournaments mode is where you battle against other players. Power-ups and Finishers will make stacking up points more satisfying. With all-new features, stunning visuals, and innovative controls, this twist on the world-famous puzzle game is a must-have.
Block Puzzle has one simple rule: drag all blocks around the screen to fit them into the shape in the center. It sounds simple, right? No, it will be more challenging when there are more pieces appear. The game features 6000 levels, 2 game modes, 5 difficulty levels, and over 25 achievements to win.
Clever Blocks is a tetris-style block fitting game which is similar to Block Puzzle. Its gameplay is simple, yet challenging and addictive. Clever Blocks features 850 puzzles, and 4 difficulty levels.
Quadris is an addictive blocks puzzle game developed by kidga.com. You don't need to rush to complete the puzzle, but you will have a plenty of time to think over.
Game Rules: drag bricks out of the shown figure shape to remove it from field. Clear row to make new bricks available.
Unlike Tetris where you have to wait for the blocks to drop and adjust their positions, 1010! Puzzle lets you decide where to put the blocks. Your mission is to combine them to destroy lines. It is a brain training game with challenging block puzzle gameplay.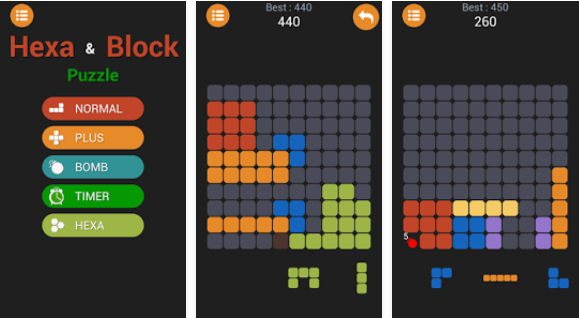 I find this new block puzzle game interesting. It keeps the basics and add some more game modes so players can challenge themselves. As the name states, Hexa & Block Puzzle features both block and hexa puzzles. The game is simple yet addictive which will make you spend hours after hours playing it.