It's no secret that Android is a haven for great tower defense games. There are tons of them out there, and they're all pretty dang good. Tower defense games are a fun way to test your strategic skills and are ideal for those who love to plan, implement, sit tight and defend. Here are the best tower defense games you should play.
Top-Rated Tower Defense Games for Android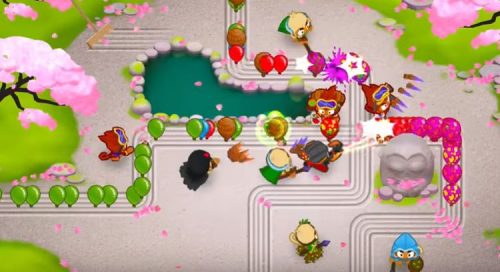 The Bloons TD tower defense series' latest entry, Bloons TD 6, is back and better than ever. The game provides a massive 3D tower defense game designed to give you hours and hours of the best strategy gaming available. Bloons TD features new monkey animations and upgrade skins, better visual effects in 20 original maps.
The latest version of Bloons TD 6 features a host of new content, including a 4-Player co-op, Boss Events, Odysseys, and a Trophy Store. There's also a new Content Browser that lets you create and share your Challenges and Odysseys with other players.
One of the most exciting new features is the Paragon upgrade, which allows you to explore the incredible power of this new upgrade path against Boss Bloons.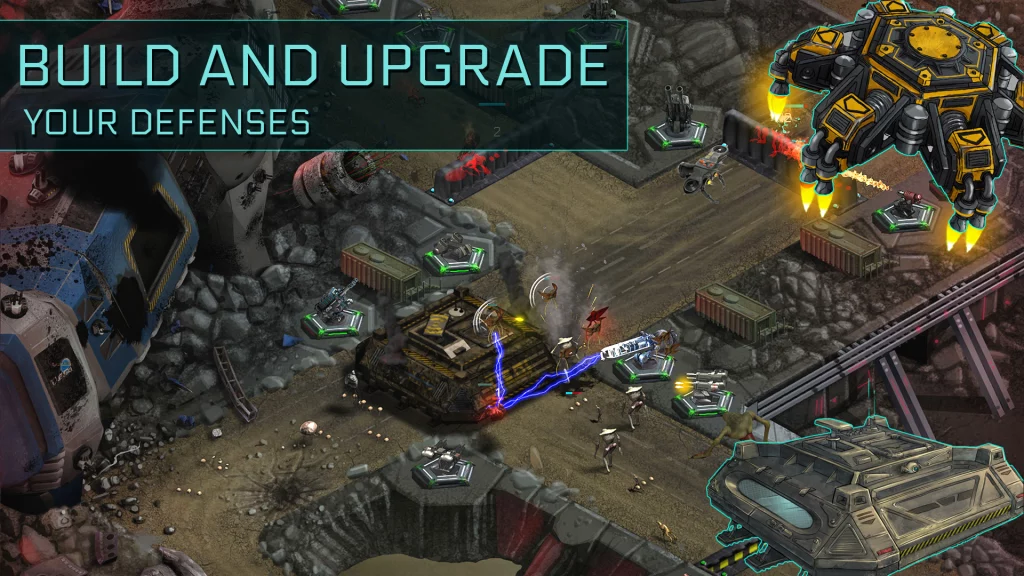 The aesthetic of the T2112TD is based on the nostalgia of the RTS golden era, referencing titles like Command and Conquer and StarCraft.
The campaign provides a range of difficulty levels for gamers of all skill levels. The objective is to protect your base by deploying various military units and towers, each with its unique capabilities.
The game features beautifully illustrated environments and graphics that will transport you back to the glory days of real-time strategy gaming. With an arsenal of destructive weapons at your disposal, 2112TD is a fun and challenging game that will keep you entertained for hours on end.
The 2112TD tower defense game features several ways to help you conquer the enemy. One way is through death from above, relying on air support to deliver a big boom that can also offer defensive abilities.
Additionally, there is research you can do to unlock new weapons and abilities as you progress in the game. The tactical database provides information about your arsenal and enemies so you can be better prepared for battle. All of these features work together to give you the best chance of success against the hordes.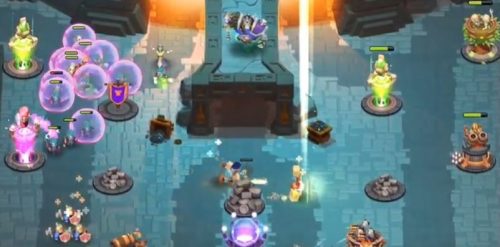 Castle Creeps is a good tower defense with many enhanced old elements and new ones. The game has beautiful cartoonish graphics with high details of towers, monsters, and heroes. You will build towers and control heroes to defend against the orcs. Resources are earned after missions for making your defense stronger.
In Castle Creeps TD, you play as the commander of a team of heroes, charged with defending your realm from an enemy horde. The game features fast-paced battles, a variety of unique enemies, and a wide cast of heroes that you can deploy at will. You can also customize your tower defenses to better suit your strategy. This makes Castle Creeps TD a must-play game for any fan of tower defense games.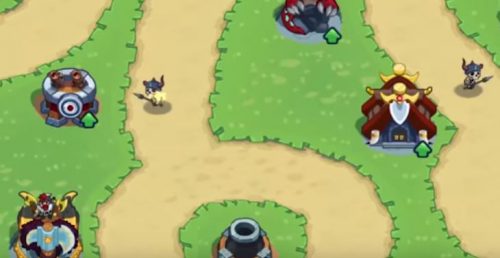 As anyone who's played Legends TD will tell you, it's quite a challenging game. With over 300 levels in different regions – from lush forests to snow-covered mountains – and a huge variety of enemies, such as slimes, skeletons, and goblins, it takes a lot of strategies to reach the top.
You can summon heroes in battles to stop waves of enemies from advancing toward your base, but with each world and realm featuring four different towers, it's not always easy to prevail. Competing in tournaments is a great way to display your tower defense skills and win big prizes – but be warned, the competition is fierce!
Fortunately, you have some powerful heroes on your side, each with unique abilities. Fee the Archer launches deadly Kill Shots, Lancelot the Knight unleashes the Fist of Justice, Smoulder the Dragon rains down Heat Seeker fireballs… With their help (and a lot of practice), you just might be able to make it to the top of the leaderboard.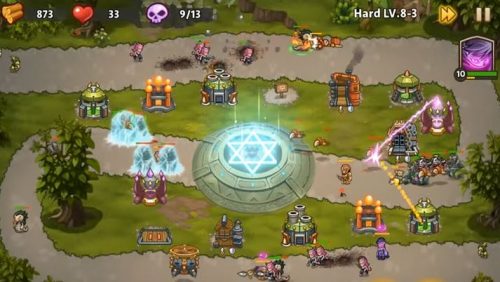 Castle Defense 2 unleashes a new era of war. It's a tower defense masterpiece game that has swept the tower defense world by combining the traditional TD gameplay with RPG elements.
You'll need to use all the tools at your disposal to defeat the enemy, including an array of powerful towers and skilled heroes. Each tower has its strengths and weaknesses, so you'll need to choose wisely to survive the onslaught. The same goes for your heroes – each one brings their own unique set of skills and equipment to the table, so you'll need to use them thoughtfully to maximize your chances of success.
With all-new Battle Pets, this game creates a fusion of tower defense and strategy that is immersive and addictive. The player has to resist the wave of enemy attacks by developing defense strategies and placing defense towers as well as utilizing the attack skills of powerful heroes.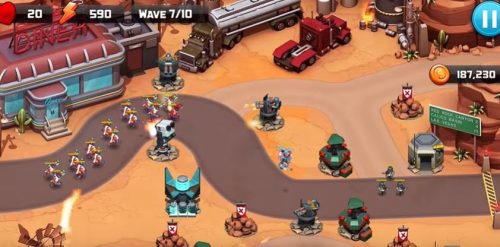 In this game, the stakes are higher than in any other tower defense game. You don't have to defend a castle but the entire earth from war-waging aliens that are invading the earth. It features epic battles, hordes of devious aliens, lightning bolts and explosions, helicopters, powerful towers, and much more.
You can plan your defense strategy, upgrade your weaponry and get in on the action. You will deploy your heroes and infantry across different frontiers, terraces, and battlefields. You can devise the ultimate strategic defense by using a variety of towers and abilities. You can also invite allies to join the war and share Airstrikes and Reinforcements with them.
With 50 levels of gameplay, 3 game modes, and an array of devastating towers and abilities at your disposal, Alien Creeps TD is the perfect game for players who are looking for a challenge. In addition to the main campaign, the game also features 58 insane 2-minute challenges that are perfect for mobile gameplay.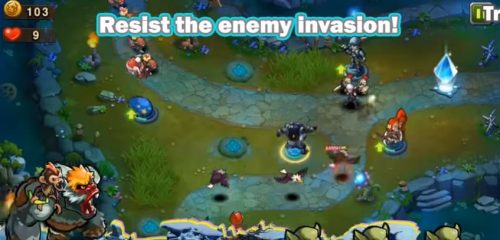 Magic Rush is a very popular title in which you get to assemble your league of heroes and head into epic head-to-head battles that combine all the elements of tower defense, RPG, and base-building games. It features a captivating single-player story campaign, online battles, and daily quests, so there's never a dull moment with Magic Rush.
Magic Rush: Heroes is a game that allows you to summon powerful attacks with skill-aiming. You can manually choose targets or directions when casting skills. You can also summon attacks to stun, silence, knock airborne, heal, and even interrupt enemy skills using precise controls.
In addition, the game offers a variety of hero types to role play, including dozens of unlockable heroes with hundreds of distinctive skills. Heroes can be combined in different ways and take the opposition by storm. You can also upgrade your defender with equipment enhancing, rune inlaying, and unique upgrades and abilities for every kind of weapon. The game also offers a ladder tourney where you can charge to war in PvP games.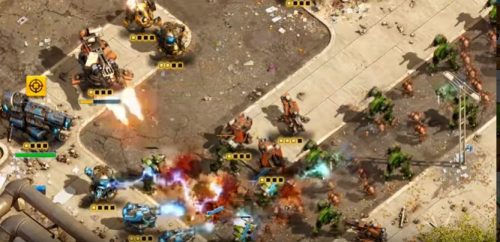 Epic War TD 2 is the long-awaited sequel to the popular tower defense game Epic War: Tower Defense. Prepare yourself to be thrown into the heat of battle with this strategy-focused game. It's all about strategy, epic battles, and mass destruction with this game.
With 9 high-power towers, 2 mega towers, and 44 distinct enemies, you'll have your work cut out for you in the 50 brain-puzzling missions. But with 100+ hours of gameplay, you'll be well-rewarded for your efforts.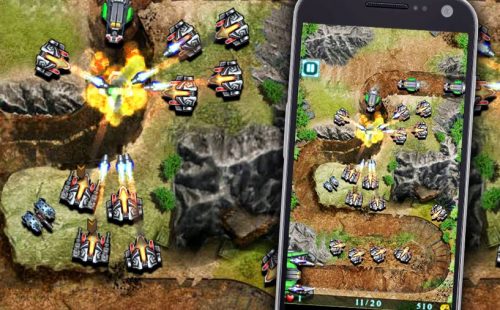 You may have played tons of tower defense games, but Galaxy Defense is still going to impress you with its tons of challenging maps, each of which has its unique setting that will test your skills in a new way. Galaxy Defense features an old-school design but with captivating new missions. With over 21 maps and missions, 16 unique towers, and enemy units, there's no way you're getting bored of this one anytime soon.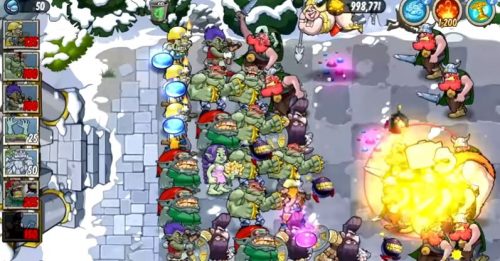 This unique strategy game pits magical creatures and peaceful Trolls against the legendary Vikings and their gods. It's an epic battle in a mythical world filled with loads of magical elements. With seventy story levels, twenty hours of gameplay, and more than forty wonderful characters, you're in for a treat. Take on the massive boss fights and battle Thor, Odin, and other Norse gods.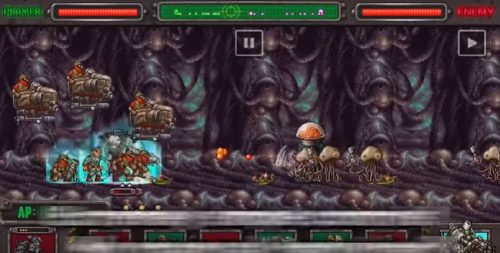 Metal Slug, the legendary 2D action shooting game by NEOGEO, returns as a tower defense and strategy game on the Android OS. Your task is to command the troops so that you can seize the throne and become the best Metal Slug player in the world.
METAL SLUG DEFENSE has become a worldwide success thanks to its very simple controls and addictive gameplay. Up to four players can battle each other in multiplayer mode, either in 1-on-1 or 2-on2 epic battles.
The game features intricate 2D dot pixels of the characters from the METAL SLUG universe, created by the best dot-pixel artists. In METAL SLUG DEFENSE, more than 200 different characters from 5 different armies (Regular Army, Morden Army, Marians, etc.) are pitted against each other in epic battles.
METAL SLUG DEFENSE is a must-play for all fans of METAL SLUG!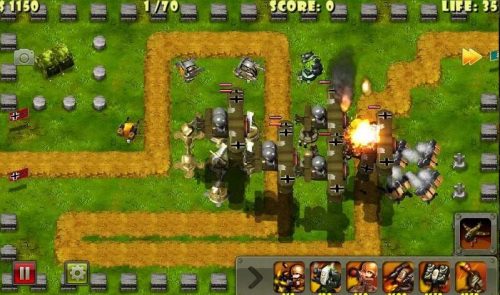 Little Commander – WWII TD is a game that takes place during World War II. This game gives you the role of a Little Commander who is the acting commander of a small troop of soldiers. Your task is to take on the waves of enemies, improve your strategy, and fulfill the duties of a commander. With six different upgradable turrets, your main task is to place them strategically in the enemy's path to block them effectively.
The game features cartoon-style graphics and sound effects, as well as real weapons from World War II. There are 75 levels to play through, and the game has three different modes: Normal, Endless, and Single Life.
In addition to the standard turrets, there are also special weapons available, such as bombers that can carpet bomb enemies. The game has three different terrains to choose from, and the player can also select a casual mode if they want an easier gameplay experience.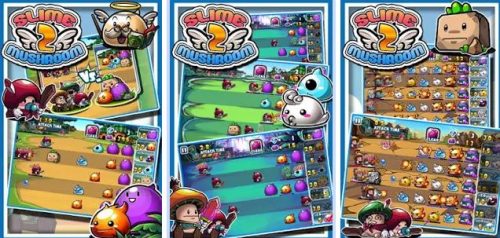 The war between slimes and mushrooms has been going on for a while now and they have developed the skills to cope with it. In this game, you're going to be the leader of the Slime tribe and improve their position in the war against Mushrooms. The main goal of the game is to test your capabilities i.e. whether you can place the various slimes in strategic positions to win the battle against the mushrooms.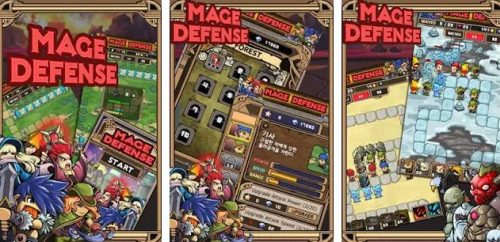 Mage defense is a typical TOWER DEFENSE game, to protect the Mage castle from evil monsters by placing various mages with their capabilities in the best strategic positions. The mage castle faced a big crisis because monsters from the devil dom invaded the castle. Please protect the castle from monsters by employing various mages outside of the castle. Don't pass many monsters, or you will lose the game.
Mage Defense is a traditional fantasy-style game with cute characters and a stunning feeling of beating monsters. The gameplay is engrossing and addictive, and there is a variety of strategies from combinations of four factors to beat monsters. The deadly skills are impressive and useful, and the 100 stages are absorbing and enjoyable. The 20 types of monsters are endless and attractive, and the icon is eye-catching and beautiful. mage Defense is an absorbing and enjoyable game that will keep you coming back for more.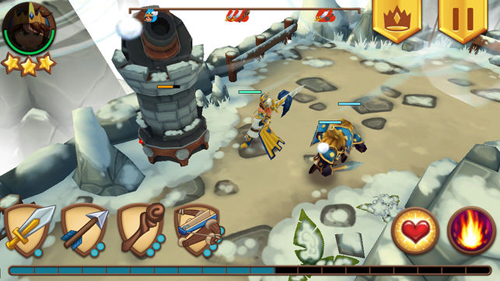 Royal Revolt is a brand new reverse T-defense game with beautiful 3D graphics and intuitive touch controls! In the game, you play as a young Prince who is sent by your father to learn magic at Bogsmarts, a boarding school for the spoiled and untalented aristocrat youth.
When your father's throne is stolen by your greedy relatives, you must lead your army of soldiers to victory against them. To do this, you must collect resources, build up your defenses, and attack their castles. The game is easy to pick up and play, and its stunning graphics will keep you coming back for more.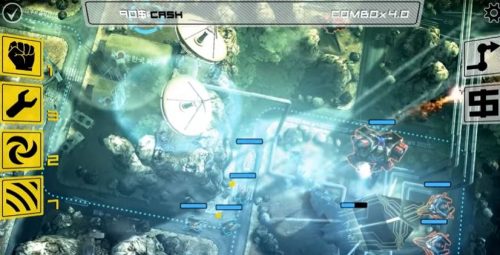 Anomaly Korea is a portable strategy game that comes to life on your device in vivid detail. Anomaly Korea has stunning high-definition visuals and attention to detail, as well as an engaging soundtrack and full voice acting. This is console gaming on a handheld!
The alien robots are back and this time they've got Korea in their sights. It's your job to lead a squad into fierce fire-fights and fend off the alien invasion. Plan your routes carefully and use new units and powers to turn the tide of war against a horde of new enemy threats.
Flipping the tower defense genre on its head, you play the invaders leading your unit into alien-infested districts. Plan carefully, use your money and powers wisely, and make it through unscathed.
In Anomaly Korea, you must think tactically across 12 new missions, deploying new player powers and units to take on new enemies. You can test your skills in 'Art of War' mode, which is optimized for the best Android devices.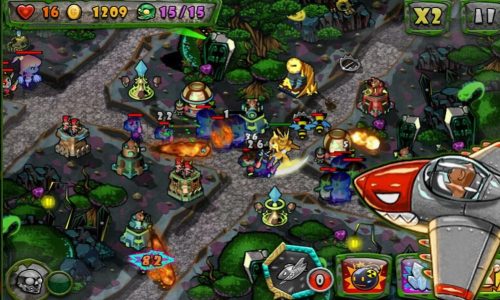 Zombie Defense is a unique take on the tower defense genre. In this game, you must build the most efficient path to the stage by gaining block points. You can then use these points to upgrade your towers and skills.
The game features 7 areas, over 50 stages, and more than 30 different kinds of Zombies. There are also 5 different kinds of towers, each with its unique abilities. And finally, 3 global skills are more useful than any single tower. With so many different gameplay elements, Zombie Defense is sure to keep you entertained for hours on end.