A ninja is a skilled assassin who uses stealth and cunning to defeat their enemies. They are experts in martial arts and can disappear into the shadows without being detected. Ninjas are often used as mercenaries and are feared by their opponents for their deadly skills.
Do you dream of being a ninja? If so, ninja games may be the best thing that can happen to you. Here is a list of the best ninja games available on Android.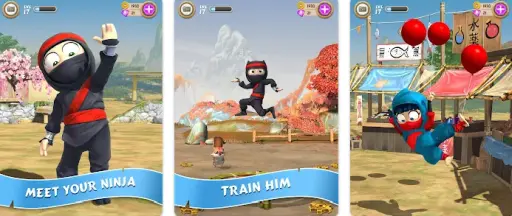 There's nothing quite like having a virtual pet to keep you company. And when that pet is a skilled ninja, all the better! With Clumsy Ninja, you can train your ninja to perform all sorts of impressive tricks and moves. Plus, you can customize him to look however you like. He'll quickly become your best virtual companion.
Belt up and get ready for some fun! You can help your ninja learn new tricks and even earn new ninja belts as you work towards finding Kira. Or you can just have fun with the over 70 unique interactive items available, including trampolines, punch bags, ball guns, a chicken, and yes… even a squirrel!
Every day is an adventure with Clumsy Ninja. You'll travel to new locations, play new games, meet new characters, and complete quests. How many adventures will you have with your trusty ninja by your side?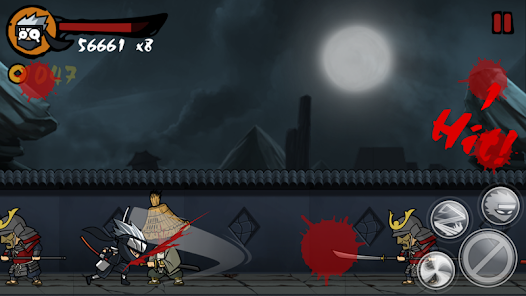 As any ninja knows, revenge is a dish best served cold. And when someone dares to harm the ones you love, there will be blood. So it is with great satisfaction that you take on the role of an enraged ninja in this game, seeking to kill every assassin who was responsible for the death of your wife.
With excellent control and fast-paced action, you will quickly dispatch your enemies in a variety of ways. Use power-ups and utilities to give yourself an edge, and complete missions to earn rewards. There is also a global leaderboard so you can compare your skills with other ninjas around the world.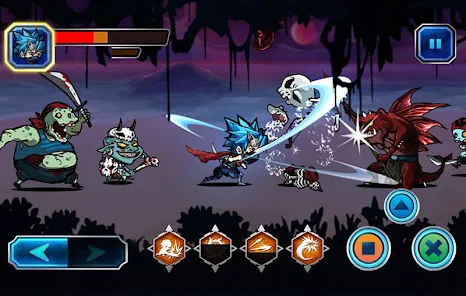 Ninja Fight is an amazing action game that any fan of the genre will appreciate. The game itself is incredibly fast-paced, making it perfect for those who want a challenge, and the controls are very simple to use. There are many different levels to play through, each with its own unique set of enemies, and the graphics and sound effects are top-notch.
My favorite part of the game is the shop, where you can buy different weapons and equipment for your ninja. There are also five different characters to choose from, so you can find the perfect ninja for your play style.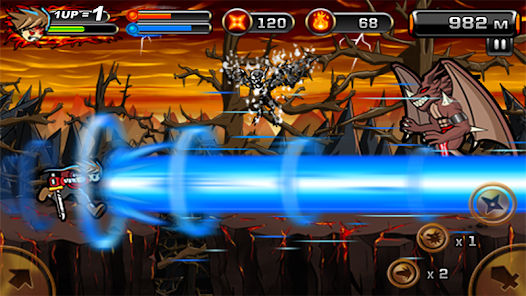 Your Ninja friend needs your help to fight against the monsters of the devil's land. In this fast-paced game, you'll need to use smooth controls to defeat your enemies. Great graphics and sound effects will immerse you in the game, and the ability to play with friends via multiplayer mode will add to the fun.
Kill the king of monsters and earn the title of a savior. With hundreds of weapons and powerups available, there's always something new to try. An achievement system will keep you coming back for more, and leaderboards will let you see how you stack up against other players. Choose between two gameplay modes and show everyone who's boss.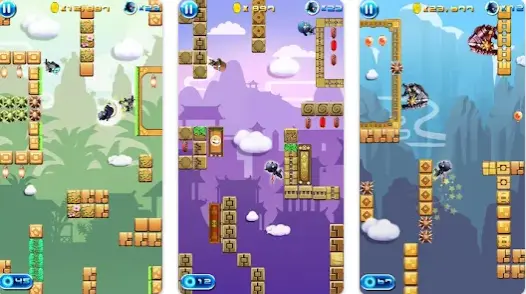 In this game you will get to experience what being a ninja feels like. Your goal is to avoid obstacles, jump over barriers, and kill your enemies. To do this, you must tap the screen to flip the ninja left and right.
Be careful not to fly out of the screen or you will lose. The dars will keep after you so be quick and precise with your movements. The four different worlds with many interesting and challenging levels are waiting for you.