Playing Android games with real opponents is exciting, and this is a good thing to meet new and other people around the world. There are multiplayer games that you can choose to play with your friends or other opponents. It depends on what game fits you and the players you can play. Below are the best Android online multiplayer games that you can choose.
Top 10 Android Online Multiplayer Games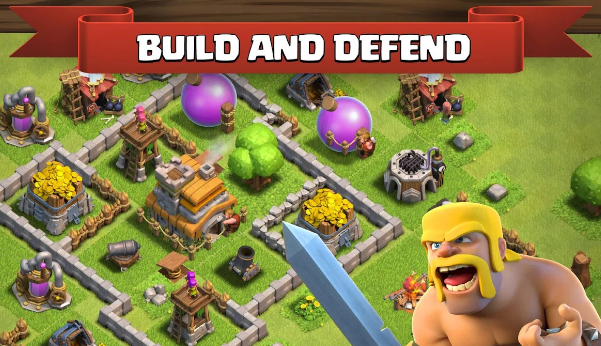 The Clash of Clans is on the top of the list of the best Android online multiplayer games in many years. In this game, you will create a village and be able to train troops to manage the raw materials in battling other players online. Clash of Clans entertains for free aside from the high-quality graphics experience of the game.
The objective of the game is to build up one's village while raiding other players' villages for resources. Players can form clans with other players to better their chances of success.
There are two main game modes: single-player and multiplayer. In single-player, players attack computer-controlled bases to earn resources and trophies. In multiplayer, players can join or create clans, chat with other players, and participate in clan wars. Clan wars are large-scale battles between two clans that last for two days. The objective of the war is to earn more stars than the opposing clan by destroying more of their defensive structures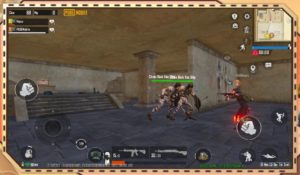 PlayerUnknown's Battlegrounds (PUBG) is one of the most popular multiplayer games that is now available on Android. This game will put up to 100 players in a battle royale where they will fight until there is only one player left standing. The last player standing will be the winner.
PUBG is a game that uses Unreal Engine 4 technology to bring the most realistic graphics experience and the most vivid sound. PUBG also enriches your passion for weapons and riding bikes to loot Air-Drops.
You have the opportunity to get to know friends while playing the game. PUBG is a game that combines the best tactics and creates troll stories that never end. PUBG is a quality game that is not to be missed when playing a survival shooter.
PUBG is a game that satisfies your passion for looting Air-Drops and provides an opportunity to get to know friends. PUBG is a shooter game you don't want to miss!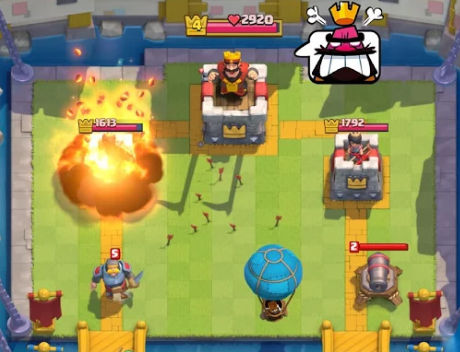 In Clash Royale, two players are matched againtst each other in a battle. both players send out troops in real time and who takes down the enemy's tower is the final winner. You can level up your troops via a donation or purchasing in shop.
Each player has a deck of cards, which are used to summon units onto the battlefield. These units include dragons, knights, and giants, among others. The game is played in real-time, and each battle lasts around three minutes.
There are over 100+ cards featuring Clash of Clans troops, spells, and defenses, and new ones are unlocked as you progress to new arenas. You can also compete in League and Global tournaments to match against the best players in the world. There are many glories and rewards up for grabs!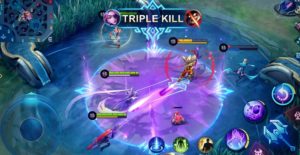 The Mobile Legends: Bang Bang is one of the best multiplayer games for Android. In this game, you will team up with 4 other players to battle another 5-player team. The objective of the game is to destroy the enemy's base.
The game is a classic MOBA map game with 5v5 battles against real players. It has 3 lanes, 4 jungle areas, 2 bosses, 18 defense towers, and endless fights. You can choose from Tanks, Mages, Marksmen, Assassins, Supports, etc. to anchor your team and be match MVP! New heroes are constantly being released!
Mobile Legends: Bang Bang is a fair and balanced platform where skill and strategy are all you need to be able to win the intense competition. Play to Win, not Pay to Win. Mobile Legends: Bang Bang is the perfect game for those who love MOBA games!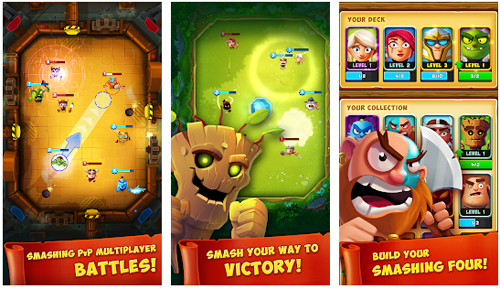 Smashing Four is a smashing PvP multiplayer game. Each player will form a team of 4 heroes and send them into a battle against other players. The battle's result is affected by not only players' hero levels but also players' strategies. If you are good at the billiard game, your chance of winning will be higher.
This is an exciting new game that brings together elements of strategy, card collecting, and real-time PvP combat. In the game, players will take on the role of a hero, battling against other players from all around the world in challenging arenas.
By winning battles, players will earn rewards that can be used to collect cards and unlock new heroes. Each hero has unique abilities, which can be further upgraded through the use of cards.
With over 10 different Arenas to choose from, there is always a new challenge waiting for players. In addition, players can also join or create their Clan, lending a sense of camaraderie to the game. Whether you're looking for some quick PvP action or trying to build up a powerful collection of heroes, Smashing Four has something for everyone.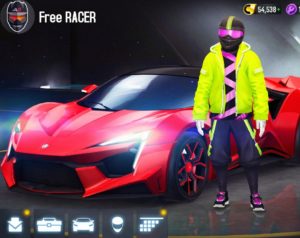 The Asphalt 8: Airborne game is one of the most excellent multiplayer games on Android. It will give you an experience like never before with its top-quality graphics and more than 190 high-performance cars. You can even race in various real-world locations, including Venice, Barcelona, the Swiss Alps, and more.
The game Asphalt 8: Airborne offers exhilarating races driving at high speed, skids, full of jumps, and stunts plus high-quality 3D graphics. This game is great to play with your friends since it also offers various game modes that can be played wherever you are.
There are over 140+ cars you can choose from, including Ferrari, Lamborghini, McLaren, Bugatti, Mercedes, Audi, Ford, and Chevrolet. Asphalt 8 allows up to 8 players simultaneously.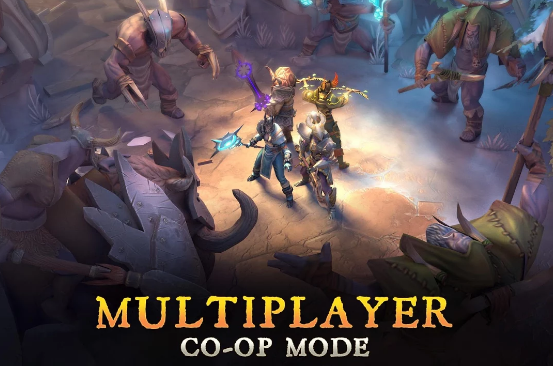 The Dungeon Hunter 5 action RPG game brings millions of Bounty Hunters together in a hack and slash online battles, all in HD graphics. The online modes contain co-op mode to play with your friends, a PVP approach to fighting other true opponents and even team up with them to compete in the death matches.
The game features gorgeous environments and over 900 pieces of armor and weaponry. In this massive RPG adventure game, your heroes will need all the customization they can find to survive. You can unleash hundreds of devastating spells and skills in battle, and master the elements by strategically equipping the best weapons, armor, and magic.
The game also features PvE and PvP features like the Arena, where you can compete against other players.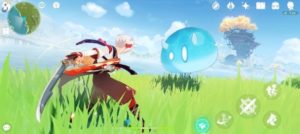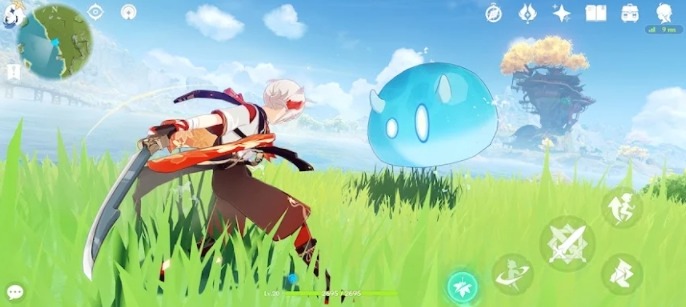 Genshin Impact is an MMORPG game with gacha mechanics, developed and published by miHoYo. The game features a massive, gorgeous open world, playable in both single-player and online multiplayer on up to four-player co-op.
In Genshin Impact, players explore a massive and gorgeous open world, filled with unique locations and interesting characters. There are also various PvP modes available for competitive players.
Character collection is an important part of Genshin Impact. Players can collect a wide variety of characters, each with their own unique skills and abilities. Some characters are only available as rewards from special events, while others can be obtained by completing specific quests. Players can also trade characters with other players, or use them to power up their teams.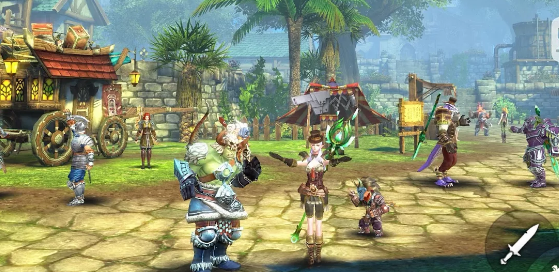 This is one of the best MMORPG that you can get on your Android. In Order & Chaos 2, players are allowed to explore a vast and unique open world that is brought to life with stunning graphics. There are multiple factions and thousands of NPCs that form a rich and interactive game world.
It has more decent customization of the character you choose like Elves, Orcs, Humans, Undeads, Mendels, and Kratans. There are so many friends to interact with and a large world with hundreds of quests that you can explore.
There are also 5 races to choose from Orc, Human, Elf, Mendel, and the all-new Kraton. In addition, there are 5 classes to quest: Blood Knight, Ranger, Mage, Warrior, and Monk. Players can also upgrade and evolve their weapons to make themselves unstoppable.
Furthermore, players can craft and fuse to form the ultimate gear in the game. Finally, players can go solo in quick Dream Dungeons for great rewards or gather a team of heroes to quest through the toughest dungeons.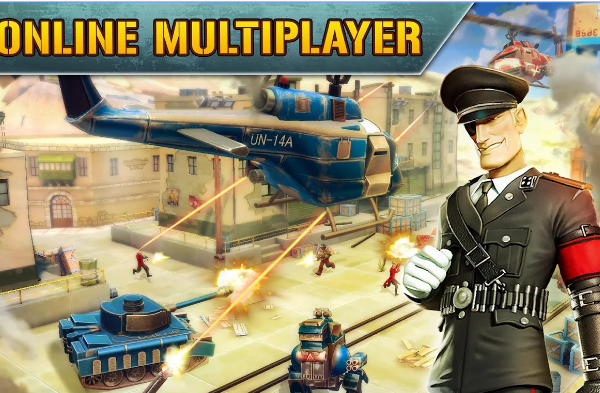 The Blitz Brigade is an exciting multiplayer shooter game. Players can choose between the soldier, medic, gunner, shooter, or stealth to engage in online battles. You can fight in teams or alone where your goal is to defeat all enemy bases. Blitz Brigade pits up to 12 players against each other in frenetic combat. The game features a variety of modes, including team deathmatch and capture the flag, as well as limited-time events with new challenges.
The game has 100 weapons from closed range to long range and different kinds of vehicles among a variety of powerful land and air vehicles. There's also a hefty amount of content to unlock, including weapons, costumes, and upgrades. perhaps most importantly, though, Blitz Brigade features voice chat, so you can strategize with your team and call out enemy locations in the heat of battle.
So what else that you are going to look for? Those are the multiplayer games that are guaranteed exciting and going to thrill you in every moment that you are playing them. With real opponents, you can always ask for more in playing these games. The good thing is there is no stopping from playing these games because of the different players, modes, weapons, vehicles, and others that you can choose to make your gaming right. Choose the best Android multiplayer game that you can play and make friends!