Android hack and slash games are all the rage and for good reason! If you're looking for a game that's similar to Diablo, then you'll want to check out some of these awesome Android titles. Whether you're a fan of zombies or medieval settings, there's something for everyone on this list.
The following games are action RPG ones with the same hack-n-slash mechanic similar to Diablo: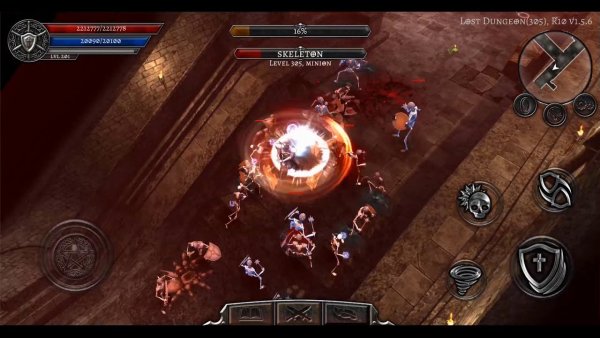 Anima is an action RPG videogame that takes inspiration from the greatest old-school games. Anima is a highly dynamic game that leaves the player the chance to fully customize their character, based on their play style.
With exciting boss fights, stunning soundtracks, and 40+ different playable levels, Anima is a mobile ARPG that is not to be missed. Anima has 10 difficulty levels to test your power, as well as 10+ secret unique levels. The quality graphics and dark fantasy environment are visceral and suggestive, leaving the player wanting more.
So dive into this fast-paced action game today and let yourself be transported into a world of excitement and adventure.
For over a decade, Titan Quest has been one of the most popular action RPGs in the world. This is the complete edition of Titan Quest, including all DLCs and technical updates. You get the all-encompassing experience of an unbridled, truly heroic journey through the worlds of Titan Quest!
The game is set in a beautifully rendered world of ancient mythology and legend, with visceral combat, thrilling quests, and secrets to discover. It's available on Android devices now, so you can enjoy this epic adventure wherever you go!
On your quest to save the world, you'll travel to some of the most mystical and ancient places on Earth. From the Parthenon in Greece to the Great Pyramids of Egypt, you'll battle mythical creatures and face down some of the greatest villains in Greek mythology. It won't be easy, but if you're up for the challenge, your success could mean the difference between life and death for the people of the world.
Battleheart Legacy is the much-anticipated sequel to Battleheart, the original real-time combat system based on the award-winning Battleheart. With an all-new refined system, Battleheart Legacy promises to bring players even more intense and engaging battles.
New features include upgraded animations and VFX that make every battle a visual feast, and over 150 unique skills across 12 classes to customize your character with. With our unique multi-classing system, it's possible to combine classes into a nearly limitless number of combinations. And with incredible boss battles that will put your hero to the test, Battleheart Legacy is sure to be one of the most exciting games of the year!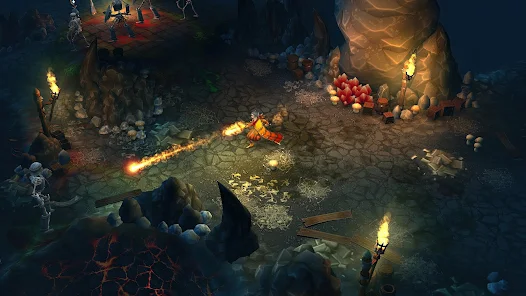 Eternium is an excellent example of how to take the best of classic action RPGs and translate it into a modern touch-based format on mobile devices. The controls are innovative and easy to use, and the player-friendly philosophy ensures that everyone can enjoy the game without feeling like they have to spend money to progress.
It's a reminder of what we loved about those games, with a modern twist that makes it even better. You can play as a Mage, Warrior, or Bounty Hunter, wielding a sword, axe, staff, or gun. Level up to learn new abilities and increase your attributes. The graphics are beautiful and the gameplay is fluid. The storyline is intriguing and the characters are funny.
You'll be challenged by skeletons, zombies, automatons, aliens, demons, dragons, and many other creatures, across four beautifully hand-crafted worlds, or in endless generated levels. The variety of enemies keeps the game interesting and the challenges fresh. And there's nothing like gearing up with rare, epic, and legendary gear to make you feel like a badass.
Crashlands is an outlandish story overflowing with sass! You'll craft, battle, and quest your way through this expansive world, unlocking over 500 craftable items as you explore.
The Self-managing, Infinite Inventory will make sure you never have to dig through your bag or return to your base to free up inventory space, while the RPG-Style character progression will allow you to become more powerful as you create ever-more-amazing items.
Venturing to new regions of the Crashlands world will introduce you to strange characters, interesting enemies, and exciting new stories.
Dungeon Hunter 5 is the latest installment in the popular action RPG franchise, and it does not disappoint. With over 900 pieces of armor and weaponry, your heroes will be well-equipped to take on whatever evil they encounter.
And if that isn't enough, you can also unleash hundreds of devastating spells and skills in battle. The strategic use of Elements will be key to victory, so make sure you have the best weapons, armor, and magic at your disposal. You can also evolve and master your gear to compete in PvP and PvE features like the Arena.
If you prefer to play with others, you can rally up to 3 other player heroes to fight side by side in Co-Op multiplayer mode. There's also a Guild system for those who want to clash against other players in competitive battles. And finally, Build and upgrade a Stronghold in this MMO-style bastion-defense mode.
The game Demong Hunter is a single-player game that focuses on hitting, shooting, and controlling. The game does not support auto-play. There are six characters in the game: paladin, fighter, archer, hunter, sorceress, and a hidden class.
The objective of the game is to crawl through the deep dungeons and complete over 100 missions. The game offers hours of immersion and entertainment value for the player.