Building a virtual kingdom from the ground up is a popular pastime for many mobile gamers. And with good reason – there's something incredibly satisfying about watching your humble beginnings grow into a sprawling empire. Who doesn't want to rule over an empire? And with some of the hottest apps on the Google Play Store and Apple App Store, you can.
In this article we're going to introduce you to the top 5 Android and iOS kingdom building games available today. They're not all the same, and some place a greater focus on some things over others but you can rest assured these apps all have one thing in common – you're large and in charge of your own personal kingdom and army
Clash of Clans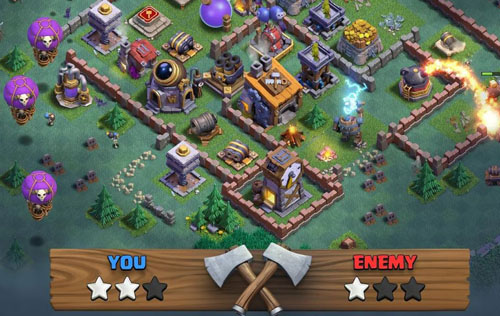 Probably the single most recognizable name on this list, Clash of Clans puts you in charge of your own medieval-inspired viking army and lets you loose upon your opponents. There's a huge multiplayer component to this game and it boasts one of the largest communities on the smartphone.
Clash of Clan is a game that pits players against each other in a strategic battle for supremacy. Join a Clan of fellow players or start your own and invite friends to fight in Clan Wars as a team. You can also test your skills in the competitive Clan War Leagues and prove you're the best.
Forge alliances with other players, work together in Clan Games to earn valuable Magic Items, and plan your unique battle strategy with countless combinations of Spells, Troops, and Heroes. Compete with the best players from around the world and rise to the top of the Leaderboard in Legend League. Collect resources and steal loot from other players to become the ultimate Clash of Clan player!
A nice mix of strategy and RPG-gaming, Clash of Clans also offers great value for your time and money. Unlike some games that try to bleed you endlessly, Clash of Clans offers a superb balance of gameplay and pay-to-play features.
Forge of Empires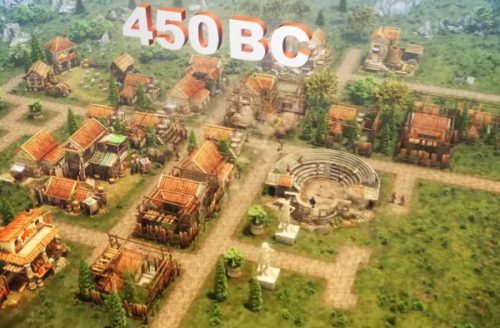 Forge of Empires is a mobile game developed based on the successful browser game which was published by InnoGames in the summer of 2012.
In Forge of Empires, you will develop your own city through the ages, research new technologies, expand your empire and battle other players and prove your skills as king and warlord. Through meticulously managing resources and using strategic planning, players can watch their city evolve from a small village into a bustling metropolis.
The game offers a deep and complex progression system that challenges players to constantly adapt their strategies as they move through different eras of human history. With a wide variety of buildings and units to choose from, players can find their own unique way to build their city. In addition, the game features a competitive multiplayer mode in which players can battle it out for control of new territory.
Castle Clash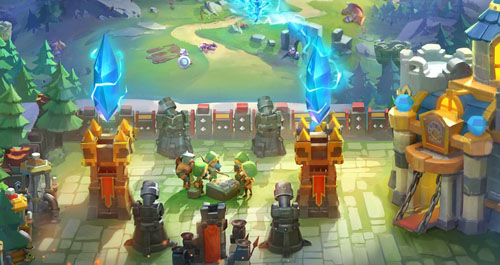 This game, like Clash of Clans, puts you in charge of elite squads of warriors but, unlike Clash of Clans, Castle Clash has a more fantasy feel to it and even tasks you with typical RPG fare like exploring dungeons and collecting loot.
Castle Clash boasts exciting combat and a fast-paced strategy guaranteed to keep you entertained for hours on end. In the game, you play as a warlord in charge of an army of mythical creatures. The goal is to fight your way up to become the world's greatest warlord by defeating other players in dungeons, raids, and other battles.
Hire powerful Heroes to lead your army and help you achieve victory. You can also customize your base to suit your style of play. With so many features, it's no wonder Castle Clash is one of the most popular games around.
A huge aspect of this game that people love is the fortress building feature. Upgrading your army and your fortress is probably one of the most addictive parts of the game and will take about as much time as choosing who to fight next.
Clash of Lords 2: Guild Castle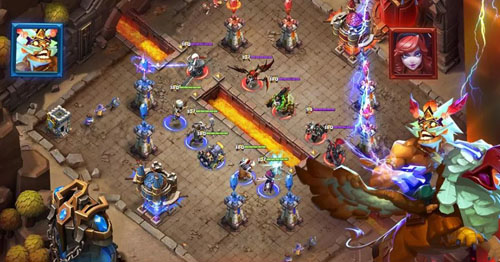 Recruit heroes, hire mercenaries, build your base, and defend yourself in this game that combines the best of Clash of Clans with Castle Clash!
Clash of Lords 2 is a strategy game with fun and innovative twists on the genre. Recruit over 50 Heroes and their mercenaries, build and defend a base, and fight alongside your friends in over 10 PvE and PvP modes! Get ready to Clash! In Clash of Lords 2, you'll have total control of the action.
Activate Heroes' skills in real-time and pair them with Troops and our unique Mercenary system for crushing results! With over 10 PvE and PvP modes, there's always something fun and different to do. Plus, you can join a Guild, and clash with players from all over the world! You can even battle against other Guilds for supremacy.
Boom Beach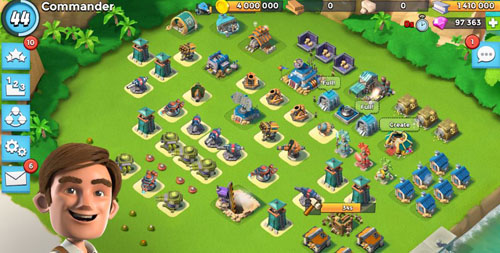 Boom Beach is a kingdom-building game where you fight the evil Blackguard with brains and brawn. In this epic combat strategy game, you attack enemy bases to free enslaved islanders and unlock the secrets of this tropical paradise.
This game puts you in the shoes of an island-raiding general who liberates the islands held by his rivals. A unique feature of this game is the scouting mechanic which allows generals to see what their enemy is up to and plan their attack accordingly.
You can battle for control of precious resources to upgrade your base against enemy attacks, explore a huge tropical archipelago, and face fearsome Blackguard Bosses in order to uncover their evil plans. You can also join other players to form an unstoppable Task Force to take on co-op missions.