Are you looking for a good Android MMORPG to play with friends? Here are the best free and paid ones:
See Also: 10+ Best Android MOBA Games
Order and Chaos 2 is the sequel to a successful MMORPG, and it's even bigger and better now. You get to explore the unique open world of Order and Chaos and enjoy tons of features such as creating and customizing your own heroes. The best part is that you can choose from five different races and pick five classes to quest as. The game brings to life an intriguing world.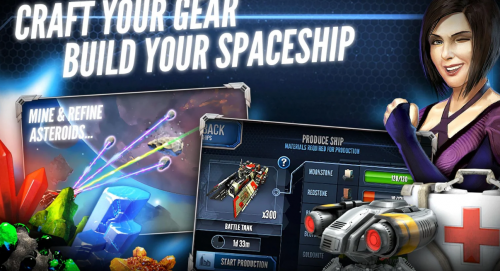 It's hard to believe that Pocket Starships is a free MMORPG game based on space combat because it's one of the best out there. You can have some intergalactic fun and command your spaceships as you travel through space and fight battles that need fighting. Build alliances, battle with or against players from around the world, and establish your intergalactic dominance in this immersive MMORPG.
This MMORPG game is heavily based on Ragnarok Online developed by Gravity. Your journey starts in Midgard as either a Swordsman, a Mage, or an Acolyte with new and full 3D art that enhances the classic art style. You can hire Mercenaries to make your adventures on the Path of Heroes easier. Players can summon a friend to help on their journey and clear each level for a chance to get items or Mercenaries. Mercenary War is a place for player to send off their mercenaries to battle.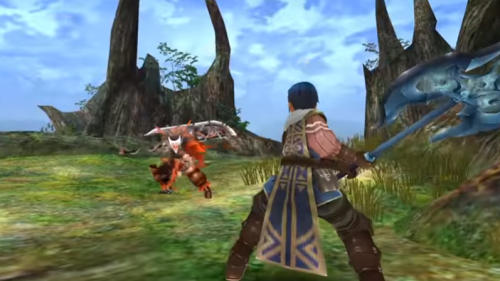 RPG Toram Online is the game we'd suggest if you're looking for an MMORPG game to play on your Android device. Toram Online is available in several languages, and it lets you explore a massively vast and realistic 3D world and defeat fierce monsters by cooperating with players from around the world. You can create your own character and make your way up to the top in this immersive game.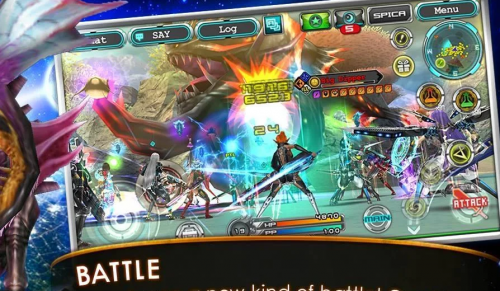 Stellacept Online is one of the top-rated MMORPGs out there, and it's filled with exciting battles and adventures as you can inflict devastating attack combos or unleash terrible powers using Burst Points. You can also chat to cooperate with other players in your alliance. The story of this realistic MMORPG revolves around a soldier fighting the enemy to save innocent people of Sadalsuud.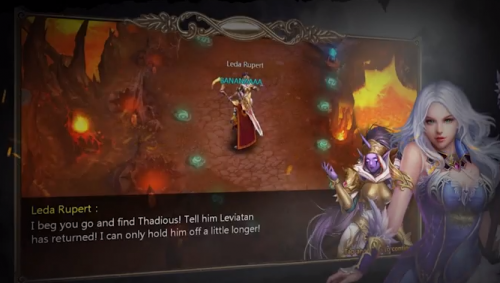 FallenSouls is the game where three races are reigning and fighting against the powerful forces of dark and evil. Yes, that sounds a lot like Lord of the Rings, but this exciting MMORPG has a vast world and story of its own which is arguably one of the best among MMORPGs. The engrossing gameplay will take hours without you even noticing as you immerse yourself in this addictive game.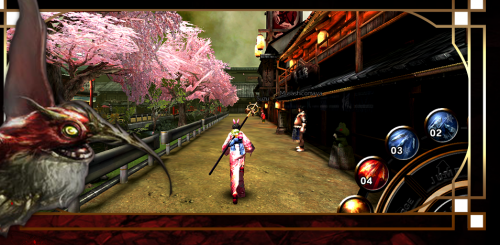 This full-scale RPG features more than 100 quests with great attention to detail. Izanagi Online has been designed by Takashi Okazaki, known for Afro Samurai. This game features several different classes of characters including Assassin, Cleric, Warrior, and Mage. It's a free-to-play game with a unique and interesting world that will definitely captivate your attention and keep you indulged for hours.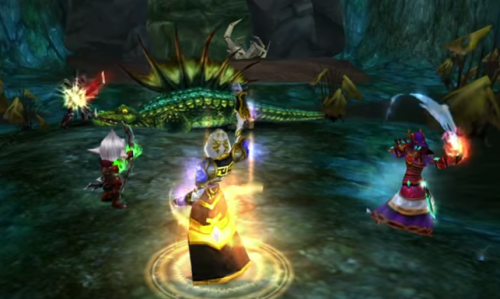 Order & Chaos Online is the most famous MMORPG on Android as it came out early. Join thousands of players and experience the best MMORPG experience on Android. You can team up with your friends to take on quests and explore the vast fantasy world, achieve heroic feats and lead your guild to the top of the multiplayer leaderboard.
The game features 5 classic races available: Elves and Humans fight for Order; Orcs and Undead for Chaos, while Mendels are neutral. With over 1,000 skills and 2,000 pieces of equipment to assist you through your quest, you will me immersed in this fantasy world hours after hours.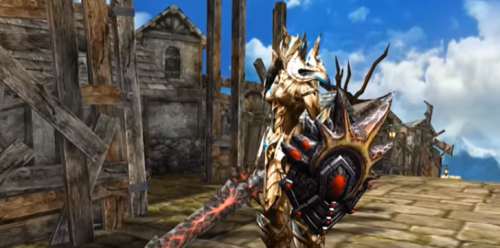 A game recommended by Google is not to be taken lightly. This game lets you explore an open world with your magic boots on as you discover intriguing truths about the character and face inevitable betrayals in your quest for survival. This game is a challenging one that will fulfill your desire for battle as you compete against the best of the best that MMORPG has to offer.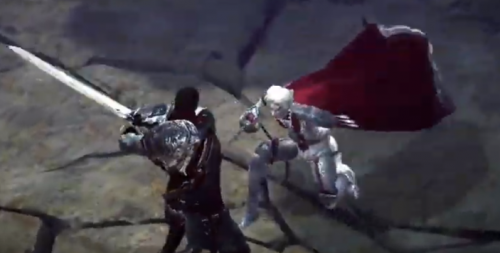 Legion of Heroes is not your average MMORPG because it's a full-scale 3D MMORPG with a lot of depth. You can explore the open world in this fantasy MMORPG and enjoy intense battles, go on incredible adventures, test out dynamic combat tactics, and live the life of a leader that builds an army and embarks on a warpath for glory and triumph.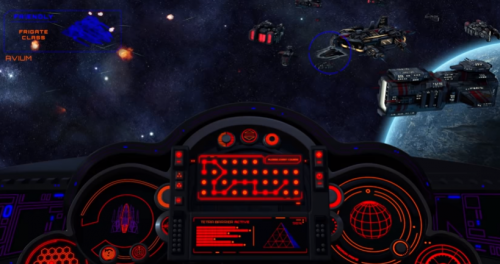 In this evolving online experience, you will command massive spaceships, form powerful galaxy-spanning corporations, and engage tens-of-thousands of other players in never-ending intergalactic warfare!
Pursue whatever social, military, or economic goals you can imagine. Choose the path of a warrior defending the galaxy from hordes of invading aliens; or become a trader who profits from rare knowledge and shrewd deal making; or become an Alliance Overlord plotting long-term war strategy, building planetary strongholds, and obliterating opposing player factions for control of the universe!
RPG Elemental Knights Platinum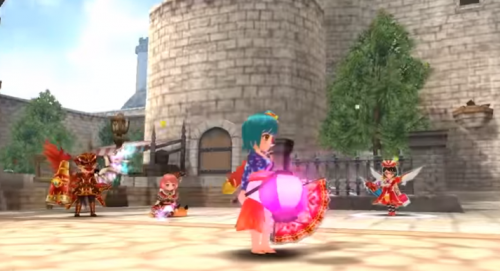 The monsters and spirits have grown violent. The Dragons awaken from a three century slumber. There comes a new tragic to human world. Each country sends their soldiers to investigate the recent outbreak of bizarre happenings.
Now you must take up your arms and armor, choosing from a large varieties range of classes – Monk, thief, bishop, wizard, magiknight, and more. Over 100 quests are waiting for you.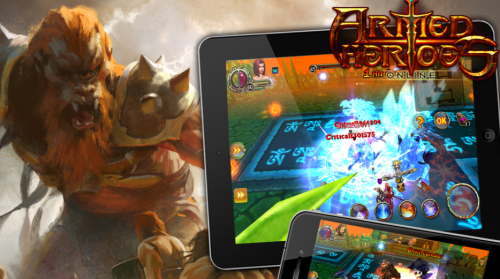 Armed Heroes is another amazing real-time 3D MMO you should not miss. After centuries of peace, the darkness falls upon the world, having its land swallowed by chaos. Lords of old days disappeared one after another, leaving man trembling and crying in endless shadows. You will be the one to save the world. Armed Heroes has 6 heroes of different classes – Warrior, Archer, Wizard, Necromancer, Assassin and Knight. 150,000 pieces of equipments is available to collect, which is a huge amount to complete.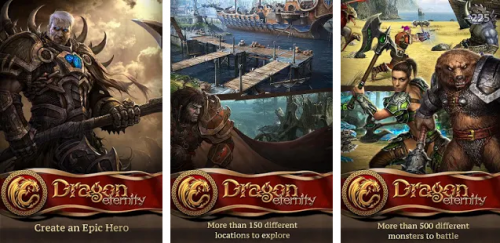 The 2 empires of Sadar and Vaalor have been fight against each other for the control over the Tart Continent. But both have to join forces when the ancient enemy – a spawn of Dark Gods Shaab – comes back to enslave the Dragon World and to cast a spell of sinister Blight on all the living things. You will choose between the empires and become a warrior and make your name in Adan World. You can choose from 3 classes – berserker, paladin, and witcher – to start your journey in 70+ mini-locations and 1500+ tasks.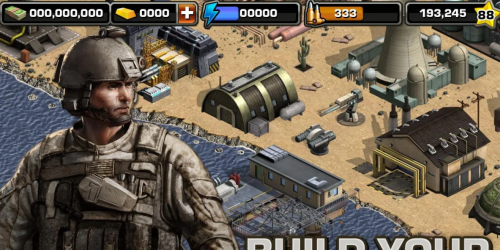 Modern War, developed by GREE, allows players to build a global military empire and destroy your enemies for world domination. The game's theme is modern wars with modern weapons and facilities. Join a faction and join the fight in Modern War, the popular combat game where you face off against enemies for control of country after country, until you rule 'em all.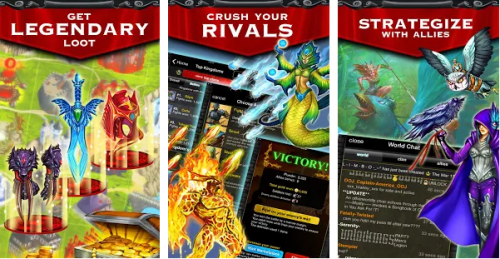 Kingdoms at War is an intense PvP MMORPG with epic clan wars, and battles. Form a Clan, hire allies, and plunder gold in order to claim power. You can team up with other players to defeat ancient monsters in Epic Battles, or wage war against other players in the all-new Estoc Trials.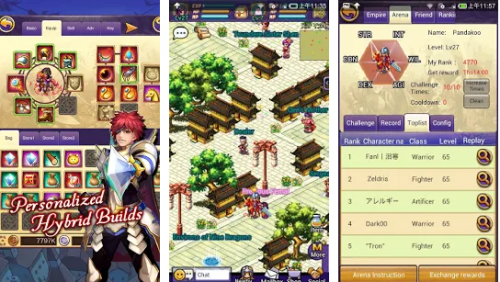 It's time to begin your journey in a land with gods, demons, and mystical creatures on your quest to save the world from destruction. Train your own epic character, create an unstoppable team and embark on branching quests in this MMORPG through unique levels, and the most exciting of all — establish your own empire.
The game features 4 races – Nordic, Eastland, Atlantis, and Maya – and 5 classes – Warrior, Fighter, Wizard, Hunter, and Artificer.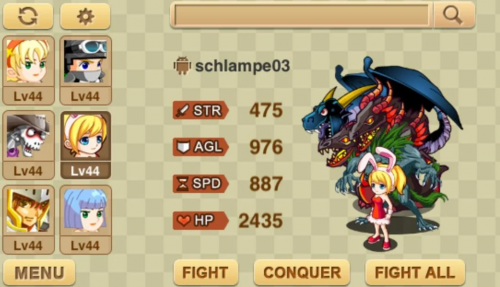 Avatar fight is an ingenious multiplayer online game nothing like the other MMORPG games in the app store.
The game is simple yet challenging, fun and addictive. It will give you a different taste of online games. The core of the game play is PvP fight and guild wars. You can't be a top player without support of friends, without being a part of a powerful guild. Making lots of friends and cherishing your reputation, building a great guild and making your fame!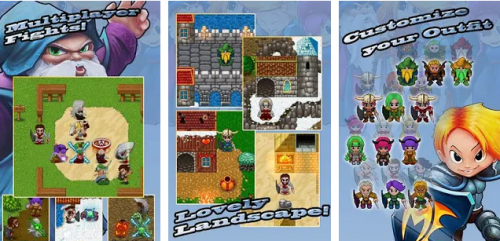 TibiaME is a free-to-play cross-platform fantasy MMORPG. Join thousands of players in TibiaME and help your friends fight against dangerous monsters in the colourful world of TibiaME! You can become a legend of your own and prove your skills against other players in PvP. The game use classic 2D RPG artstyle which makes it friendly to play and enjoy.
The game is updated on a regular basis. In addition you can look forward to some great events across the year, like finding dragon eggs and fighting the evil Dragons across all islands.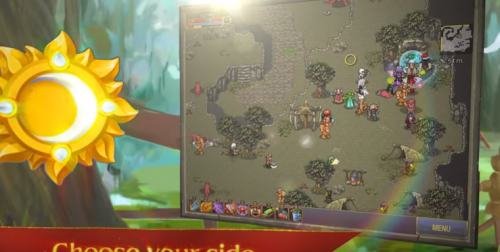 Create a Hero and battle monsters in a classic 2D MMORPG that has gained popularity with millions of players worldwide. In Arinar, a fantasy world packed with challenges, your Hero will fight to win skillfully crafted weapons, armor, magic artifacts and vast fortunes of gold. The game features 4 races and 2 alliances, 12 classes: Blade Dancer, Ranger, Druid, Paladin, Priest, Mage, Barbarian, Rogue, Shaman, Warlock, Necromancer and Death Knight, 80+ skills for personal builds, 40+ relics for adding effects to basic skills, and many more.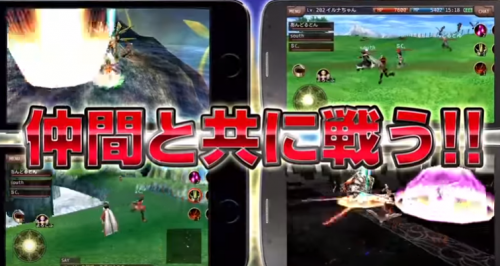 Iruna Online is the number one online RPG (Ranked 1st in the RPG category in dmenu run by NTT DoCoMo, Inc., the company of the number one share for mobile devices in Japan) for mobile devices played by more than one million users in Japan. The most exiciting feature is profession system. Every player starts as "Adventurer" and change to other tiered professions as he levels up.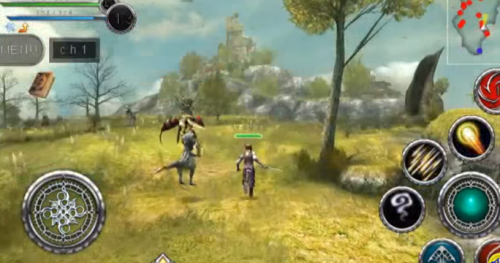 Users can enjoy the games exhilarating features, such as smooth combo strikes, sequential attacks with jump action, etc in the same world. Enjoy hunting monsters and quests in the MMO field "Main Tower" (multiplayer field), or the "Dungeon" in the MO Field (Played by parties or by solo), the PvP (Player versus player), or the tower scramble where a max of 1000 players fight each other in real time all with the best graphics.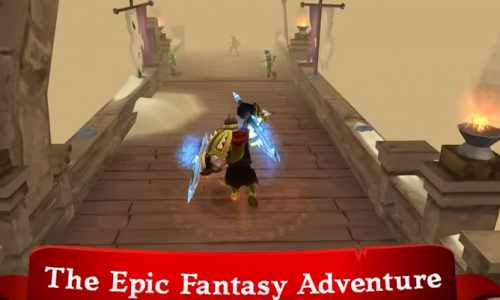 Arcane Legends brings you an adventure through a breathtaking 3D fantasy world. The game is developed by Spacetime Studios, developer of the smash-hit Pocket Legends. Your quests will take you and a trusty epic pet through darkly-lit taverns, majestic forests, and dank dungeons as you fight evil forces attempting to take hold of the kingdom of Arlor. Heroes can take the role of a deadly rogue with devastating bow and trap attacks, a mystical sorcerer that wields elemental fury and aids companions, or a hulking warrior with the strength of steel, to adventure through a vast fantasy world.
Old Android MMORPG Games
Toy Monsters
Toy Monsters is an epic turn-based tactical strategy game set in a fantasy world. Battle with monsters, collect special weapons and fight against other players online! The game takes place in the midst of an invasion of monsters which have transformed the once happy, peaceful world into lands of chaos, war and disorder. All the surrounding areas are now filled with monsters and their bosses, who are trying to impose their own rules and tyranny. Are you ready to accept the challenge and head into battle with the evil invaders?
Choose your character and challenge yourself with the role that you take on. Take part in exciting turn-based battles where every move and choice matters, complete quests and get rewards!
Fantasy Vengeance Strategy MMO
Build up your empire and battle the other heroes and face Heroes and Monsters in this addictive strategy MMORPG. You can battle against monsters in realtime with your friends inside many dungeons. Send your army against the enemy castle! Fantasy Vengeance is a strategy online MMO game, developed with awesome fantasy artworks.
Parallel Kingdom MMO
Slay epic monsters in dark dungeons or battle the dragons lurking right in your own backyard! This location-based MMORPG brings the epic fantasy to life wherever you are. All this and more in the palm of your hand! Enter Parallel Kingdom's multiplayer world and join over a million players in the ultimate mobile, role-playing game.
Wars of Fortune
Choose your character among Barbarian, Paladin, Ranger, Necromancer, Wizard and Rogue and start battling thousands of other players and hosts of fantasy Monsters in your quest for fame and fortune. Like other MMORPG, you can create a Guild and invite your friends to play together. Gain experience, fame and treasure to advance in ranks and levels and improve your character's abilities. Combine some of the 48 Unique Boosts, to complement your strengths and expose the weaknesses of your enemies. The right Boost combination can turn the tide of most battles!
Warring States Premier
This is our popular MMO RPG-Strategy game. You are a chieftain of a small village during the Shang period in China (1600 BC), and by making key decisions in research, commerce, city planning, and ultimately warfare, you can develop your village into a mighty empire. The game needs long-term strategy planning and RPG combat and is ideally suited to be played on mobile devices.
KungFu Legends
The Chinese Kung Fu is far more beyond a martial art. The Kung Fu philosophy consist of Taoism, Buddhism, and the martial art from both eastern and western world. The game will take you through an adventure of the most exciting part of Chinese culture, the legends of Kung Fu.
Let the adventure begin! Quest through the amazing KungFu world, learn the KungFu martial art, BATTLE the enemies, and BUILD the strongest GUILD with friends!
Ragnarok : Path of Heroes
The famous Ragnarok game now comes to Android as Ragnarok Online: Path of Heroes. The Android version keeps the beautiful anime artstyle to keep old players while increasing the picture quality to attract new gamers. This version features new quests based on the new Valkyrie Uprising story line expanded upon in the Path of Heroes. It also features new Mercenary system. Simialr to old game, you can join the adventure as you play with other millions players in real time to complete quests, missions, and battle against each other in the PVP Arenas.
Crusade of the Blades
Once upon a time, there was a country famous for its weapons. Every weapon they made processes a different power and soul.  After 30 years of war and aggression, kingdoms have fallen and the people have become slaves, helping the Magician to manufacture evil weapons. Just when all hope is lost, a group of young soldiers have also learned to control the souls of the weapons and they are determined to defeat the Magician once and for all. Will this epic battle save the world?
Divine Might – 3D MMORPG
Divine Might is among the top MMORPGs for Android because it's a simple yet intriguing game. It follows the fairly traditional route that most MMORPGs take. You have to fight evil and save the innocent people of Leia by taking up the power of the Divine Might. You can train and equip your pets, join guilds, raid against the monsters to progress through the game, and enjoy this immersive MMO.
Brave Trials
Brave Trials is a unique game because it is filled with beautiful effects, fast action, screen-shaking graphics, and deadly finishing moves. You can test your MMO skills against the powerful World Boss, Wayfarer's War, and the Party Trials. It features multiple modes of play, so you'll never get bored of playing it. It's a simple game, easy to follow and very fun to play.
Soul Guardians: Age of Battle
Soul Guardians is an MMO that combine action RPG and card collection. Your mission to to protect Midgard from the demon army by dispatching a barrage of attacks. Players can choose to quest through single player dungeons or engage in co-op and PVP arenas with friends. Collect Soul Art Cards to evolve and fuse in order to send out the best attack against your enemies.
Dawn of the Immortals MMO
Dawn of the Immortals is a brand new 3D mobile MMORPG. The games features a rich, real-time MMO world with stunning 3D graphics. Dawn of the Immortals MMO blends a steampunk world with colorful characters. Players will jump into a world containing dynamic instanced dungeons, epic boss fights, powerful pets, mounts, and more.
Stilland War HD(Adventure RPG)
Stilland War has a lot of unique features which can't be found in other games. Besides an epic storyline set in a fantasy world, the game features tons of side quests, beautiful characters with stunning skills effect. The games features a new Pet system which gives you a cool and powerful companion, and hundreds of Morph cards to collect.
Pet Alliance
The adventure to the mysterious Mololand has begun. Players will bring their tamed pets in this exciting adventure. Pet Alliance is a must play for all pet lovers. Its charming graphics and amazing story lines would definitely make you immerse in the game for hours after hours. You will not be able to get your mind off it. The combat pet is just so adorable, which make you will feel like you are really raising them and fight and grow with them.
Legends at War
Lead a band of heroes, conquer barbaric rivals, slay medieval beasts, and build the greatest kingdom in the land. In Legends at War, you are not born into power, you must raise your sword and claim your own kingdom. The empire has been waiting for its true monarch, so create your army of heroes, build alliances, and lead them to victory through intense battles. The more enemies you overcome, the stronger your armies become.