Anyone who has ever tried to work out knows that music can be a great motivator. The right song can give you the extra push you need to finish that last rep or run that last mile. If you're looking for some great workout music, there are some great options available for Android users. Here are five of the best.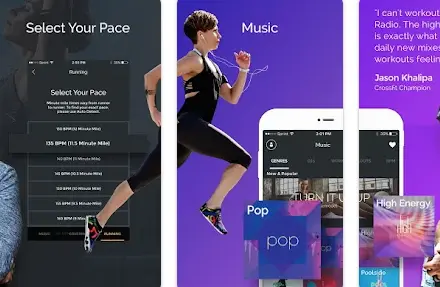 FIT Radio is a great app for anyone who likes workout music. It offers high-energy music of all genres designed to motivate your workout. The app is updated with new hot tracks daily right after they hit the dance floor. With over 25 genres and thousands of custom mixes, there is something for everyone.
The coaching tab offers cardio coaching paired with the perfect playlist. There are 24+ new coached workouts every week. You can let the trainer suggest a playlist that fits the workout perfectly or choose your own. The high-quality sound recordings and the right amount of variety make FIT Radio a great choice for anyone looking for a workout soundtrack.
RockMyRun is an app that provides amazing mixes designed specifically for working out. It uses myBeat™ technology to change the energy level of the mixes to be in tune with your body. The songs can be chosen by workout length, beats per minute, and lyrics. You can cache mixes for offline playback. RockMyRun can be paired easily with popular running apps like Nike+, Runkeeper, MapMyRun, Runtastic, and more.
One of the best features of RockMyRun is its adjustable BPM. The app's Body-Driven Music™ technology automatically adjusts music to sync with your steps or heart rate. You can also manually manipulate music to match your ideal BPM (beats per minute). This is a great feature for those who want to make sure their music is always in line with their workout.
Another great feature of RockMyRun is that all of its music is curated by professional DJs. This means that you'll never have to worry about hitting skip on a song you don't like. All of the music is designed to give you the best exercise experience possible and keep you pumped up for your workout.
Spotify is a great way to listen to workout music. With Spotify, you can listen to workout music and play millions of songs and podcasts for free. You can also follow other users' workout music playlists if you're looking for some inspiration.
Plus, it's free to use with ads or you can pay an amount per month to get rid of the ads and get some other premium features. Workout music helps me stay motivated when I'm working out, and I always feel better after a workout when I've listened to workout music.
SoundCloud is a great place to discover new workout music. You can easily find new artists that are similar to the ones you already like. Plus, the platform's curated mixes and playlists are perfect for finding workout-worthy tracks.
If you're looking to keep your playlist fresh, SoundCloud is definitely worth checking out. In addition to its vast selection of music, the platform also offers exclusive tracks and DJ sets that you won't find anywhere else. And if you're looking to grow your workout music collection, SoundCloud makes it easy to save tracks and build playlists.
Youtube Music is a good option if you're already invested in the Google ecosystem since it integrates well with other Google products like YouTube Red (if you're looking for ad-free YouTube videos) and Google Home (if you have a Google Home speaker). It has a large catalog of songs and albums to choose from as well as custom radio stations and curated playlists.
If you're someone who works out a lot, or just really enjoys listening to music while working out, Apple Music is probably a good option for you. It has a large catalog of songs and albums, as well as custom radio stations similar to Pandora or Spotify Radio. Plus, it's ad-free so you can work out without interruption.
And if you have an iPhone, Siri can be a really helpful workout buddy since you can just tell her what you want to listen to without having to search for it yourself.